This page is part of © FOTW Flags Of The World website
Afghanistan
Islamic State of Afghanistan, De Afghanistan Islami Dawlat, Dawlat-e-Islami Afghanistan
Last modified: 2002-11-30 by santiago dotor
Keywords: afghanistan | islamic state of afghanistan | de afghanistan islami dawlat | dawlat-e-islami afghanistan | coat of arms | shahada |
Links: FOTW homepage | search | disclaimer and copyright | write us | mirrors

---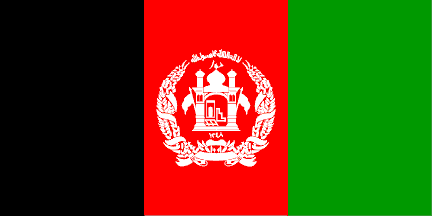 1:2
by Juan Manuel Gabino modified by Santiago Dotor
Flag adopted 27th January 2002 for the Transitional Authority, based on the 1930-1973 flag
---
---
Other sites:
---
Flag Status
After the Taliban defeat in November-December 2001, both the 1992 flag and the 1973 flag have been flown by different factions within the anti-Taliban forces.
Santiago Dotor, 12 December 2001
From a Reuters story dated 2 December [about the Afghan provisional government]:
The draft calls for the 87-year-old former king to play a symbolic role in opening the Loya Jirga, which would elect a transitional authority to govern for about 18 months until a constitution is drawn up and a permanent government elected. (...) Until then, it suggests that most of Zahir Shah's 1964 [sic] constitution —the most liberal political system the country has ever had— would be reinstated as Afghanistan's basic law.
If, indeed, the final agreement would use the 1963 Constitution as the constitution for a provisional government, as the Reuters story dated 2 December indicated, then it may result in a temporary restoration of the flag of 1930-1973:
Article 4
The flag of Afghanistan is tricolor (black, red and green) all pieces joined together vertically from left to right in equal proportions; the breadth of each strip equalling half of its length, having in the middle the insignia of the mehrab (an arch in a mosque where the praying congregation stands, facing the Kaaba in Mecca) and the mender (a many tiered pulpit placed to the right of the mehrab in a mosque, from which addresses are delivered) in white, flanked by two flags and ensconced in two sheaves of wheat.
The entire constitution can be read at the Afghan Website.

Devereaux Cannon, 8 December 2001
---
The Shahada or Kalimah
From the Islamic Resources of the Washington DC Area website: Ashhadu Alla Ilaha Illa Allah Wa Ashhadu Anna Muhammad Rasulu Allah — "I bear witness that there is no deity other than Allah and that Muhammad is his servant and Messenger".
Juan Vaquer Jr., 24 March 1999
Am I wrong in remembering that shahada in Saudi Arabian flag (and others) does not have the first word Ashhadu ("I witness", "I testify")?
Zeljko Heimer, 28 March 1999
Zeljko Heimer is right. On the Saudi Arabian flag and all other flags that bear the Shahada it is simplified as, La allah illa Allah wa-Muhammed rasulu Allah. Literally: "No deity but God and Muhammed God's messenger".
Dov Gutterman, 28 March 1999
I would like to precise that the shahada written on flags —Taliban flag, Saudi Arabian flag etc.— does not have the Arabic conjunction wa ('and') mentioned above. [It is thus simply La allah illa Allah / Muhammed rasulu Allah.]
Omar Amastan Mouffok, 26 December 2001
Shahada means 'testimony' or 'approval' in Arabic, and it is the Islamic credo. In its longer form, the one heard from mosques before prayers, it goes, ashhadu a-lla ilaaha illa llaah, ashhadu anna muhammadan rasuulu llaah i.e. I testify that there is no god but Allah, I testify that Mohammad is the messenger of Allah. The shorter form, found on flags, banners and walls of mosques reads, la ilaaha illa llaah (wa) muhammadu rasuulu llaah i.e. There is no god but Allah (and) Mohammad is the messenger of Allah. I am not familiar with the term Kalimah. In Arabic it would mean 'a word', but I have never heard an Arab referring to the Shahada by this term. Is it used in non-Arabic speaking Muslim countries?
Dror Kamir, 12 June 2002
---
Single-coloured Afghan Flags
A friend asked me about a flag that he saw hoisted on a terrain military vehicle in Afghanistan that he saw on CNN some days ago. It was supposed to be photographed in areas under control of the Northern Alliance and the flag was a purely black one. Is that some kind of new Afghan flag or maybe just some local unit flag? Possibly a reaction to the purely white Taliban flag?
Zeljko Heimer, 20 September 2001
Muslim South Asia is awash in single color flags of green, red, black, and white. They are mounted on makeshift poles outside shrines and mosques, especially outside the tombs of Sufi saints. Popular saints often have dozens of these flags of varying colors on display, not only on poles but hanging from telephone and power poles, trees, and so on. The Taliban's ideology would seem to prohibit reverence for such tombs, so I would be hesitant to conclude that display of a white flag at such a tomb necessarily had anything to do with the Taliban.
These flags also attached to the rear of large trucks and buses, etc. I would not ascribe a specific ratio to them as they appear home-made. They seem to be of religious significance, but I was never able to ascertain whether different colors represented different sects.
Joseph McMillan, 3 October 2001
It may not make any difference, but the Taliban are a different sect of Sunni Islam, called (I think) Deobandi. The Wahhabi are from the Arabian peninsula. While in general you are right about Muslim burial practice, there may be some variation here and there. Afghans, after all, are not Arabs. For all I know Turks and Albanians follow different practices too.
Al Kirsch, 3 October 2001
I seem to recall an early edition of The Flag Bulletin had an article on Afghan grave flags, where monochrome flags in the four Arab/Muslim/Afghan colours, green, white, black and red, were flown on graves, with a significance to each colour. I remember green was supposed to be for descendants of Mohammed.
Dean R. Mc Gee, 4 October 2001
Editor's note: see also Origin of the Pan-Arab Colours.