This page is part of © FOTW Flags Of The World website
Anarchism
Last modified: 2002-06-14 by antonio martins
Keywords: anarchism | anarcho-syndicalism | anarcho-capitalism | ultra liberalism | acracy | libertarianism | politics | black flag | a | circled a | michel (louise) |
Links: FOTW homepage | search | disclaimer and copyright | write us | mirrors

---
See also:
---
Anarchist tendencies and their flags
Historically and in Europe, the anarchic tendencies have been fighting their fights in a more or less difficult alliance with the socialists and communists. This was so in the Spanish Civil War, for intance, and they do have some things in common, at least the hope for a social change/revolution for some or dangerous utopical dreams to others.
In the States, however, there's a peculiar trend of anarchists that could receive in Europe the epitet of ultra-liberal. That is, they look at the Market as the sole ideal regulator of human society, and see the government as an unnecessary and expensive intrusion into the perfect mechanisms of the Market (remember that "liberal" in Europe does not mean the same as in the States).
Now, I'm would guess that these guys would never fly a red-n'-black flag, with or without the A. This leaves the black one. I'm guessing, of course, but couldn't these different flags reflect different trends within the anarchic movements, being the red and black used by currents related with the anarcho-syndicalism and the black one used by the others?
Jorge Candeias, 17 Aug 1999
The black/red is used by anarcho-syndicalists but the black one (with or without circle-A) seems to be used by all other anarchists (and sometimes by the anarcho-syndicalists too). Note that I don't call the anacho-capitalists anarchists; I have never seen any them use any particular flag, by the way.
Marcus Wendel, 17 Aug 1999
Neither would I, but they do. That's probably the reason why several anarchist trends are nowdays calling themselves as libertarian instead of anarchist, at least in Portugal...
Jorge Candeias, 20 Aug 1999
---
Black flag

by Marcus Wendel, 13 Aug 1999

A black flag is the traditional international anarchist flag. It «negates all borders».
Marcus Wendel, 13 Aug 1999

My personal consideration of the black flag is that it donates «legance to nothing higher». Plain black represents total voidness of legance.
Solver Hafsteinn Hafsteinsson, 19 May 2000

Regarding the symbolism of the colour black:
Dried blood
Hunger, misery and death
The anarchist black flag is supposed to have been first used during the Paris Commune of 1871 by Louise Michel and has since been used by various anarchist organizations since.
Marcus Wendel, 16 Aug 1999

This is historically incorrect, possibly a myth associated to the mythical Louise Michel:

the flag hoisted by the Communards on the City Hall of Paris was the red flag [pst98]
Louise Michel was not yet an anarchist in 1871. After the defeat of the Paris Commune, during which she had administrated the Revolution Club, she was sentenced to deportation. She arrived in New Caledonia in 1873, and began to educate the Kanaks and support them in their revolt against the colons. She herself dates from this period her adhesion to anarchist ideas. She was amnisiteid in 1880 and came back triumphally to Paris (and was later nicknamed the "Red Virgin". Then she became the mythic voice of the workers' movement and anarchism. She died in 1905. (Source: Encyclopaedia Universalis, CD-ROM edition) Ivan Sache, 16 Aug 1999
---
Circled A flag

by Marcus Wendel, 13 Aug 1999

It is a black flag with a circled A.
Jamal Hannah 05 Oct 1995

The circle-a means "anarchy is order".
Ben, 02 Feb 2000

The origin of this symbol is unkown but it was used by anarchists during the Spanish Civil War.
Marcus Wendel, 16 Aug 1999

I heard that the black flag with A was for ultra-anarchist named "Acratas". This acratas (I don't know the english equivalent) are anarchist that believe that each man is like an independent state.
Jaume Ollé, 21 Aug 1999
---
Red-black diagonal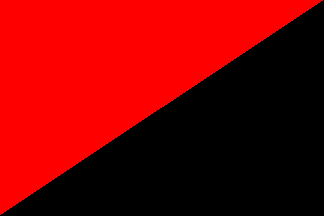 by Marcus Wendel, 13 Aug 1999

First used by anarchists during the Spanish Civil War: The red flag of socialism (Confederación Nacional del Trabajo) and the black flag of anarchism (Federación Anarquista Ibérica). The red and black colours are also often used by the syndicalism movement.
Marcus Wendel, 16 Aug 1999

The red and black flag goes from bottom left to top right, with red on top and black on bottom. The red is the red of the communist flag, and symbolises material equality, or the principle of «from each according to their abilities, to each according to their needs». The black is the black of the anarchist flag, and symbolises social freedom, the freedom of each individual to do as they please so long as their actions don't cause harm to others. Together red and black symbolise libertarian communism. It goes diagonally as a negation of nationalism and a reaffirmation of internationalism.
Ben, 02 Feb 2000

I believe the red over black diagonal is most used as anarchist flag, at least in Denmark.
Ole Andersen, 14 Aug 1999

Perhaps so in Denmark, but not in Portugal. The only anarchist flag I've seen around here was the black flag with encircled "A".
Jorge Candeias, 16 Aug 1999
---
Circled A on red flag

by Edward Mooney, 13 Aug 1999

As a teacher I see the anarchy symbol a lot at school. It is on stickers, drawings, etc. It is used by students to express their anger toward some of my controlling, domineering and fear-inducing colleagues.
Edward Mooney, 13 Aug 1999
---
Circled A on diagonal flag

by Jorge Candeias

Both arrangements (red/black diagonal and circled A) may also appear together.
António Martins, 07 Dec 1999

by Phil Nelson, 14 Aug 1999

Another anarchist flag: Different in that the "A" is Green.
Phil Nelson, 14 Aug 1999