This page is part of © FOTW Flags Of The World website
Antarctica — flag proposals
Last modified: 2003-03-01 by antonio martins
Keywords: proposal | map | smith (withney) | bertram (graham) | stripes: 5 | a | hands (2) | hand (white) | shackleton (ernest) | southern cross | stars: 5 | stars: southern cross | hamilton (dave) | aurora australis |
Links: FOTW homepage | search | disclaimer and copyright | write us | mirrors

---
See also:
---
Withney Smith's proposal

by Zeljko Heimer, 05 Jul 1996

At the 1978 annual meeting of the North American Vexillological Association (NAVA), Whitney Smith gave a talk entitled "Flags of Antarctica". In it he proposed his design for Antarctica: an orange flag with two hands under a sort of bowl. I can't remember for sure the symbolism of the white emblem with the hands.
John Andrew Lowe, 29 Nov 1995.

In L'Album [pay] this flag is shown and listed together with a paragraph expaining its usage by the vessels frequenting the southern polar region. Page 315-2 of the Recapitulative no 1 (1995):
Antarctique ensign; hoisted by any ship frequenting or visiting this continent and by the bases which are located there (as well as elsewhere for meetings devoted to Antarctica).
(translated by Ivan Sache, 03 Jun 2000)
This may prove that even if this flag is indeed just a proposal, it may be that until now it came into de facto use by some southgoing vessels.
Zeljko Heimer, 22 May 2000

The Antarctica flag was removed from L'Album in one of the last corrections, no 27.
Zeljko Heimer and Ivan Sache, 03 Jun 2000

The orange A flag was added to the Album in 1995 and later found to be incorrect and altoghether discarded.
Armand du Payrat, 05 Jun 2000

But how did it appeared on the Album in the first place? Isn't it "just" Smith's proposal for an Antarctica flag?...
António Martins, 04 Jun 2000
---
Graham Bartram's proposal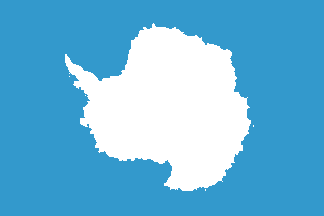 by Graham Bartram, 22 Jul 1996

This is the symbolic flag for Antarctica I created for 3D Atlas. Since we've sold over 1,5 millions copies of this atlas I think this is now by far the most widely promulgated flag for the continent. It's very simple — just an outline of the continent on a UN-blue background. I had to try very hard to come up with a flag with no political bias, so as not to get into the disputes between the UK, Chile and Argentina.
Graham Bartram, 22 Jul 1996
---
Dave Hamilton's proposal

by António Martins, 19 Mar 2000

I invented and designed this flag. I have looked around other web sites and found Antarctic flags (when there is one shown) to be very stupid looking and boring. This one is very different, it is very simple and does have a meaning. The pale blue strip represents pack ice, the dark blue stripe represents the night sky and the yellow stripe is a representation of the aurora australis. The famous stellar constellation the Southern Cross is shown in the dark blue stripe at the right.
Dave Hamilton, 3 Mar 2000

This flag shows on a photo on those phony 50 "Antartican dollars" bills. Depending on how widely these "banknotes" circulated, this flag might have become widely known enough to be listed here.
António Martins, 19 Mar 2000
---
Ernest Shackleton's proposal?

by António Martins, 11 Feb 2000

A colored picture of a waving flag on a small hill was drawn on the pages of the Ernest Shackleton's Antarctic Expedition (1907-1909). The flag had — if I noticed correctly — five horizontal bars, blue and white. Is this an expedition flag for this event only? How should I interprete this flag?

On December 19th I saw the Antiques Roadshow on BBC1, which took place in Worcester (Mid-England). They showed a manuscript, of which a description was found on the BBC website:
Ernest Shackleton's Antarctic Expeditionary party of 1907-1909 also visited the house, and the book contains the signatures of all the crew and some illustrations by the artist, G. E. Marston, one of the official artists of the expedition. There is also what may possibly be an unpublished poem by Shackleton, entitled Mount Erebus, from which Clive reads a passage: «Keeper of the southern gateway / Rugged and grim and grand / Warden of the wastes uncharted / as the years sweet on you stand.» (Note: Clive later found that the poem Erebus does appear in a published expedition book, but it is signed as "Nemo", hence it was not previously publicly known that Shackleton was the author of this piece).
Jan Melssen, 24 Dec 1999

It might have been just an expedition flag, but in that case I'd expect an union jack canton.
António Martins, 11 Feb 2000