This page is part of © FOTW Flags Of The World website
Canada - history of the flag (1892-1907)
Last modified: 2000-05-24 by phil nelson
Keywords: canada | red ensign: canada | history: red ensign: canada |
Links: FOTW homepage | search | disclaimer and copyright | write us | mirrors

---
(official)
by Herman De Wael
(official Canadian red ensign 1892 - 1922)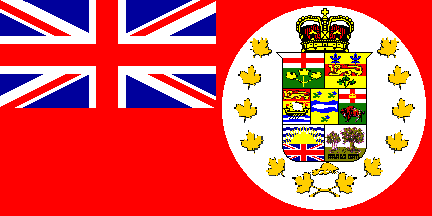 (unofficial)
by Herman De Wael
(unofficial Canadian flag 1896 - 1901)
---
See also:
---
The Red Ensign
Chronology of the Canadian Blue and Red Ensigns
original text by Dean Tiegs - 21 December 1997, additions inserted at appropriate places.
Some information from "The Flags of Canada - chapter IV - the Canadian Ensigns" by Alistair B. Fraser.
---
The British Admiralty approves the Canadian Red Ensign "to be used on board vessels registered in the Dominion." Widespread use of the flag on land continued, even on the Parliament buildings. I suspect there was no design specified for the shield to appear on the flag, but if there was it was probably the 1868 four-province design. Most flag makers continued making the flag with symbols for all the provinces.
Dean Tiegs - 21 December 1997
(official)
by Herman De Wael
While it was very true that the various Red Ensigns were unofficial on land, some were very official at sea. This should include on the Great Lakes, and inland waterways, so there were LOTS of official red ensigns! The text leaves the impression that they were unofficial everywhere. While many of the "popular" designs were not used by the government, some were. It is definite that the Canadian Red Ensign flew over parliament before the Boer War. In fact, that ensign created a stir in Canada when a picture of it over parliament was put on a piece of modern currency. (instead of the new flag)
My impression is that the 4 province ensign was used by the government, and the others by everyone else!
Kevin McNamara - 6 November 1998
16 September 1896
British Columbia adopts a new seal: the vertical reversal of the current arms, but without the ancient crown on the Union Jack. One thing the designers didn't realize was that it could be interpreted as "the sun setting on the British Empire."
Dean Tiegs - 21 December 1997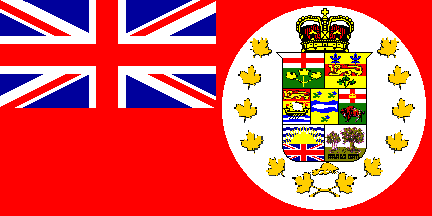 (unofficial)
by Herman De Wael
Suspected form of the unofficial flag after 1896.
Herman De Wael - 20 October 1998
This is rather complicated.
BC had no Arms until 31st March 1906.
The badge of BC as used on the defaced Union Jack of the Lieutenant Governor (the "lion on a crown with B and C surrounded by a garland") was derived from the Great Seal of BC and continued in use on the flag until 1906.
The Great Seal of BC was changed from the "lion and crown" to the "setting sun above the UJ" in 1896.
When the arms were granted in 1906 the design was a reversal of the 1896 Seal, and had the UJ, differenced with an ancient crown, *above* the setting sun.
The Great Seal was not changed to resemble the Arms until 1911.
Sources:
Colonial Office Flag Book
Conrad Swan's "Canada:Symbols of Sovereignty"
---
Notes on above flags:
This might be accurate, though since it is an unofficial flag the point is irrelevant unless it is *known* that there was a flag of this appearance.
It would seem probable that, even on an unofficial flag, any changes would have either, anticipated the forthcoming alteration to the BC 'quarter', or been delayed until 1906, when the format of the BC 'quarter' would have been "UJ defaced with an ancient crown above the setting sun".
David Prothero - 24 October 1998
---
1901
As these aberrant ensigns bore a crown, they underwent a change in 1901. During the Victorian era, the Saint Edward's crown (with the depressed arches) had been used, but upon the accession of Edward VII, in 1901, the (Tudor) crown with raised arches was adopted.(Fraser)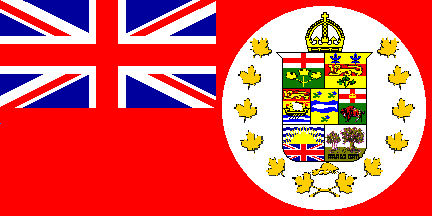 (unofficial)
by Herman De Wael
Version of the unofficial flag after 1901, with the Tudor Crown.
Herman De Wael - 22 October 1998
---
1904
Because of strong patriotism for the Empire during the Boer War, the Union Jack replaces the Canadian Red Ensign on the Parliament buildings.
Dean Tiegs - 21 December 1997
10 May 1905
---
A royal warrant grants arms to Manitoba in their present form.
Dean Tiegs - 21 December 1997
---
30 May 1905
A royal warrant grants arms to Prince Edward Island in their present form.
Dean Tiegs - 21 December 1997
These changes and the creation of two more provinces, were probably too quick in succession for flag manufacturers to start making new versions of the unofficial flag.
Herman De Wael - 22 October 1998
---