This page is part of © FOTW Flags Of The World website
New Brunswick (Canada)
Last modified: 2003-08-16 by phil nelson
Keywords: new brunswick | canada | ship | lion: golden | golden lion |
Links: FOTW homepage | search | disclaimer and copyright | write us | mirrors

---
A very neat, official version of this flag can be found at : http://www.gov.nb.ca/cnb/design/dlp2.htm
---
See also:
---
yellow with black ship with white sail and three red flags sailing on wavy blue and white lines, golden lion in red in chief. ratio 5:8. officially hoisted 1965-03-25. Civil and state flag on land.
Zeljko Heimer - 16 July 1996
---
According to FTAAATW, Pedersen and Barraclough 1971 the ratio is 5 : 8; On the official New Brunswick site: http://www.gov.nb.ca/cnb/design/design/download/flag1.gif, the flag is 444x284 pixels, which is slightly more than 5:8. so I guess that must be the official ratio, and not 1 : 2.
Jarig Bakker - 27 June 1999
---
I'm the one who sent a 1:2 flag, and yes, the flag of New Brunswick is not a 1:2 flag; I've always heard 2:3, so I'll have to look into this. However, the flag is 1:2 because the Canadian government has this policy that all flags flown side-by-side with the Canadian flag must be of a ratio of 1:2. Hence, flags like Quebec's fleur-de-lys or the flags of Nova Scotia, New Brunswick, etc. are all "stretched" to fit this policy. Since the flag was bought here in Burlington, Ontario, it would seem unlikely that the flag would be flown without the Canadian flag nearby. Hence, all the flags sold at this store are of a 1:2 ratiuo, to fit with Canadian policy, including the French and British flags I'd bought a while back.
Georges G. Kovari III - 27 June 1999
"Official" proportions seem to mean nothing in today's world, unless it is flying from the government building (and even then ... ) - since most flag maker prefer to make all flags uniform (3x5', 4x6', etc. - pity), "official proportions" are just something on paper.
David Kendall - 27 June 1999
---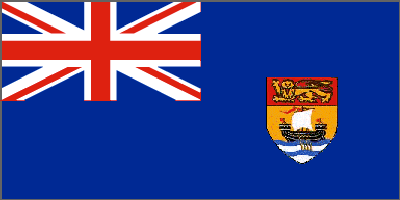 by Chris Pinette
I made this gif from an image I saw in FTTAAATW. Does anyone know when this flag was in use?
Chris Pinette - 27 February 1997
---
W. J. Gordon, Flags of the World Past and Present ; their History and Associations, London, 1924.
At pages 101 to 103 they describe and illustrate a few "badges" of which there is a white disk with respectively the arms of Quebec and New Brunswick. They claim that these badges can be borne on ensigns : blue for warships and governmental vessels and red for merchant vessels.
Luc-Vartan Baronian - 28 February 1997
---
Red Ensign ?
I have an old postcard by Tuck showing the red ensign of New Brunswick with a coat-of-arms quite different from that of your depicted Blue ensign of New Brunswick. Any thoughts please. Was the red ensign with the coa ever used in NB? or was this a figment of the artist's imagination ?
Tom Koh - 30 June 1998
---
Did Tom describe the New Brunswick COAs? I have not seen one other than the lion above a ship.
David Prothero - 2 July 1998
---
Nor have I. Could it be the Nova Scotia thistles and salmon?
Dean Tiegs - 2 July 1998
---
I believe it was Nova Scotia that changed their 1868 COAs. Perhaps NB used assumed COAs from 1867-1868... (?) I seem to remember something like that, but I may be completely wrong...
Luc-Vartan Baronian - 2 July 1998
---

by Marc Pasquin and Mario Fabretto
From the New Brunswick government web site:
The Flag of the Lieutenant-Governor

Order of the Lieutenant-Governor in Council of the Province of New Brunswick dated November 19, 1982 (No. 81-912) approved the design for the flag of the Lieutenant-Governors of the provinces of Canada.

In particular, the Order described the official flag of the Lieutenant-Governor of New Brunswick:

...a royal blue flag, two by width and three by length, the shield of the Arms of the Province surrounded by a circlet of ten gold stylized maple leaves, representing the ten Provinces of Canada. Above all a St. Edward's Crown in proper colours, representing the Sovereign's representative in the Province.

This flag is flown at Government House, and from the Legislative Buildings whenever the Lieutenant-Governor is in Fredericton. It is also flown from public buildings throughout the province whenever the Lieutenant-Governor happens to be in residence.

researched by Jarig Bakker, 14 December 1999