This page is part of © FOTW Flags Of The World website
Historical Flags (Basque Country, Spain)
Last modified: 2001-09-14 by santiago dotor
Keywords: spain | basque country | biscay | ikurriña | cross | bilbao | arana | deusto |
Links: FOTW homepage | search | disclaimer and copyright | write us | mirrors

---
---
See also:
---
Introduction
The Basque and my people, the Míkmaq, made contact with each other in 1372 AD, and I was wondering, if these Basques had been flying a flag, what flag it would have been.
Maqtewékpaqtism, 31 May 2001
It might have been the Navarrese banner of arms as the Basque Country belonged at this time to the Navarrese realm. But it might also be the municipal flag of Bayonne which was then a major center of long distance navigation. In any case, it cannot be the modern Basque flag wich dates only from the late 19th century.
The use of flags in the 14th century was very different than it is nowadays. I think that the banner of arms of Navarre would have been displayed only if the contact had been made by Nvarrese crown officials. As far as I know this alleged contact (which is still debated and not acknowledged by some historians) was not. So I think that municipal flag of Bayonne is most likely, at least at sea.
Philippe Bondurand, 31 May 2001
Oldest known Basque flag is dated from the 18th century. Supposed traditional Cantabric (Basque) colours are red and black, possibly vertical.
Jaume Ollé, 31 May 2001
Only some Basque territories were subjects to the king of Navarre in 1372. In 1200 the king of Castile had inherited the Lordship of Biscay and along the 14th century several cities in Alava and lordships in Guipuzcoa requested the protection of the Castilian crown to defend themselves better (for instance against English ambitions in the area). Basque vessels from these territories would only fly the banner-of-arms of Castile and Leon if they were royal vessels, belonged to the Castilian navy or had been in one way or another commissioned by the king (as was the case, for instance, with Columbus' ships). (...)
So the only thing we can say with certainty is that the ensign flown by a civil vessel would be neither the Navarre nor the Castile and Leon flag (except if on official duty), and that possibly it might have flown a multistriped flag, perhaps in green and/or white and/or red (red being very common in Basque flags). There is a possibility that Sabino Arana's first design for a pan-Basque flag was based on that.
Santiago Dotor, 4 June 2001
---
Consulate of Bilbao (16th Century - 1839)

by Jaume Ollé, based on a hand-drawn sketch by Juanjo González
In 1504, Phillip the Fair, Duke of Burgundy, who had married Johanna the Mad, daughter of Ferdinand and Isabella (of Columbus fame) succeeded to the throne of Spain. As a result, the Kings of Spain were also Dukes of Burgundy and as a result, Burgundian symbols, including the famous cross, became Spanish royal and military symbols. As long as Spain ruled the Spanish Netherlands (roughly, present day Belgium), Burgundian symbols were a little more associated with them, but were also used for other Spanish purposes, including, e.g., Bilbao.
Norman Martin, 28 January 1998
---
Republic of Deusto (18th Century - 1925)

by Jaume Ollé, based on a hand-drawn sketch by Juanjo González
The Republic of Deusto was an autonomus municipality annexed to Bilbao City in 1925. The flag was used from the 18th Century to 1925.
Jaume Ollé, 15 December 1996
---
Deusto Ensign (18th Century)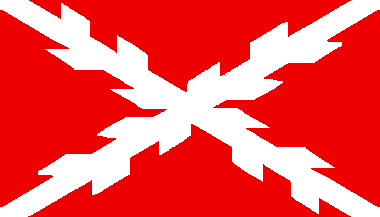 by Jaume Ollé, based on a hand-drawn sketch by Juanjo González
Probable Deusto ensign used in the 18th Century.
Jaume Ollé, 15 December 1996
---
Biscay Ensign (18th Century - 1830's)

by Jaume Ollé, based on a hand-drawn sketch by Juanjo González

Flag used from the 18th Century to the 1830's.

Jaume Ollé, 15 December 1996
---
Basque 1881 Flag

by Jaume Ollé, based on a hand-drawn sketch by Juanjo González

A flag for the Basque people was created for the 1881 Universal Exposition.

Jaume Ollé, 15 December 1996
---
Sabino Arana's Flag

by Jorge Candeias

After some time, Sabino Arana, the father of Basque nationalism, created a new flag, that preceded the current Ikurriña, also created by him.

Jaume Ollé, 15 December 1996

According to our experts Juanjo González and Xavier Ormaetxea (former list member and Basque nationalist deputy in parliament), the horizontal stripes must be red and green instead of white and green. Banderas erroneously reported a green and white flag.

Jaume Ollé, 30 May 1998

Incorrect design reported in Banderas
by Jorge Candeias