History of the Ensign
The 1992 flag law gave the Åland government the power to introduce a special ensign for leisure vessels. This was done on 17. September 1998. The special ensign is based on the Åland flag, but is somewhat longer (ratio 17:31), due to the fact the ensign is swallow-tailed. The badge of the vessel's boating (yacht) club is to be placed in the upper hoist blue field of the special ensign.
The special ensign was taken into use at the start of this year's sailing season.
Jan Oskar Engene, 24 May 1999

I think that Åländska Segelsällskapet uses the Åland yacht ensign (with white letters ÅSS surmounted by golden crown) on Finnish territorial waters but switch to the Finnish version (with Åland coat-of-arms) when they go abroad. I am not sure about this but I would be quite surprised to see an Åland ensign outside Finland.
The decision on Åland yacht ensign does not mention anything about commodore or vice-commodore pennants and therefore I don't know if they exist and what they look like. Finnish versions exist, of course.
Ossi Raivio, 2 and 3 September 2001
---
Badges of Sailing Societies
In order to make details better visible, I have made images of the badges only. The images sent are based on vectorial graphics provided to me by C.G. Sjöberg of Mariehamn, I only edited and lightly touched up the GIFs, so the credit belongs to Sjöberg.

Jan Oskar Engene, 4 September 2001



Åländska Segelsällskapet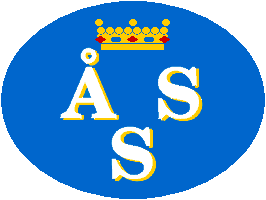 by C.G. Sjöberg, September 2001
Whereas this club uses the Åland coat of arms in the Finnish yacht ensign, they use a different badge for their Åland yacht ensign. This badge is simply the letters ÅSS in white capital letters shadowed in gold and surmounted by a crown of a count, Åland ranking as a county among Finnish provinces.
Jan Oskar Engene, 4 September 2001
Mariehamns Seglarförening
by C.G. Sjöberg, September 2001
Besides a garland and the club initials, Mariehamns Seglarförening uses a variation on the old city arms of Mariehamn, Åland's capital, for its ensign badge. On 14. May 1881 Mariehamn was granted arms consisting of a gold M surmounted by a red imperial crown on a blue field in chief, and a red deer on gold in base. Mariehamn was named after a tzarina, Maria Alexandrovna, hence the letter and the crown.
Jan Oskar Engene, 4 September 2001
Färjsundets Segelförening
by C.G. Sjöberg, September 2001
This club uses a modern badge consisting of a sail, a propeller and wavy lines, set within a shield outlined in yellow.
Jan Oskar Engene, 4 September 2001