This page is part of © FOTW Flags Of The World website
Star Trek
Last modified: 2003-02-01 by marc pasquin
Keywords: flag | movies | star trek |
Links: FOTW homepage | search | disclaimer and copyright | write us | mirrors

---
See also:
External:
---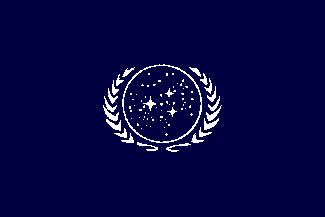 image by Zeljko Heimer
The Star Trek Federation of Planets appears to use something closely based on the UN flag.

Stuart Notholt, 15 November 1995
---
The gif I got originally had black background, but I changed it to 'deep blue' (but I am ready to correct it if I am wrong). We were discussing once that black flags might be expected when mankind start to colonize outer space, as analogon to blue flags connected with maritime countries. I must say that this flag with black background looks to me much more apropriate then blue one.
Zeljko Heimer, May 1996
---
A recent episode of Deep Space Nine showed a flag in a courtroom situation which included the words "United Federation of Planets" along the bottom. One would think that being one of the three major powers in this quadrant of the galaxy would keep them from feeling compelled to write their name on the flag as well.
It's not a bad theory [black vs. blue], but given that Star Trek retains a lot of ties to naval concepts, I'm not so sure how much they'd change. Also, black flags seem to have an association with piracy or death -- I don't know if this prejudice might have disappeared in a couple of centuries.
Also shown in that episode of DS9 was a yellow flag, of Starfleet, which is the semi-military organization of the Federation charged with the duty of defence, exploration, and assistance. As far as I could tell is had the Starfleet insignia in the middle on a yellow field, yes, with the words Starfleet along the bottom.
Dipesh Navsaria, 9 June 1996
---
Star Trek is easy, they even give you the colors and exact dimensions in the Star Fleet Technical Manual. Flags were given for several star systems, my favorite being the Star Empire of Epsilon Eridani.
Alexander Justice, 14 November 1995
---
The United Federation of Planets flag has appeared only a handful of times. It appears in two slight variants in the early films: In Star Trek: The Motion Picture, one is seen hanging in the Enterprise's Recreation Room. In Star Trek II, the exact same flag (or perhaps a slight variant) is placed over Spock's casket at the film. On both occasions, the flag is a royal blue with a propotionally small Fedeation seal centered and no words (it may contain the letters UFP, however.) The Great Seal of the United Federation of Planets was modified somewhat for use in the more recent TV series (The Next Generation, Deep Space Nine, and Voyager). It would appear the DS9 guys decided to do a flag towards the end of that show's fifth season, inspired quite a bit more heavily by that of the UN. The flag is slightly lighter and the newer seal is used, filling up about as much of the flag as the UN seal does. Running across most the bottom are the Words "UNITED FEDERATION of P! LANETS" all in caps except "of." The font looks remarkably similar toTimes New Roman, although since the Trek art dept. are ardent Mac users, this may not be the case. That flag was reused on that show numerous times since then, especially over caskets during the war with the Dominion that filled up the end of the show's run. The only time it has been shown flying was briefly in the episode "Take Me Out the Holosuite," pictured at:
http://kcohn.simplenet.com/alidarjarok/deepspace9/takemeouttotheholosuite/TMOTH46.jpg
There's some good casket shots of it at that site, too. http://kcohn.simplenet.com/alidarjarok/deepspace9/thesoundofhervoice/Voice31.jpg
http://kcohn.simplenet.com/alidarjarok/deepspace9/tearsoftheprophets/Tear122c.jpg
Tom Aylward-Nally 19 December 1999
---

Santiago Dotor, 16 octobre 2000
---

Santiago Dotor, 16 octobre 2000
---
US, 52 STARS
A fictional flag from the Star Trek Next Generation TV series was the 52 Star US flag. The set designers wanted a flag from the viewer's future, and was concerned that people with VCRs would stop and count the stars. What I noticed about the flag (without stoping the tape) was that the blue canton rested on a red stripe instead of a white one.

R. Nathan Bliss, 19 February 1996
---
The Star Empire of Epsilon Indii
The Star Empire of Epsilon Indii has a nice squarely-swallowtailed flag the natives call 'standard'.
Santiago Dotor, 16 octobre 2000
---
The Klingon Empire
2 variants of the flag used by the klingon empire