This page is part of © FOTW Flags Of The World website
History of FOTW
Last modified: 2003-04-19 by rob raeside
Keywords: fotw | bottasini | history |
Links: FOTW homepage | search | disclaimer and copyright | write us | mirrors

---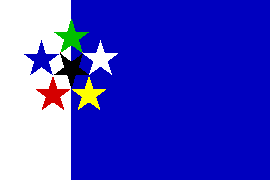 by Mark Sensen
Summary
Date
Director
Listmaster
List host
September 1993 -
Giuseppe Bottasini
CESI
Late 1994 -
Giuseppe Bottasini
24 July 1997 -
Josh Fruhlinger
University of California, Berkeley
June 1998 -
Rob Raeside
1 August 1998 -
Edward Mooney
QNET.com
April 2000 -
eGroups.com
1 August 2000 -
Ole Andersen
January 2001 -
YahooGroups.com
1 August 2002
Steve Kramer
1 May 2003
Ole Andersen
The Mailing List
The mailing list was begun as a discussion group of about a dozen people, including Giuseppe Bottasini, Christopher Vance, and Alessio Bragadini, in about September 1993. It soon expanded to include a regular group of about 100 to 150 addresses. Many of the images initially distributed via the mailing list were written in PostScript by Christopher Vance, who maintained the best flag-site on the Internet at the time. The mailing list was initially managed by Giuseppe Bottasini, an engineer from CESI in Milan, until on July 24 1997 it moved to a majordomo list at University of California, Berkeley, managed by Josh Fruhlinger, an MA candidate in Classical History. On 1 August 1998 the mailing list moved to QNET.com, a majordomo list, managed by Edward Mooney, a social studies teacher in Palmdale, Antelope Valley, California. In April 2000, spam found its way through the majordomo list server, and in spite of heroic efforts by Edward, forced a move from the majordomo to eGroups, which was subsequently acquired by YahooGroups, the current host of the mailing list. In January 2000, Ole Andersen, of Copenhagen, Denmark, was appointed assistant list master, and took over full management of the list on 1 August 2000 for a two-year appointment, and he was replaced by Steve Kramer in 2002. Currently, António Martins-Tuválkin is assistant list master, planning to take over full duties in 2004, and André Coutanche is apprentice list master.
Rob Raeside, 14 April 2003
The list was increasingly active in the early days, and has enjoyed about 15,000 to 20,000 messages a year since 1997. Zeljko Heimer kept track of the number of messages over this time, and reported:
1996 6166 (March-December)
1997 14506
1998 18010
1999 20374
2000 15744
2001 21027
2002 16645 (to end of November)
He added, "Unfortunately, those before I have kept somewhere on some diskette which I don't know where it might be any more. I have joined in mid-1995, but the list exists since September 1993. I don't suppose that the number of messages was larger then that in 1996, probably was even smaller. I suppose we may assume that 1993-1995 did not reach 6000 or so."
Zeljko Heimer, 1 December 2002
The Website
The Flags of the World website was created by Giuseppe Bottasini, of Milan, Italy, in the early days of general public access to the Internet (late 1994). Giuseppe initially operated both the website and mailing list from CESI (Centro Elettrotecnico Sperimentale Italiano), until bandwidth pressures resulting from the site's popularity required him to look for a more permanent site. In January 1997 a devastating system crash at CESI forced the immediate move, briefly through an Israeli mirror, to a site at Digibel in Belgium. Giuseppe continued to manage the website, initially assisted by Zeljko Heimer, who was responsible for ensuring a flag on every page, and who standardized the layout of the pages, the image sizes and palettes and introduced the use of ISO codes for file names. Zeljko "retired" when he went to do military service in Croatia in late 1997, although he has intermittently remained active as an editor. Rob Raeside took over as assistant, until in June 1998 Giuseppe announced his resignation as director and Rob took over. The website continued to grow, exceeding 100 Mbytes in size in October 2000. In May 2001, the "home site" at Digibel in Belgium closed, and FOTW continued as a dispersed series of mirrors operating in USA, Switzerland, United Kingdom, Australia, Finland, France, Germany, Puerto Rico, Russia and Taiwan. In April 2003, Rob resigned as editor, being replaced by Ole Andersen.
Being a discussion group about flags, it was inevitable that the group would come up with a flag representing itself. The winning entry (shown above) to a FOTW-flag design competition was submitted by Mark Sensen. Other entries were submitted by Giuseppe Bottasini, James Dignan, Jan Oskar Engene, Josh Fruhlinger, Alex Justice, Petr Exner, Xabier Ormaetxea, and Zeljko Heimer.
---
FOTW Flag Day
The FOTW Flag Day is 8 March, as voted by members to represent the date on which the FOTW flag was formally adopted (8 March 1996).