This page is part of © FOTW Flags Of The World website
United Kingdom: Warden of the Cinque Ports
Last modified: 2001-12-08 by rob raeside
Keywords: cinque ports | united kingdom | england | europe |
Links: FOTW homepage | search | disclaimer and copyright | write us | mirrors

---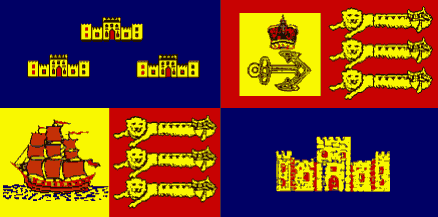 by Steve Stringfellow
See also:
---
Here is some information on this flag from Geoffrey Williams, The Heraldry of the Cinque Ports, Rutland, Vermont: Charles E. Tuttle, 1971.
The lord warden has the right to fly his own personal standard, but when such a flag originated is not known. Lord Curzon records that Prime Minister William Pitt reviewed a fleet of vessels from the Cinque Ports in 1803 and that the warden's flag was saluted by the boats anchored in line opposite Walmer Castle. No earlier reference to the flag occurs than this.

Two examples of the flag exist, one of them in the council chamber of New Romney town hall. The banner in present use (plate, p135) is in the care of the registrar and solicitor to the Ports, at Dover. It measures 14ft 4in by 7ft 8in and is best described as:

Quarterly,
(i) Azure; three castles, 2 and 1, or;
(ii) Gules; to the dexter a rectangle Or containing an anchor upon its side, flukes to the sinister surmounted by a peer's coronet; to the sinister three demi-lions passant guardant conjoined to as many ships' hulls, or;
(iii) Per pale Or and gules; to the dexter a three-masted vessel, square rigged, sailing to the dexter, gules; to the sinister three lions passant guardant conjoined to as many ships' hulls, or;
(iv) Azure; a castle or.

When Mr W. H. Smith was Warden in 1891, he chose to exercise his right to fly the flags when sailing his yacht Pandora. Unfamiliarity with such an ensign led to confusion among local boatmen; so much so that quite a altercation occurred on one occasion when the vessel nearly ran down a small craft which was attempting to come alongside while Pandora was under way, thinking that the strange flag was a request for a pilot.

Because of the reduced frequency with which recent wardens have needed to visit the Ports, the flag is seldom seen nowadays. During the term of office of Sir Winston Churchill, the flag was displayed only on the occasions of his installation and of his visit to Dover to receive the freedom of the town. During Sir Winston's funeral procession in January 1965, a replica of the Cinque Ports' banner preceded the coffin, and when the Port of London Authority launch Havengore bore his body from Tower Pier to Waterloo, the flag of the lord warden was flown from the vessel's jackstaff.

When Sir Robert Menzies is in residence at Walmer Castle the warden's flag is flown at the masthead. On his visits to members of the Confederation a pennon in the form of a miniature warden's banner is borne by his car.
There is also, as you'll note if you read the above part about the funeral, a banner for the ports themselves. It is essentially an armorial banner with the three demi-lions co-joined to as many ships' hulls.

Steve Stringfellow, 20 April 1998

Norie and Hobbs (1848) show this flag with the lower hoist quarter structured like the upper fly quarter: Red with a yellow field with, in this case, a ship.

Peter Hans van den Muijzenberg, 12 November 2001

The Lord Warden of the Cinque Ports is an honorary office. I think that the position is still held by the Queen Mother who was appointed in 1978; previous recent Wardens were Sir Winston Churchill, 1941 to 1965, and former Australian
Prime Minister Sir Robert Menzies 1965 to 1978. The original Cinque Ports were Sandwich, Dover, Hythe, Romney and Hastings. Rye and Winchelsea were added later. They were granted certain privileges in exchange for naval assistance to the King. Origins were pre-Norman possibly Roman, in what was known as the Defence of the Saxon Shore.

David Prothero, 16 November 2001