This page is part of © FOTW Flags Of The World website
United Kingdom: Flags of the Interregnum, 1649-1660
Last modified: 2002-08-09 by rob raeside
Keywords: united kingdom | union jack | saint georges cross | saint andrews cross | saint patricks cross | harp | cromwell | commonwealth | interregnum |
Links: FOTW homepage | search | disclaimer and copyright | write us | mirrors

---
---
Flags of the Commonwealth, 1649-53
by Vincent Morley
by Vincent Morley
At sea, royalist ships continued to fly the Union Jack of 1606 and the appropriate ensign (different in England and in Scotland before 1707). The parliamentary navy was ordered by the Council of State on 22 February 1649 as follows: "that the ships at sea in service of the State shall onely beare the red Crosse in a white flag". The appropriate order was signed by Oliver Cromwell on 23 February. On 5 March 1649 the Council ordered "that the Flagg that is to be borne by the Admiral, Vice-Admiral, and Rere-Admiral be that now presented, viz., the Armes of England [Red St. George Cross on white] and Ireland [gold harp on blue] in two severall Escotcheons in a Red Flagg, within a compartment." In 1651, the Commonwealth changed its ensign to quarterly, first and fourth, Cross of St. George on white, and second and third, Cross of St. Andrew on blue.
Dave Martucci, 29 September 1999
---
Commonwealth Coat of Arms, 1649-1660
The coat of arms of the Commonwealth (1649-60) from an unidentified heraldry book. The arms of the Commonwealth appeared on the Great Seal struck in 1655. Interestingly these arms retained symbols of royalty (Crowns, Helm etc.). The arms of the Lord Protector Oliver Cromwell were incorporated into the new design.
Blazon: Quarterly 1 and 4 Argent a Cross Gules [for England] 2 Azure a Saltire Argent [for Scotland] and 3 Azure a Harp Or Stringed Argent [for Ireland] on an Inescutcheon Sable a Lion Rampant Argent [Cromwell's arms].
The supporters were a crowned lion of England and a red dragon of Wales. The Scottish unicorn was removed, as it was associated with the Stewart Monarchy.
The motto read PAX, QUĂRITUR, BELLO ("Peace is obtained [or 'sought'] by war")
Nitesh Dave, and Phil Cleary, 2 July 2000
---
Flags of the Protectorate, 1653-59
by Vincent Morley
Timothy Wilson, Flags at Sea (1986) shows on page 20 a personal standard of Oliver Cromwell: quarterly, first and fourth white with a red St. George's Cross (England); second blue with white St. Andrew's Cross (Scotland); third blue with yellow harp (Ireland); and overall an escutcheon bearing Cromwell's personal arms (sable a lion rampant argent).
Joseph McMillan, 27 September 1999
by Vincent Morley
It is stated in Wilson's Flags at Sea (1986), p. 19:
'In 1658 Cromwell's standard as Lord Protector, in which the cross of St. George was quartered with the cross of St. Andrew and the Irish Harp, and surmounted by an escutcheon with Cromwell's personal coat of arms became the 'Standard for the General of his Highnesse fleet' and the Cross and Harp jack was replaced by the old Union Jack with the addition of a harp in the centre.'
Jarig Bakker, 26 September 1999
---
Infantry flag from the Parliamentary army
The anniversary of Cromwell's death, on 3rd September 1658, was marked at the Cromwell Museum, Huntingdon, on Saturday 4th September, with the display of a replica of his cavalry guidon or flag. The Cromwell Museum, part of Cambridgeshire County Council, has been at the centre of the programme of events this year to mark the quatercentenary of Cromwell's birth in 1599. The flag, known more accurately as a guidon, which has an elaborate lance style pole, was made by members of the Lord John Robardes Regiment of the Sealed Knot and was presented to the Cromwell Association on 25th April, Cromwell's bithday, earlier in year. The Association has generously deposited the cornet with the Museum. The recreation is based on evidence from a contemporary manuscript. It is on display in the Museum above the arms and armour.
From: www.cromwell.argonet.co.uk/flag.htm, located by Dov Gutterman, 10 July 2000
by Rob Raeside
The colour of the major's company of an infantry regiment. Lord Robart's Regiment of Foot fought on the Parliamentary side, but under the Earl of Essex in 1642-44, and not under Cromwell.
Ian Sumner, 12 July 2000
The flag size was 6' 6" x 6' 6", the canton (being the George cross in the top corner) was 2' 2" square. It has a 'wavy pile', this being a wavy point tapering to about a third of the diagonal across the flag.
Chris Rogers, 2i/c of Lord John Robartes Regiment of Foote of the English Civil War , 7 April 2001
Some other flags of companies of Lord John Robarte's Regiment of Foote are:
Colonels = Plain red colour.
Lt Col's = Plain field with canton of St. George.
Majors = Red field, canton and wavy pile.
1st Cap't = Red field, canton and one estoile (being a wavy 5 pointed star)
2nd Cap't = As above with 2 estoiles
3rd Cap't = As above with 3 estoiles
4th Cap't = As above with 4

etc up to 6th Cap't Company
Chris Rogers, 20 June 2001
---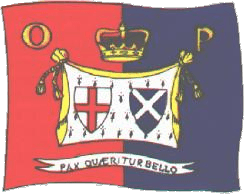 by Jarig Bakker
From "Flags", by Eric Inglefield, (1979)
I think that this must be Oliver Cromwell's banner from the time when he was Lord Protector; May 1657 until he died in September 1658. Part republic, part monarchy; hence the crown. I guess that O P stands for Office of Protector.

David Prothero, 8 July 2002