This page is part of © FOTW Flags Of The World website
Guadeloupe - Independentist Organizations
Last modified: 2001-04-12 by dov gutterman
Keywords: guadeloupe | chain | uplg | gong | mpgi |
Links: FOTW homepage | search | disclaimer and copyright | write us | mirrors

---
---
See also:
---
The Popular Liberation Union of Guadeloupe uses a green-red-green flag with a white stripe between green and red, and red and green. On the red near the hoist appears a yellow five-pointed star. Proportion 2:3 (also 1:2); thick green stripes, thinner white stripes.
Pascal Vagnat, 13 March1996
Theodora.com shows this flag as Guadeloupe flag. However they state: "This flag of Guadeloupe is intended for representational purposes and no claim to technical accuracy is made."
Jarig Bakker, 18 January 2001
The flag shown at Theodora.com as Guadeloupe flag is that of the Union Populaire de Liberacion de Guadeloupe, founded in 1978. Although this flag was proposed to become national flag. It looks quite similar to Suriname.
Ralf  Stelter, 19 January 2001
The Union Populaire pour la Libération de la Guadeloupe (UPLG) was founded in 1978 by Claude Makouke. The UPLG's proposal for the national flag of Guadeloupe is the same as the party's own flag, but with the star half the size .The ratio of both is 1:2. Source: a communication from Lucien Philippe.
Jaume Olle', 28 February 1998
Flag similar to the UPLG flag was proposed to the Congress of 1984 as national flag. Ratio is 1:2. Only minor differences exist between the proposed national flag and the flag of UPLG (e.g. size of the star which is bigger in the UPLG flag)
Jaume Olle', 21 January 2001
---
see also: FLNG
The Groupement des Organisations Nationalistes Guadeloupéennes (GONG) was founded in 1963. The first flag had a ratio of 2:3, five horizontal bars, a red triangle at the hoist, and a white star within the triangle.
Jaume Olle', 28 February 1998
Around 1970, a new flag was introduced: it was the same but with a ratio of 3:5 and a yellow star.
Jaume Olle', 28 February 1998
In 1974 a new flag with ratio 1:2 was introduced.
Jaume Olle', 28 February 1998
---

by David Martucci & Antonio Martins
At the World Team Olympiad of Bridge, last October (in Rhodes, Greece), Guadeloupe was participating and the flag masts at the venue had one flag I did not recognize. Since it was hoisted between Greece and Hong Kong I concluded that it must have represented Guadeloupe:
Four equal horizontal bands: green, red, green, red, with a black arrow at the hoist (45 degrees inclination). In the arrow were two pieces of chain (yellow), each with three black holes, apparently broken at the arrow point.
Herman De Wael, 16 January 1997
This is the flag of the People's Movement for an Independent Guadeloupe (MPGI).
Dave Martucci, 22 January 1997
The MPGI was created in 1982 and is directed by L. Reinette
Jaume Olle, 15 April 1997
This flag is listed under number 195 at the chart "Flags of Aspirant Peoples" [asp] as :
"Guadeloupe (People's Movement for an Independent Guadeloupe [MPGI] - French Overseas Department, Caribbean", but with proportion 1:2.
Ivan Sache, 16 September 1999
---
see also: GONG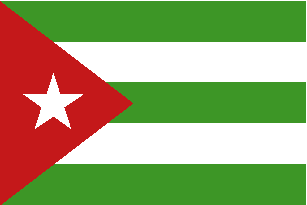 by Ralf  Stelter, 18 January 2001
The Cuban pattern is the flag of the National Liberation Front (FLNG), reported in Flag Bulletin Newsletter Vol. III, No. 1 (I think around 1964?). Does it still exist?
Ralf  Stelter, 18 January 2001
---