This page is part of © FOTW Flags Of The World website
Bjelovar-Bilogora County (Croatia)
Bjelovarsko-Bilogorska Zupanija
Last modified: 2003-07-12 by dov gutterman
Keywords: bjelovar | bilogora | croatia | zupanija | bjelovarsko-bilogorska | bjelovar-bilogora county |
Links: FOTW homepage | search | disclaimer and copyright | write us | mirrors

---

by Zeljko Heimer, 22 October 2000
---
---
See also:
Municipalities:
---
The County of Bjelovar - Bilogora is situated east from Zagreb, in middle Croatia. The arms consist of St. Andrew's cross, image of St. George slaying the dragon and chequy field of Croatia. This is the same arms as were given to Bjelovar county in 1871, when it was formed from regions that were removed from Military Frontier (known as Varazdin Frontier).
Zeljko Heimer
I have bought a book: Csa'ki, Imre: A magyar kira'lysa'g va'rmegyéinek ci'merei a XVIII-XIX. sza'zadban, Corvina, Budapest, 1995 , in which are shown (one big coat of arms in each page!) all the coats of arms of the counties of the Hungarian part of the Austro-Hungarian Empire in the XVIII. and XIX. centuries.
"Belovar-Körös va'rmegye" [Bjelovar-Krizevci County]: a woman of justice [that is a woman with a ribbon on the eyes, holding a sword in the right hand and here a sheet of paper in the left hand] with green clothes holding two shields: dexter: divided per fess: 1- chappé courbé [divided in three filed the one in the middle forming a sort of curved triangle]: a- azure a crowned lion head or; b- vert a running marten natural; c- chequered of 25 argent and gules; 2- divided per pal: a- argent a part of a pond in white with reed and grass natural and a duck taking flight also natural; b- gules a lion or on a crown also or. On the whole an inescutcheon gules a latine cross argent between the letters M and T or [Maria Theresia]. sinister: divided per fess: 1- divided per pal: a- azure Saint George natural on a horse argent and gules fighting the dragon vert; b- gules a clover cross in saltire; 2- chequered of 18 [6 x 3] argent and gules. Above the whole, there is a royal crown or. Under the whole there is a ribbon argent fimbriated azure with the words or « JUSTITIA » « CLEMENTIA ».
The coat of arms was adopted in 1897. The coat of arms of the Bielovar part [former Bielovar county (?)] was adopted in 1872.
Pascal Vagnat, 28 June 1998
I should mention a book that was issued just these days - the second book of the Croatian Encyclopedia (Hrvatska Encikopedija, Leksikografski zavod Miroslav Krleza, Zagreb, 1999-; 2. Be-Da, 2000). Under the title "Bjelovarsko-Bilogorska zupanija" there is image of the CoA together with a short presentation (actually being only three sentences or so). There is no mention of the flag, and the CoA is shown in grayscale (and a bit vertically distorted). However, I guess that such a book shall become quite a reference in future, and that it is worth of mentioning. Few pages latter on there is the article on "Brodsko-posavska zupanija" and none other have as yet come in the alphabetic order. Anyway, here is what's there about BBC (my translation):
"Bjelovar and Bilogora County, administrative unit in norhtern part of Croatia. Encompases the valley of the rivers Cesma [C<esma] and Ilova, between Bilogora in north and Moslavina mountain in south; 2647 km2, 144 042 inhabitants."
The article is ending with naming all the cities and communities in the county, that I omit here
Zeljko Heimer, 22 October 2000
---
The County is situated east from Zagreb, in central Croatia, one of the two counties not having state border. The area of the county was part of the Military Frontier as Bulwark agains Ottoman empire since middle age. It was mainly the area of so called "Varazdin Frontier", as it was manned mainly by people from Varazdin region, and the unit under whose responsibility it was, was the 6th Varaz<din - Saint George's regiment.

by Zeljko Heimer, 16 July 1999
The region was removed from Military Frontier and rejoined with civilian Croatia in 1872 (or in 1871 according to other source), when the County of Bjelovar (Bjelovarska z<upanija, Belov/ar va/rmegye, Komitat Belovar) was formed and the coat of arms granted by empiror Franz Joseph I: trierced, 1. Azure, Saint Gorge killin the dragon, 2. Gules, a saltire botonny Argent, 3. chequy Gules and Argent 5x3.
The flag of the county from that period is preserved in Croatian Historic Museum. It is not pictured on their site, nor in the catalogue of the flag exhibition held in 1996. However, there is a description there: reoughly square RWB tricolour with stripes ending in triangular tails, with light blue square in the middle containing the CoA of the county with helmet with crest in figure of Justice (Justitia) holding sword and scales.In 1886 the county was joined with the County of Krizevci (Kriz<evac<ka z<upanija, Ko//ro:s va/rmegye, Komitat Kreuz). The new CoA was made (officially in 1897) simply by showing both arms side by side in two shields, held by Justitia, with motto "Justitia - Clementia".

by Zeljko Heimer, 16 July 1999
The flag of this county from 1903 is also preserved (in Museum in Bjelovar), being red rectange with golden ornamented border, the CoA in the middle and inscription in gold embroidery with name of the county above and year 1903 below the CoA. (The photo of the flag was available on B-B county pages which were moved some time ago. The CoA of Krizevci county is seen on the combined county flag of 1903 at hoist side. That hoist shield was granted in 1759 by Maria Theresia.
When the counties were reintroduced in 1993, the most of the county of Bjelovar (of 1872) was found in the County of Bjelovar and Bilogora. The right to bear the same historical coat of arms was recognized, but new flag was made (according to mder patter prescribed by Croatian laws). On 12 December 1995 the county assembly made the Decision on the coat of arms and the flag (source 1) where the CoA is described as such: "...simple shield divided horzontally in two. The upper part is divided in two equal fields. In the first on blue background there is figure of St. George on horse killing the dragon. The figure is white with red cloak, while the dragon is green. In second field is on red background white Andrew's cross. On lower half is a part of Croatian historical coat of arms of five horizontal and three vertical red-white pieces, with first piece being red."The flag is bicolour, golden yellow above green of equal width [height!], with the coat of arms in the middle of the flag on both sides
The decision bacame valid eight days after publication in official papers (unfortunately I do not have that date).
That CoA and flag was approved by the Ministry of Administration on 19 April 1996 (source 2) and a new decision on the CoA and flag was adopted on 29 May 1996 confirming the previous design, and adding the usage details prescriptions (source 3). One should notice that the CoA horizontal division does not lay on the bisecton of the flag, but a little above it. Also, in comparison to my previously sent images, the coat of arms is considerably larger (and according to my measuremnt of the image accompanying the source 3, the height of the CoA is 7/10 of the hoist size). Also, the decision nowhere mentiones that the Andrew's cross in couped and bottony (is that right expression?), but on all depictions (including historical images) it is so.

Sources:
1. Odluka o grbu i zastavi Županije bjelovarsko-bilogorske, 12. prosinca 1995. (Decision on the coat of arms and the flag of the Counyt of Bjelovar and Bilogora, 12-DEC-1995)
2. Rješenje Ministarstva uprave, Kl. UP/I-017-02/96-01/28, Ur. br. 515-04-03/1-96-1, Zagreb, 19. travnja 1996. (Apporval of Ministry of Administration, 19-APR-1996).
3. Odluka o opisu grba i zastave, kao i uvjetima načina uporabe grba i zastave Županije bjelovarsko-bilogorske, 29. svibnja 1996. (Decision on the coat of arms and the flag, and on conditions of usage of the coat of arms and the flag of the County of Bjelovar and Bilogora, 29_MAY-1996)
4. Jelena Borosak - Marijanovic, Flags trough the centuries, Catalogue of Museum Collection, Flags and Flag Streamers, Hrvatski povijesni muzej, Zagreb, 1996.
5. Csaky, Imre "A magyar kiralysag varmegyeinek cimerei. A XVIII-XIX. Szazadban", Corvina, Budapest, 1995. ISBN 963-13-4234-4
6. Zupanija bjelovarsko-bilogorska (official web site-currantly unavailible) <alf.tel.hr/zbb>, consulted Dec-1997.
7. Zeljko Heimer: The FAME.
Zeljko Heimer, 16 July 1999
---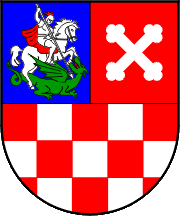 by Zeljko Heimer, 22 October 2000
---