This page is part of © FOTW Flags Of The World website
Sibenik-Knin County (Croatia)
Sibensko-Kninska Zupanija
Last modified: 2002-06-21 by dov gutterman
Keywords: sibenik | knin | county | croatia | zupanija | sibensko-kninska |
Links: FOTW homepage | search | disclaimer and copyright | write us | mirrors

---
---
---
See also:
Municipalities:
---
north of Dalmatia, the County of Sibenik-Knin was occupied in 1991. Most parts of the county were until 1997 included in the County of Zadar-Knin (now County of Zadar), due to the fact that whole occupied area was considered a single District (kotar) of Knin. In 1997 more natural borders of the counties were made. The crown of Zvonimir is called this design, based on the representation of the crown on the head of Croatian king found on the old Croatian engraving on a baptistery in early romanic style of XI century. The baptistery is found in Split (therefore, it is found also on the arms of the other county), but it is believed that the figure represent the king Zvonimir-Dmitar (?-1089, ruled from 1075), who liberated Dalmatia from Venetians, and organized capital and seat of Croatian parliament in Knin. The CoA of Sibenik-Knin county seems to be red shield with the "crown of Tomislav" and sword, and I am not aware of the crown element above. (The same crown is on CoA of Split-Dalmatia county, undisputed, and maybe the problem is in having two CoA with the same element) .There is no confirmation.
Zeljko Heimer, 21 October 1998
One of the Croatian counties on which there is rather little information on the flag is S<ibensko-kninska z<upanija (County of Sibenik and Knin).
Long time ago I have reported, and several times latter, but very rarely seen it again, a flag that was supposed to be the flag of the county (even possibly when it was still called "only" Sibenska before 1997). The reported flag was (dark) blue with red CoA of a crown and a sword. The details of the coa I have never seen very well, but I have provided the image several times with a degree of certeinty that could be accepted .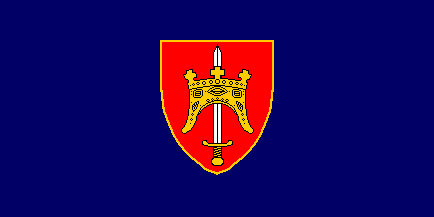 Former reported flag
by Zeljko Heimer
Not so long ago, I was talking with a currator of the County Museum of Sibensko-kninska, who told me that these were all proposals for the flag, in several variations (mainly dealing with shield details, most notable - the position of the sword - behinf or in front of the crown). I failed to get any information form the county administration, but the currator told me that such designs were adopted (possibly several times) by the County Assembly, but rejected by the Ministry of Administration that have to confirm them. There are at least two reasons for rejection that I can see, but if they were really those reasons, I have no confirmations. The two things are - one coloured field of the flag (should be two coloured by regulations), and similarty of the used symbol with the symbol of an other county (Split-Dalmatia county uses the same crown in blue shield).
However, few days ago I have seen hoisted in the county official room (where some press conference was held), the flag that might be the final adjustion of the problems by the Assembly - adding the two thin stripes in chief and base (a la Israel). The sword was, no doubt "in front" of the crown, and somewhat thicker then I have used to picture it before (though, if the thickened it now, or was it so before, I could not tell).
Of course, no very much details, no info on adoption dates (if ever indeed) nor confirmation from the Ministry, and certainly no great accuracy, but the best for now.
Zeljko Heimer, 4 December 1999
---
On TV report from Sibenik-Knin County Assembly session few days ago, I saw hoisted on the chairman's desk a table flag of the County in vertical format and in banner form, just as it was ceremonial flag. I just cought a glimpse of it, but here it is as far as I could have seen it I don't know if there is a "real size" ceremonial flag of this shape, but there might be one. I don't know if it is prescirbed in the legislation (in table flag or real size flag form) but there seems to be little importance in it, since in several other counties there are ceremonial flags used even without mention in the regulations.
Zeljko Heimer, 8 June 2002
---
---
One of the oldest historical source for flag examination is map. In monography of Historical Institute in Belgrade "Monumenta Cartographica Jugoslaviae II" Narodna knjiga, Belgrade 1979. author Gordana Tomovic compares different XVIth century naval maps of Balkan peninsula. She notices flags above some place names on map preserved in 'Bibliotheque National in Paris (Departement des cartes et plans)' made on pergament by Angelino Dulcert (1339a.d.):

13. Flag above town of Sibenik (Sibinicho) - in today's Croatia [Colours are not mentioned.]

Ivan Sarajcic, 2 May 2000
---