This page is part of © FOTW Flags Of The World website
Croatia - Houseflags of Croatian Shipping Companies
Last modified: 2001-06-30 by dov gutterman
Keywords: croatia | houseflags | house flag | zadar | st. grisogono | st. chrysogonus |
Links: FOTW homepage | search | disclaimer and copyright | write us | mirrors

---
---
See also:
---
Browsing the net recently I discovered the site "Ships and Flags" by Josef Nusse at http://home.t-online.de/home/josef.nuesse/ . The flags article is interesting since it show the changes in house flags that were influenced by the political situation in former Yugoslavia. The article is named "From Socialist Republic of Yugoslavia to the Federal Republic of Croatia - Development of House Flags" . Textually the article is rather short, so I quote it in full:
" In 1991 Croatia within a part of the Socialist Republic of Yugoslavia proclaimed independence and became the Federative [sic!] Republic of Croatia. A result was the change of logos from shipping companies with residence in Croatia. Especially the 'Red Star' as the symbol of Socialism was removed. Some examples below may give you a short impresson.
- logo changed
- traditional logo (without change)
- new formed company
- quit service."
[The word Federative above is errornous.]
Though the article and it's title mention Croatia only, some companies (so flags too) are actually from Slovenia or Montenegro (FR Yugoslavia, that is), and I'll indicate that as appropriate. Each of the four cathegoris is give one or more examples, illustrated with photos of real flags (not flying!). The first group is by far most interesting, showing the change of
flags of the same company (that in the same time in some cases changed the name more or less).
As in most other cases the companies were state- (or society-) owned until the end of socialism and then privatized and became "share society" indicated by abbreviation "d.d." after the name.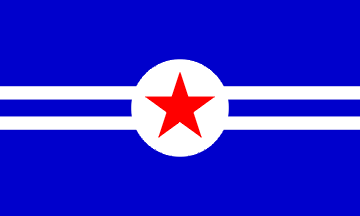 by Zeljko Heimer, 15 June 2001
Blue flag with two thin horizontal white stripes and white disk containing a red five-pointed star. Josef shows the star pointing down, but I think that it must be mistake - in all cases the star should be upwards IMHO though I don't have any firm evidence but my "feeling" - the downpointing star was not an usual sight.

by Zeljko Heimer, 15 June 2001
After 1990 the star was dropped and in its stead were set tricolour initials of the company LP. Both flags apear to be in ratio 3:5~.
No 2. is Splosna plovba Portoroz (Splosna plovba Portoroz) from Slovenia.

by Zeljko Heimer, 15 June 2001
The flag was five-striped blue-white-red-white-blue with virtual white square roatated 45 degress with diagonal equal to three stripes cut from the red stripe containing five-pointed red star. The flag is in ratio 3:5~. Here the star is, as expected, pointing upwards.
The company rejected Yugoslav attribute from the name and changed the flag entirely in early 1990's. (See: Tankerska Plovidba)

by Zeljko Heimer, 15 June 2001
Blue flag with white lozenge (a la Brazilian flag) with red five-pointed star in the middle.

by Zeljko Heimer, 15 June 2001
The company changed name in 1992 (says Josef, I think it must have been before) to Croatia Line and adopted a logo-like flag - white with blue slanted rectangle with white stylized ship (maybe a lymphad or galley would be best heraldical term, if any). First flag seems to be 1:2, while the modern version is close to 3:5~.
Zeljko Heimer, 15 June 2001
The next group of is titled "Traditional logos" that is, here are the house flags that were "ideologically neutral" and continued to be used after 1990's without change. Josef gives three examples (though I am not sure if all three still do exists).

by Zeljko Heimer, 16 June 2001
Red flag with blue bordered white lozenge containing golden company initials MP. Ratio 3:5~.

by Zeljko Heimer, 16 June 2001
Red over blue bicolour, overall an anchor between comany initials AP all white. Ratio 3:5~.

by Zeljko Heimer, 16 June 2001
Blue flag with white stylized letter S (S with hatchek).
Third kind of house flags are those of newly formed companies. Only one example here with Josef: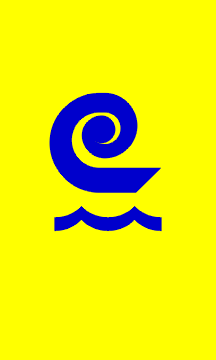 by Zeljko Heimer, 16 June 2001
I would not be surprised to find out that even if maybe it is not direct heir of it, it might be in some other way connected with Jadranska linijska plovidba Split, that is covered in next part. But, maybe I am wrong. Yellow flag with blue emblem. It is hard to say is this is a vertical hoisting flag (e.g. a table flag) or if the actual flags used is higher then long. It may even be that the scan is "wrongly" turned, as maybe the spiral part of the emblem might suggest the letter J.

And, finally the last part are those companies that quit service. Actually I am not sure that it is quite correct - they might have changed names (and owners etc.) in the mean time and maybe it is not easy to see the direct sucessors. For one I have already suggested a possibility, while the other two are from Montenegro, and even maybe they are not much present in international shipping (no doubt, due to the international sactions imposted to Yugoslavia) they, or then sucessor companies might well emerge sooner or latter. But, I would guess that they would be dropping their stars, too.
1. Jugoslavenska oceanska plovidba Kotor (also known as Jugooceanija) (Montenegro).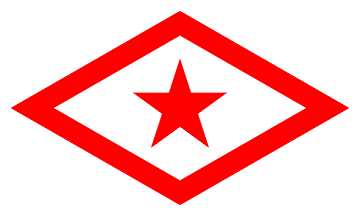 by Zeljko Heimer, 16 June 2001
White flag with red bordered voided lozenge with red five-pointed star. Ratio 3:5~. Josef show this flag with star pointing downwards, but as I discussed earlier, I believe that it is wrong.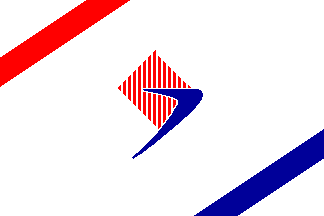 by Zeljko Heimer, 16 June 2001
It seems that all those companies had some "shorthand" name for informal use beside the official long name, and this one probably used name Jadrolinija (unless it was Jadroplov and the modern company of this name above is the sucessor). Today there is a very vivid shipping company situated in Rijeka named Jadrolinija. The flag I saw hoisted at the company headquarter in the center of Rijeka, as well as on several ships in harbour in summer 1999: White flag with the company emblem in the middle consisting of red vertical lines forming a lozenge-like shape and blue initial J, and in hoist upper corner a red bend and a blue bend in lower fly corner. Ratio 2:3~.
3. Prekookeanska plovidba Bar (Montenegro).
Zeljko Heimer, 16 June 2001
---

by Jorge Candeias, 16 March 1999
Swallowtail vertically divided in a plain white filed in the hoist side charged with some saint riding a horse and with a spear, all in light blue and a horizontally striped field in the fly with red-white-light blue stripes from top to bottom. Sorry for the poor riding saint, but that was the best I could do from the original drawing in http://www.seanet.co.uk/classifi/sowners/tanker/index.htm which was located by Dov Gutterman on 26 Febuary 1999
Jorge Candeias, 16 March 1999
IIRC, Tankerska Plovidba is situated in Zadar, and if that is so the saint is most probably St. Grisogono (St. Krs<evan in Croatian), the patron saint of Zadar.
Zeljko Heimer, 18 March 1999
In Louda's 'European Civic Coats of Arms', 1966 the saint is called Chrysogonus (somehow he reminds me of St. George)
Jarig Bakker, 18 March 1999
The flag is swallow-tailed, ratio 1:2, with hoist square being white with blue picture of a haloed horseman riding to hoist holding a spear (St. Grisogon, patron of Zadar) and the fly part being divided horizontally in red-white-blue.
Zeljko Heimer, 15 June 2001
See: Jugoslavenska Tankerska Plovidba Zadar
---