This page is part of © FOTW Flags Of The World website
Italy - Military Flags
Last modified: 2003-07-05 by dov gutterman
Keywords: italy | lagunari | venice | st. mark |
Links: FOTW homepage | search | disclaimer and copyright | write us | mirrors

---
---
See also:
---
I have seen a red flag ith golden outline of a shield with a golden winged lion holding sword, very much like the lion of St. Marcus of Venice. I have no idea what this flag was.
Zeljko Heimer, 8 November 1996
The italian marines (lagunari) are based at Venice and (if I recall correctly) use venetian symbols. In fact, they are named "Battaglione San Marco". They are usually sent in all military missions outside Italy, so I guess they are in Bosnia too.
Giuseppe Bottasini, 8 November 1996
I red about italian marines "lagunari".I confirm they are based in Venice at Malcontenta, Sant' Andrea Island and few other places. At the moment they are not employed in Bosnia nor they are sent on other missions.Probably Mr.Bottari confused Lagunari with an other corp that belongs to the Navy command placed in Taranto ( the San Marco Battaglion) that actually are working in Bosnia and use the Venice Repubblic Lion Flag (golden S.Marcus lion on red field) Lagunari is a selected corp of Army for sea attack,landing and sabotage and the simbol is the same as above but the lion hold a knife and a corsar gun.The Lagunari corp born in 1200 in Venice named "fanti de mar" ,the sea enfantry; their activity was ,more or less, the same of the corsar Drake... a legalized piracy.
P D Cortese, 24 Febuary 1999
The official site of LAGUNARI association: <members.tripod.com/LAGUNARI>.
Francesco Annis, 22 July 1999
In Italy we have two different units that have similar symbols. One is the Reggimento Lagunari "Serenissima" (Italian Army), that is trained to defend the "Laguna" (the shores around Venice) and is based in Venice. It takes its origins from "Fanti da mar", a venetian unit formed in 1400. So it takes from Venice this symbol. Due to the particular enviroment, they receive amphibious training.
The other one is Reggimento San Marco (Italian Navy) that is the Italian Marines unit (it is trained to land abroad). It takes the symbol from its name, that is the same of Saint Mark, the patron of Venice. This Regiment origined from Reggimento Lagunari in the WWI and became division with Italian Social Republic in WWII. It is in project to put both units in a Amphibious brigade under the command of Joint Chief of Staff.
Please, take note that the lion with the tail UP is a symbol of war (in fact it was the symbol of Venetian Navy), with the tail DOWN it is a symbol of peace (or of the country that is at that moment in peace)
As you can see , the flag of San Marco Regiment is a lion with tail down and a book without any sword.
The flag of Lagunari is different, and it is an anchor with crossed rifles. Viceversa, the emblem worn on BDU, that in italian is called "mostrina", is the lion of St. Mark with a book and a sword.
Regiment San Marco was in Kosovo, but not in Bosnia with IFOR (it was the theatre reserve of IFOR, and remained afloat); maybe they have been in Bosnia with SFOR. Lagunari Regiment was in Bosnia and Kosovo. The lion of St. Mark is also the symbol on Nato Command LANDSOUTH, based in Vicenza (a venetian ruled town), the command in charge of IFOR.
Angelo L.Pirocchi , 17 January 2000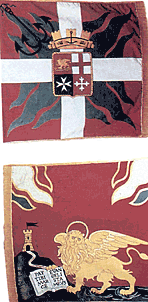 from <www.btgsanmarco.it>
"La bandiera Colonnella del Battaglione San Marco", and info in Italian at <www.btgsanmarco.it>.
Dov Gutterman, 9 August 2001
On eBay there was "SAN MARCO MARINE FLAG Italian Fascist WW2" at <cgi.ebay.com>: "Attributed to the elite San Marco Marines. Black wool field with prominent off white skull and crossbones in center. One side also has a hand cut red dagger directly below skull/ crossbones. Yellow hand cut naval anchor, indicating Marine unit, lies between skull and dagger. Four heavy white elongated stripes, 3 in upper left corner, on in upper right corner. These may indicate campaigns/ battles. All insignia appears hand made, not factory mass produced. Heavy bunting with thick cord (similar to type found on naval flags) are attached to banner. What appear to be maker name appears on one corner near bunting in red paint stamp."
Here is a photo from the site.
Rob Raeside, 13 Febuary 2002
---