This page is part of © FOTW Flags Of The World website
Laos
Lao Peoples Democratic Republic, Sathalanalat Pasathipatai Pasason Lao,
Last modified: 2003-08-16 by phil nelson
Keywords: laos |
Links: FOTW homepage | search | disclaimer and copyright | write us | mirrors

---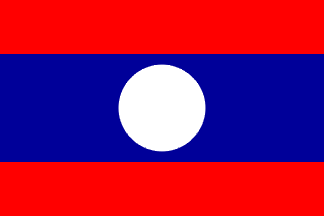 by Zeljko Heimer
Proportions: 2:3

Flag adopted 1975-DEC-02, coat of arms adopted 1991-AUG-14
---
See also:
---
Presentation of Laos
The current flag was adopted in 1975 and was the flag of the Pathet Lao. It replaced the flag used since 1952. The flag of Laos is one of the few communist-style flags not featuring a star.
The colors of the flag represent:
Red: the blood shed in the fight for freedom;
Blue: wealth;
White: represents the full moon over the Mekong River as well as unity under the communist government.
---
The blue in Laotian flag meaning the Mekong River. The white circle is the symbol os reunification of two laotians regions divised by the river (Robert Lacontre in Le Figaro 6.1.78)
Jaume Ollé, 11 September 1999
---
Smith says that the white disk represents the promise of a bright new future for the country.
Znamierowski says that white represents the unity of the multiethnical [Laotian] society under Communist rule.
DK Pocket Book says:
(caption on the left of the flag): "The white disc on a blue stripe represents the full moon over Mekong river."
(caption on the right of the flag): "The white disc symbolizes unity under Communism."
(in text): "In the centre is a white disc symbolizing the unity of the people under the leadership of the Lao People's Revolutionary Party and the country's bright future.[...] The white disc on a blue background is also said to represent a full moon against the Mekong river."

Ivan Sache, 25 March 2003
---
I recently read the book, "The Politics of Ritual and Rememberence: Laos Since 1975" (which is quite interesting despite the apperently boring title.) In it there is a long footnote about the current flag of Laos and the previous one. About the previous one (1952-1975,) it was originally the flag of the Kingdom of Luang Phabang (one of the three Kingdoms that Laos broke into about 200 years ago, the other 2 being Champasak in the south which gave up all sovreigntry in 1946 and Viantine which was destroyed by the Thais in 1828.) The three-headed elephant is the mount of the Hindu god Indra who is very popular in Laos. The story that it represents the three kingdoms becomming one was made up much later as is a bit ironic considering that it origionally represented only one of those kingdoms!
In the 40's a group called "Free Laos" or "Lao Issara" sprang up to fight the French, and they declared their own state after the occupying Japenese surrendered in 1945. The state lasted about 6 months (and was never recognized) before the French regained control. The Lao Issara wanted a national flag that would have no royal symbol on it to be seperate from the royal flag (as Thailand had done.) The design they choose was the current Lao flag, though I don't know if they ever offically made it the flag of Laos. Whatever the case, the communist Pathet Lao liked to pretend that they were the sucessors to the Lao Issara.
Robert Wilson, 26 December 2002
---
Construction Sheet
The construction sheet given reveals that the middle stripe is indeed double the width of each of the red stripes, and that the disk diameter is 2/5 of hoist.
Zeljko Heimer, 4 April 2002
Aircraft Marking
Virtually the same as the national flag. Military Aircraft Insignia of the World claims it is the flag painted on the planes, however it is once shown in slanted position.
Zeljko Heimer, 4 April 2002