This page is part of © FOTW Flags Of The World website
Marshall Islands
Republic of the Marshall Islands
Last modified: 2002-07-20 by rob raeside
Keywords: marshall islands | star | oceania | sunrise | sunset | bravery | peace | bikini | kwajalein | men otemjej rej ilo bein anij |
Links: FOTW homepage | search | disclaimer and copyright | write us | mirrors

---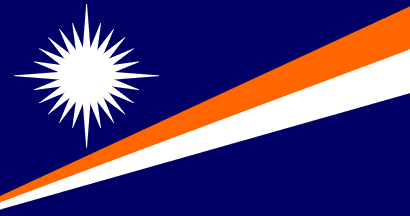 10:19, by Zeljko Heimer, 13 June 2002
---
See also:
Neighbouring nations:
---
A blue flag with two rising stripes orange above white widening towards the fly and with a 24-rayed white sun, with four main rays larger then others. The ratio is obviously based on the US flag ratio. Album des Pavillons 2000 provides relative ratios along the fly edge from top to bottom as (3+20+20+57):190. Measuring from the image, it seems to me that the dimensions along the hoist are then, top to bottom, 91+3+3+3. Also by measuring it seems that the center of the sun is set 40 units from the hoist, 1/3 of the hoist from the top. The diameter (again values estimated by measuring) of the circle around the "long" rays is 2/3 of the hoist, the short rays 1/2 the hoist (i.e. 50 units), and the circle inscribed in the sun is the 1/4 of the hoist (25 units). These estimations sound reasonable to me, but I was hoping that the official construction sheet might be obtained.

A variations of this flag (presumably in error) shows the stripes emerging from the bottom hoist corner.
Zeljko Heimer, 13 June 2002
---
The deep blue background represents the Pacific Ocean. The white and orange bands represent the Ratak (Sunrise) and Ralik (Sunset) chains, respectively. The customary symbolism of orange as the color of bravery and white as the color of peace are also recognized.
The star represents the cross of Christianity, with each of the 24 points signifying a municipal district of the RMI. The four main points represent the major centers of Majuro, Ebeye, Jaluit and Wotje.
Lance Laack, 17 November 1995

DK Pocket Book has some differences in interpretation of the flag when compared with Lance Laack: - the star is said to represent also the geographical location of the archipelago, a few degrees above the Equator - the four longer points of the star stand for the major centers of Majuro, Ebeye, Jaluit and Wotje according to Lance, and for Majuro, Wotji, Jaluit and Kwajalein according to DK Pocket Book. According to Encyclopaedia Universalis, Marshall islands have 27 electoral districts, including 0 (for three of them, so that we come back to the 24 points of the star!) to 19,664 inhabitants for Majuro, the capital (followed by Kwajalein, 9,311 inh., Ailinglaplap, 1,715 inh., Jaluit, 1,709 inh. and Arno, 1,656 inh. Wotji has only 646 inh. - the stripes extend and widen upward as a sign of increase in growth and vitality.

DK Pocket Book adds that flag was adopted when Marshall islands became a self-governing territory on 1 May 1979. The flag was designed by Emlain Kabua, the President's wife, and was chosen among 50 designs.
Ivan Sache, 29 May 2000
---
Orange or Red?
The World Encyclopedia of Flags states in the text 'orange', in the image it's red... Eve Devereux (1998) in 'Identifying Flags' has 'orange-red' in the text and orange on the image And Mucha (1985) has orange in the image and text.
Jarig Bakker, 29 May 2000

Confirmed by Album des Pavillons, Dorling-Kindersely Pocket Book, Flagg og Vapen (with caption: Marshallo/yene - Selvstyrt, assosiert med USA)...
Ivan Sache, 29 May 2000

---
by Antonio Martins

The Bikini Atoll (and two near atolls) adopted in 1987 a flag to recall to the American government its responsibility in the nuclear pollution and its obligations to the islanders.
Jaume Ollé, 25 September 1996

from : http://www.bikiniatoll.com/anthem.html :

"The Flag of the People of Bikini"

The 23 white stars in the field of blue in the upper left hand corner of the flag represent the islands of Bikini Atoll.
The three black stars in the upper right of the flag represent the three islands that were vaporized by the March 1, 1954, 15 megaton hydrogen bomb blast, code named Bravo.
The two black stars in the lower right hand corner represent where the Bikinians live now, Kili Island, 425 miles to the south of Bikini Atoll, and Ejit Island of Majuro Atoll. These two stars are symbolically far away from Bikini's stars on the flag as the islands are in real life (both in distance and quality of life).
The Marshallese words running across the bottom of the flag, "MEN OTEMJEJ REJ ILO BEIN ANIJ" [Translation: "Everything is in the hands of God."], represent the words spoken in 1946 by the Bikinian leader, Juda, to U.S. Commodore Ben Wyatt when the American went to Bikini to ask the islanders -- on a Sunday after church -- to give up their islands for the 'good of all mankind' so that the U.S. could test nuclear weapons.
The close resemblance of the Bikinian's flag to the flag of the United States is to remind the people and the government of America that a great debt is still owed by them to the people of Bikini."

So, it looks like an US flag: the canton has 5x5 stars, the same size as the US', lacking the odd ones of the central column. In the 5th white stripe the text goes from hoist till about 1/6th off the fly, in blue bold capitals. At the fly of this stripe, two blue stars (same size) and at the fly of the first white stripe (but not so close to the edge as the others) three more blue stars. I used as basis the US.GIF image at FOTW-ws, made by Zeljko. I'd say that both shades should be darker.
Antonio Martins, 5 May 1998

The stars and letters should be black. The black color of the stars is quoted in the description and also was reported by Flag Bulletin.
Jaume Ollé, 6 May 1998

It seems that the peculiar (anti)US-shaped flag of the Bikini Atoll (Marshall Islands, see FOTW) is official. During ceremony of the opening the Bikini Town Hall in Majuro (even the Marshallese president Kessai Note took part in celebration), three flags were raised: Marshallese, US, and Bikinian. See http://www.bikiniatoll.com/townhall.html.
Jan Zrzavy, 3 September 2000
---
by Ivan Sache
The Kwajalein Yacht Club is located on Kwajalein atoll (Marshall Islands), 8°43'N 167°44'E. Kwajalein is the largest (16.39 sq. km) and the second most crowded (9,311 inhabitants, therefore a density of 568 inhabitants per sq. km) of the atolls constituting the Republic of the Marshall Islands.

The burgee of the yacht club is light blue with a white border. Letters K Y C in white are placed in a triangle pattern above a white element which might be the geographical map of Kwajalein atoll.

The source is the yacht club website

Ivan Sache, 28 June 2002