This page is part of © FOTW Flags Of The World website
Oil companies
Last modified: 2001-12-21 by rob raeside
Keywords: oil company | shell | sunoco | bp | mobil | chevron | gas station | petrol station |
Links: FOTW homepage | search | disclaimer and copyright | write us | mirrors

---
---
Oil companies and their use of flags
One might distinguish a "legitimate" corporate flag from an advertisement:
Use: How is the flag used? Just at retail outlets as an attention-getter, or at places like corporate HQ or production facilities as a symbol of corporate identity?
Add house flags for e.g. oil companies with their own ships.

Variation: How many variations are there? Do they seem to signify anything other than a whim about what looks nice at any one place? For example, Texaco might have one flag for refineries and another for its tanker fleet, but if you see a different pattern at every other gas station, maybe none of them should be taken seriously.
One thing in play here could be ownership. Many gas stations are in franchise or similar arrangements - that could leave some room for variations.

Continuity: How much continuity is there? I'd be more favorably inclined to take seriously a design that stays the same over a period of years than something that's adopted to go with the latest ad campaign.
Or, sometimes, the latest merger.
All this leaves apart the esthetic question; I'm torn over how you handle that.
Joe McMillan and Ole Andersen, 23 September 1999

OK, let me put forth a question. Just for fun! Vex people think that it is perfectly OK for a country, lets say the United Kingdom, to use multiple versions of the same flag, only in different colored backgrounds. I.E. the UJ, Red ensign, Blue Ensign, White Ensign, RAF ensign and over a hundred local varieties of one of the above. In other words, the logo, in this case the Union Jack, on a red, white, blue, or light blue bedsheet with various local insignia tacked on. Even more colors if you count the military unit flags. And subject to changes over the years. Why not Sunoco? Or another flag flyer. Some of these companies have been around longer than most nations have been independent. And I have certainly seen both the US and Canadian flags flown essentially as decorations, or rows of decorations. Think about it.

P.S. There were no flags flying at any of the local gas stations today! Perhaps if I went to Canada I would have been more fortunate! On the other hand, I can always get a flag "fix" by going to the factory outlet shopping mall here in Niagara Falls - which flies 18 international flags along the back parking lot and 24 other international flags along the front parking lot! And if I go food shopping, the large local supermarket chain "Tops Markets" used to fly international flags from the light poles in the parking lot. Now these are just flag signs, but the flags hang inside the entranceway. Their main competitor, "Wegmans" has a dozen or so NFL flags in their entranceway. Plus all of the US State and territory flags at US Customs at any of the three Bridges to Canada, and all of the Canadian Provincial flags at Canada Customs at the other end of the bridge. So flags can be found around here!
Kevin McNamara, 25 September 1999

That was exactly the point of the questions I suggested the other day. I'm very sympathetic to the notion that corporate flags should be accorded the same standing as those of any other group. But the different versions of British (or Canadian, or Australian, or Indian, or most other national) flags signify different things. They're not just a reflection of the whim of the person hauling on the halyards. Maybe the different Sunoco or Shell flags do likewise, and I'd welcome someone tracking down what those different meanings might be.
Joseph McMillan, 25 September 1999
---
Shell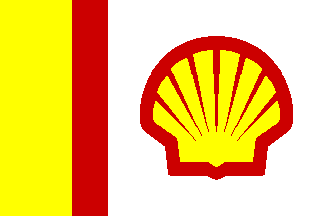 by António Martins

The flag is 2:3, and is divided vertically in three vertical unequal stripes of yellow, red and white from hoist to fly in 2+1+6. On the center of the white area, which is square, is placed the logo of Shell.
António Martins 24 May 2000

I found a picture at http://www.shell.com.my/shell_community/environment/everest.html
Ole Andersen, 18 September 1999

This coincides with all Shell flags I ever saw in Portugal, Spain, the Netherlands and France. I guess it is an official design (maybe *the* official design).
Antonio Martins, 19 September 1999

I've seen Shell gasoline stations here in the US flying flags similar to the white fly portion of that shown in the photo forwarded by Ole. White with a yellow scallop shell outlined in red, with the word "Shell" below.
Joe McMillan, 18 September 1999

I have not seen the reported Shell flag at any Shell stations here, but I did see a different design at one station. It had a red field with Shell's gold scallop shell symbol.
Ned Smith, 23 September 1999

I saw a piece in Heraldisk Tidsskrift, mentioning Shell's change of flag in 1964.
They went from:
a yellow shell on a white circle in a red flag
to:
a Canadian pale white-red-white, with the yellow shell in the centre
Sven Tito Achen wrote the piece in 1965, so there is no mention of the current flag.
Ole Andersen, 23 September 1999

Although Shell evolved as an Anglo-Dutch company the colours of its logo were based on the national colours of Spain.

In 1915, when Shell started marketing in California, it needed a distinctive colour scheme for its petrol (gasoline) stations. The colours red and yellow were chosen as having an historical connection with the State which was once governed by Spain.
David Prothero, 25 September 1999

Shell stations here fly usually large vertical flags with various combinations of red, yellow and white and the shell. Nothing definite.
Jorge Candeias, 25 September 1999

See also:
---
Sunoco
by Tracy Dunbar

My nearest Sunoco station has the yellow Sunoco emblem on a white flag. Which illustrates perfectly one of the main problem with commercial flags.
Joe McMillan, 25 September 1999

Doesn't everyone in the world have intimate familiarity with every American advertising logo? The Sunoco (Sun Oil Company) trademark is a sideways yellow lozenge with a red arrow pointing down through it bendwise and the name SUNOCO emblazoned across the lozenge in blue.
Joseph McMillan, 27 September 1999
---
BP
In "A survey of mercantile houseflags & funnels" by J.L. Loughran (1979) gives for BP Oil Ltd. a white flag with the logo (green shield with yellow letters "BP") on white, a red stripe at the fly. For BP Tanker Co.Ltd. a flag (adopted 1968) is given white with the logo, a green border all around.
Regards (from someone who first worked at the Total petrol station, later at the FINA petrol station),
Mark Sensen, 22 September 1999
I was working for BP when the new corporate logo came out. An official definition of the BP flag was issued which said the flag was green proportion 2:1 with the new amended BP shield in the fly, i.e., not in the centre. I remember it because it flew contrary to William Crampton's definition of a good corporate flag - that the logo should be towards the hoist.
John Windle, 16 July 2000
---
Mobil
A Mobil gas station near my home has started flying numerous copies of a very attractively designed flag. It has a blue field. On a white disk in the center is a red representation of Pegasus, the mythical winged horse which Mobil uses as a corporate signal.
Ned Smith, 23 September 1999

Yes, that is the design I remember to see flown in Portugal, too.
Antonio Martins, 24 September 1999

Is there still sucha a thing as a Mobil?! I thought it had disappeared. At least it did here, merged with BP and the old Mobil gas stations turned into BP gas stations. Vexillologically that was really good - I never saw any Mobil flags here, to the best of my memory, and as logo they've always used simply the name, blue (with a red "O") on white. Funny that these things seem to differ so much from country to country...
Jorge Candeias, 25 September 1999

Jorge asked if Mobil was still around. Yes it is, and since I need gas I am heading over there to check on any flags. However, it may not be here in the US much longer since it has recently filed to be taken over by Exxon, formerly known as Esso. This is very ironic since these two companies formed the major part of the "Standard Oil" monopoly that was broken up by the US goverment in the early part of this century. I forget the exact date. Esso stood for S.O. - Standard Oil (New Jersey). Mobil was formerly known as SOCONY - Standard Oil Co Of New York. To make this flag-related, my faulty memory seems to recall Mobil using a white flag with a red pegasus for a flag about 20 years ago. No pictures though! Just a vague recollection. Other oil companies around here use LOB flags. Such as Sunoco which uses a yellow Sunoco sign on a blue field.
Kevin McNamara, 25 September 1999

I've seen this, too, here in Wisconsin. It's been flying for some time now at a Mobil station. It's quite a nice design IMHO.
Jamie Woods, 26 September 1999

There is a different Mobil flag. This one is a white bedsheet with simply the word Mobil in blue. The o in Mobil is in red. M is capitalized, the rest is not. The dot over the i is a small vertical rectangle that brings the height of the i to the same as the l. I do remember this flag in use.
Kevin McNamara, 27 September 1999
---
Chevron
My employer is also a multi-national oil company, Chevron. We use the symbol, a wide blue V over a red one separated by a thin V of white, below that "CHEVRON" in black, all on a white field.
John Fetzer, 21 September 1999
---