This page is part of © FOTW Flags Of The World website
Papua New Guinea
Papua Niugini, Independent State of Papua New Guinea
Last modified: 2002-11-16 by santiago dotor
Keywords: papua new guinea | papua niugini | papua | new guinea | southern cross | bird of paradise | pacific community | governor-general | lion: passant guardant | crown: royal | scroll |
Links: FOTW homepage | search | disclaimer and copyright | write us | mirrors

---
3:4

by Zeljko Heimer
Flag adopted 1st July 1971
---
---
See also:
---
Description
The flag of Papua New Guinea was adopted on 1 July 1971. The year of independence was 1975.
Mark Sensen, 5 December 1995
The national flag has two triangles of red over black. The local kumul bird of paradise flies across the red half, symbolizing Papua New Guinea's emergence into nationhood. The five five-pointed stars of the Southern Cross constellation appear in the black, reflecting ties with Australia and other nations of the South Pacific. Black, red and yellow are also traditional colors in Papua New Guinea.
Nick Artimovich, 1 November 1996
A few precisions from Dorling Kindersley 1997: "The flag was designed by a local art teacher, Susan Karike. The five stars also refer to a local legend about five sisters." But, looking carefully at the images from Smith 1980, Dorling Kindersley 1997 and Album des Pavillons, it appears that the top and bottom stars of the Crux Australis should be placed on an imaginary line strictly parallel to the hoist (same geometric pattern as Samoa). The image in FOTW is therefore slightly wrong. Strangely the naval ensign with national flag in the canton is correct!
Concerning the two middle, horizontal stars, the right star is slightly shifted to the top of the flag in FOTW. It is more shifted in Dorling Kindersley 1997. In Album des Pavillons it is not shifted at all but it is smaller. In Smith 1980, the stars are of the same size and there is no shift (as in the naval ensign). Who has an official depiction of this flag?
The colour specifications estimated by Album des Pavillons are:

Red          Pantone 186c     C 0 - M 90 - Y 80 - K 5
Yellow       Pantone 116c     C 0 - M 10 - Y 95 - K 0
Ivan Sache, 31 December 1999
---
War Ensign
The simplest variants of the White Ensign are those ensigns which place the national flag in the canton of a plain white field (like Bangladesh). Papua New Guinea also uses such a naval ensign. Source: flag table in Jane's Fighting Ships.
Jan Oskar Engene, 19 September 1996
National Defence: 4300 men (Army 88.4%, Navy 9.3% and Air Force 2.3%). War ensign. Source: Encyclopaedia Universalis Yearbook, 1998; flag as reported in Album des Pavillons 1990.
Ivan Sache, 24 May 1999
---
Jack
---
Governor-General's Flag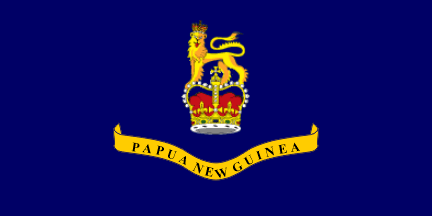 1:2
by Zeljko Heimer
Flag adopted 1975
I have been told that since 1975 the flag of the Governor-General of Papua-New Guinea has been the State Arms, surmounted by a Royal Crown. The National Emblem —which I understand is the same as the State Arms— is a "bird of paradise proper with wings displayed, perched on a kundu drum and spear". Illustrated in Visser 1998.
David Prothero, 17 January 2001
According to Michel Lupant, in 1982 the secretary of Governor-General Sir Creighton S. Kern showed the usual flag, crowned lion over crown over scroll.
Armand du Payrat, 17 January 2001
Royal Crest on a blue flag, Papua on a scroll in capitals, proportions 1:2.
David Prothero, 16 January 2000
Santiago Dotor asked if the field of the flag of the Governor-General of Papua-New Guinea, in the possible version, State Arms surmounted by a Royal Crown, was blue. Blue by implication — it was in a list of those flags of Governors-General that varied from the standard design. The entry against Papua-New Guinea was:
State Arms, surmounted by Royal Crown displaced the standard defacement (1975). State Arms are of local origin/design, not a product of the College of Arms.
When I asked for the source of the information my friend wrote that in 1997 he had shown some notes to William Crampton, who made a verbal comment on the existence of the special design for the Papua-New Guinea Governor-General, but that William Crampton's death had overtaken his promise to dig out his documentation on Papua-New Guinea.

David Prothero, 19 January 2000
---
Coat-of-Arms

from the Department of Defence of Papua New Guinea
---
Papua Bessena Separatist Movement
In the Flags of Aspirant Peoples chart appears "170. Papua (Papua Bessena separatist movement) - Papua New Guinea." Blue field with a white Christian cross at hoist, six stars in a quarter-of-circle, a red Paradise bird in the middle and PAPUA in white letters placed vertcally along fly.
Ivan Sache, 17 September 1999