This page is best viewed with ISO:8859-2, aka Latin2, aka Central European fonts
by István Molnár, 15 Oct 2001
---
---
See also:
Other sites
---
Municipiul Odorheiu Secuiesc - Székelyudvarhely Megyei Jogú Város
Odorheiu Secuiesc (in Hungarian Székelyudvarhely) is a city in Harghita (Hargita) County of Romania (Transylvania). The city has got 39.959 inhabitants (38.937 (97,4%) Hungarians, 1992 census). The settlement is the historical and traditional center of the Székely Land (Terra Siculorum; Székely is a Hungarian ethnic group) Székelyudvarhely has got its name from the royal court of the great Hun king Atilla by the legends. Udvarhely means: The Place of the Royal Court. The settlement was the administrative center of the selfgoverment of the Székely Land and the capital of Udvarhelyszék district, later (1876-1944) Udvarhely (in Rumanian Odorhei) county. Neighbouring communities are: Dealu / Oroszhegy, Feliceni / Felsőboldogfalva, Martiniş / Homoródszentmárton and Brădeşti / Fenyéd communities.
The first mention of the settlement is from 1301 like the seat of the Captain of the Székelys. Town from 1485 by King Mathias. After the Battle of Mohács (1526) which ended the Kingdom of Hungary, Székelyudvarhely became a part of the Principality of Transylvania (1552-1765) later Grand Duchy of Transylvania (1765-1867). The settlement was destroyed in 1661 by the Turks. 1867-1918/1920 part of the Kingdom of Hungary. From 1918/1920 (Rumanian occupation/Treaty of Trianon) to 1940 (Decision in Vienna 2nd) part of the Kingdom of Romania. 1940-1944 part of Hungary. The Treaty of Paris reallocated it to Romania. 1952-1968 part of the Hungarian Autonomous Region.
István Molnár, 2 Dec 2000
---
located at http://www.udvph.ro/hivatal/index.htm as same as in 1941.
István Molnár, 2 Dec 2000

---
Historical flag of Székelyudvarhely (Kingdom of Hungary)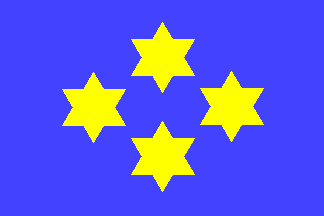 by István Molnár, 2 Dec 2000
Blue with four large yellow six pointed stars arranged 1+2+1, the central ones almost touching.
António Martins, 27 February 2001
This flag appears at Dr. Széll Sándor: Városaink neve, címere és lobogója (1941) as "Székelyudvarhely, Udvarhely Co.".
István Molnár, 2 Dec 2000