This page is part of © FOTW Flags Of The World website
Sao Tome and Principe
Democratic Republic of Sao Tome and Principe, São Tomé e Príncipe, Repúb
Last modified: 2003-02-01 by zeljko heimer
Keywords: sao tome and principe | sao tome | principe | star (black) | stars: 2 | portugal |
Links: FOTW homepage | search | disclaimer and copyright | write us | mirrors

---
1:2
by Antonio Martins, 8 February 1998
Flag adopted 5 November 1975, coat of arms adopted 1977.
---
See also:
---
Flag of Sao Tome and Principe
Constitution of the Democratic Republic of Sao Tome and Principe, approved in March 1990 and effective since September 10, 1990:
Article 13: National Symbols
1. The National Flag consists of three horizontal bars, being green and those of the extremes of equal width, and in the middle, in which are affixed two five-pointed black stars, yellow, being one and one-half times larger than each of the others and by a scarlet triangle, whose base is located on the left side of the Flag. The height of the triangle is half that of the base.
2. [national anthem]
3. [national coat of arms]
Jos Poels, 27 May 1997
In "Flaggenmitteilung" no. 96 (March 1984) I found:
"[...] the central yellow stripe was 1.5 times broader than any of the green stripes, the red triangle isosceles and its height was equal to a half of the flag height. The center of the left star corresponds with an imaginatory point, situated on the dividing two stripes line 1/3 from the fly and the centre of the right star 2/3 of that line. The proportion is 1:2. It should be noted that the national flag hoisted on July 12, 1975, in São Tomé later sometimes was erroneously substituted by a flag with equal wide stripes. That is for the party emblem of the Democratic Movement of São Tomé e Príncipe."
This text solves the question on the proprotions of the stripes, but raises another. If you follow the description exaclty, the left star comes very close to the triangle. I've never seen the stars placed that way in a book: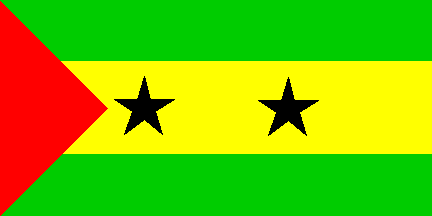 Reconstruction!?
by Mark Sensen, 25 May 1997
Mark Sensen, 25 May 1997
---
Principe Island
There are no reports on a flag of Principe Island.
Antonio Martins-Tuvalkin, 08 August 1999.
In the 1981 revolt of the island against the Sao Tome power, a rebel flag was hoisted, but is unknown to me.
Jaume Ollé, 09 November 1996.
I have met today the brother of the Sao Tome defense minister. I obtain from him first hand information on flag use in his country. The man was, 17 years ago, the leader of the Youth organization of Sao Tome, but in this era this organization didn't have flag of their own. He was president of the delegation of Youth people that traveled to Principe Island but no flags different from the national one were hoisted then.
Jaume Ollé, 03 July 2000.
Michel Sicard, former Secretary general of the Societé Française de Vexillologie, said to me that in April of 1995, the Island of Principe acquired an autonomous government. No reports on flag.
Jordi Pirez, 01 October 1997.
---
On Pre-independence Local Flags
As for other subnational flags in Sao Tome and Principe, before independence at least some of the local municipalities had coats of arms and flags.
Durán (Portugal: Ultramar, in Banderas #54 (1995.03): 10-19) reports the following for the municipality headed by the city of São Tomé (not for the whole island!):
Flag gyronny (city rank) of blue and white (in the usual variants of 2:3 and 1:1), over all the COA. This is gules, five open cacao nuts set in saltire (Durán says "in palo", "per pale", but the illustration shows per saltire, which is much more logical...), shells or, seeds argent lined sable; bordure argent with seven eschuteons azure, each with five bezants argent per saltire. Mural crown or (overseas province capital rank) of five towers (city rank), white scroll reading in black capitals "CIDADE DE SÃO TOMÉ".
Still according to Durán, Portuguese overseas provinces' municipal heraldry was developed especially in 1954-1955 (thus 15 years after a major reshuffling of metropolitan municipal heraldry), having recieved new arms (or had officialized old arms) at first the province capitals (with the golden crown previously exclusive of Lisbon), then the district capitals, and then cities and towns that the government wanted to distinguish, especially for colonial war bravery (in the colonists' side, naturally).
A novelty in this colonial civic heraldry is that shield partitions were accepted. The independences, in 1975, interrupted this process that had already given arms and flags to, among others, all municipalities in Sao Tome and Principe and Cape Verde Is., and many in Angola. The book Armorial do Ultramar Português shows all of these.
As for post-independence municipal flags, I have no idea: I'm quite sure that the former arms and flags were supressed, but I dont know it is was done formally, by law, or only by practical non-use. I doubt that new flags and/or arms were created, but I might be wrong. More recently, some of the old arms and flags might have been restored, but I have no info. All this non-information applies not only to Sao Tome and Principe but to all Portuguese former colonies.
Antonio Martins-Tuvalkin, 08 August 1999.