This page is part of © FOTW Flags Of The World website
Armed Movements in Chad
Last modified: 2001-03-16 by zeljko heimer
Keywords: chad | frolinat | logone | northern army |
Links: FOTW homepage | search | disclaimer and copyright | write us | mirrors

---
Frolinat and Logone flags out of use. New flags are currently in use for the diverse factions.
Jaume Ollé 13 December 2000
---
FROLINAT flag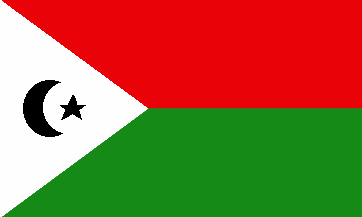 by Jaume Ollé

by Ivan Sashe

The FROLINAT (Front de Libération Nationale du Tchad - Chad National Liberation Front) was a rebel movement founded by Abba Siddick in 1966. It was supported by muslim people of northern Tchad and was in revolt against President Tombalbaye. In 1967-79 it controlled the north of Tchad. In 1978 a faction of FROLINAT (led by Hissene Habre) entered the government in Ndjamena. Habre overthrew the new president Malloun (1975-79).
Jaume Ollé

Another source claims that Frolinat was founded in Sudan by Ibrahama Abatcha on 22 June 1966. In the Flags of Aspirant Peoples [asp] chart the blue version is given. Ivan Sashe comments: Green stripe would me "more" Muslim, but blue stripe could refer to Tuaregs. when they fought against the pro-French regim, they were known as "Toubou rebells", from the name of the main ethny. Toubous are considered as "black tuaregs" but they are not berberophons, but nilo-chadophones.
---
Northern Army
Forces du Nord
Joan-Francés Blanc
by Ivan Sashe

In August 1979 another faction, the Peoples Armed Forces, led by Goukouni Oue. The rebel army formed a coalition government. Its troops became the Northern Army (Forces du Nord). Colors according to W. Crampton. [See also Tuareg Liberation Front of Mali].
Joan-Francés Blanc, 13 November 1996

FAN (Forces Armee's du Nord - Northern Armed Forces) - were founded by Hissein Habre by a scission of FROLINAT leaded by Goukouni Oueddei.

So "People Armed Forces" and "Northern Army" may refer to the same entity, the FAN. They were not separatists but fought for the power in Chad and got it for a time. Same colour problem as for Frolinat.
---
Logone
by Ivan Sashe

The Flags of Aspirant Peoples chart show the flag of the "aspirant" Republic of Logone in southern Chad as horizontal black-yellow-red. Logone is a river in the South of Chad, and two prefectures (East- and West-) use its name. The South of Chad has been in quasi-permanent insurrection state against the N'Djamena successive rulers (Tombalbaye, Habre, Oueddei...). The flag looks quite Ugandese.
Ivan Sashe, 12 Sep 1999