This page is part of © FOTW Flags Of The World website
Unidentified Flags or Ensigns
Last modified: 2003-01-18 by rob raeside
Keywords: ufe | unidentified flags |
Links: FOTW homepage | search | disclaimer and copyright | write us | mirrors

---
Below is a series of images of flags that have been provided to FOTW, but which we have been unable to recognise. If you can identify any of these flags, please let us know! Contact the director.
---
Reverse Danish-like flag

The flag I am trying to identify is red. It has a thin white line running across the center horizontally. About 75% of the way to the right there is a thin white vertical line. The flag looks similar to a mirror image of the Danish flag, except the lines are thinner and the dimensions are more rectangular. I have no idea what kind of flag this could be (country, state, war, maritime, political), but would greatly appreciate any help in identifying it. Thanks for any assistance!
Wellen Reiter, 22 December 2002
Yellow-blue flag seen at Kennebunkport, Maine
I went on a whale watch today out of Kennebunkport Maine. On one of the flagstaffs at President Bush's family compound, flying beneath the American flag, was a flag unknown to me. It was divided horizontally, yellow/orange on top, a pale blue beneath. The colors were similar to those of the flag of Bonaire. A white triangle, base towards the hoist, was at the hoist, extending perhaps one-third the length of the flag. A seal or symbol was in the white triangle, perhaps within a compass rose-like design. Can anyone identify it?

Carl S. Gurtman, 1 September 2002
Thanks to David Fowler's recent post, I can identify this as the flag of the US Secret Service, which provides security to former as well as incumbent US presidents. Yellow over blue with the former badge of the service on a white triangle in the hoist. No known connection to Ukraine.

Joe McMillan, 6 December 2002
---
Red-green + white star flag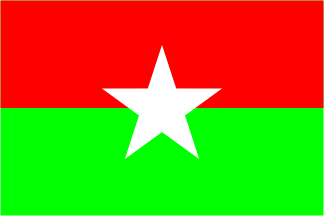 I am involved with a small community historical society in Caledonia, New York (upstate, near Rochester). In our museum we have many flags most of which
are easily identified. We came across one particular flag, however, that has us stumped. The flag is a field of two colors red on top and green on the bottom and it
has a single white star in the center. We have one full size flag and six smaller matching flags. The age would seem to be at least 1950 or earlier, unfortunately there was no information stored with them. We are assuming they are some type of organizational flag. Any information you could give us to point us in the right direction would be appreciated.
Maureen Alhart, 16 September 2002
---
Green cross, yellow field, red borders WW II(?) flag
My father brought back from Europe, post WW II a gonfalon approx. 3 feet x 4 feet (1 x 1.3 m) with a green cross on yellow field, with wide red borders top and bottom. No national markings on the hoist. Wool. Rigging loop and plain 6" rigging line at bottom, so probably naval. The closest thing current that it resembles is the international "R" (romeo).
Can you help me figure this out. He was in the UK, France and Germany in 1942-45. thank you!
John Bracher, USA, 22 September 2002
---
German flag on eBay
An unidentified flag posted for sale on eBay, September 2002.
Jarig Bakker, 23 September 2002
---
Three lions St.George's flag
An unidentified flag posted for sale on eBay, 29 August 2002.
Bill Garrison, 29 August 2002
Being square, it looks like a banner of arms, either personal, civic, or corporate.
Joe McMillan, 29 August 2002
---
Black-blue-black flag stickers
Lately I've noticed a black - medium blue - black, arranged horizontally auto tag on many vehicles in the area around Pittsburgh, Pennsylvania. Anyone know what this means?
John Evosevic, 3 July 2002
The Black-Blue-Black design is usually seen on a policeman's personal car or family members car. It stands for the "thin blue line". There is also a similar one with a red strip for firemen.
Jim Popovitch, 17 August 2002
The black-medium blue-black flag is actually a police mourning band. It is typically worn as a band across the badge when an officer is killed in the line of duty. I have seen it in use more frequently now as a bumper sticker, I believe this is probably a show of respect for the police officers killed on September 11th.

Troy Corwin, 26 September 2002
---
Three axes flag at World Cup
During the World Cup final (2002: Brazil vs.Germany), around the 50th minute was seen on TV a white flag with three red axes. It looked more German than Brazilian. Is anyone to identify it?
Ivan Sache, 1 July 2002
The website at http://www.mindspring.com/~debard/bardeleben.htm shows a three-axes flag that might give a lead.
Ewald Mertins, 28 August 2002
Not sure it does; it's a reference to his family arms, and the axes there are black. What we saw was white with three red axes. Do any of the towns mentioned on the page have arms/flag like that?

Al Kirsch, 29 August 2002
---
Gold-Black-Red Murphy flag
Trying to trace identity of a war time badge in flag shape with gold, black and red in horizontal bands and Murphy in gold lettering on the black band. Beneath is the inscription: on national service. Any help with a possible link with the colours would be appreciated.
Bill Barratt, 29 March 2002

---
19th Century Merchant(?) flag
Flag given dates from the around late 1800's. Is it a merchant flag?
Mark Grendahl, 24 February 2002
Looks too long to be a "merchant flag" if by that is meant a ship's ensign. He may mean one displayed by a merchant on land, in which case it is mere decorative bunting like the red-white-blue ("FOR SALE") banners seen today.
Al Kirsch, 25 February 2002
English/Welsh shipping(?) flag
Can you give us information on this flag. It has the St George Cross as background, with the Welsh Dragon centrefold of it. I have been told that it was a house flag, to an old company that use to have our ship (I am in the Merchant Navy). That's all that anybody seems to know.
Richard Harvey, 27 October 2001
This may have been one of the house flags of the BP Tanker Company. It is shown in the 1963 edition of "Flags, Funnels and Hull Colours", though the beast, semi-upright on a green diamond, looks to me, more like a lion than a dragon. An earlier house flag of the British Tanker Company in the 1930's was similar but had a yellow Iranian lion on the green diamond.

David Prothero, 29 October 2001
Just speculation here, but I wonder if what looked Welsh (white-green with dragon) might not have been Iranian (green-white-red with lion). I say that because David's mention of an Iranian lion prompts the recollection that BP originated as the Anglo-Persian (later Anglo-Iranian) Petroleum Company and therefore might plausibly have used a St. George flag defaced with some version of the imperial Iranian flag.
Joe McMillan, 3 January 2002
This is probably correct. The British Tanker Company's flag was a red, over white, over red, with the centre of the white stripe enlarged to form a circle containing black letters; a large T, flanked by a smaller B and C. In the mid-1930s, when Persia changed its name, and the oil concessions were renegotiated, the house flag was altered, "as a compliment to the Iranian Government, introducing the National Colours and the Iranian Lion". It was an English flag with a yellow passant guardant lion on a green lozenge in the centre. Later, probably in the mid-1950s when Iran nationalised the oil fields and refineries, the yellow lion was replaced by a what appears to have been a red rampant lion. By 1973 the house flag was white with a green border and BP in yellow on a central green shield.
David Prothero, 5 January 2002
---
An American Steamship Flag
This image is of a flag flying from the main mast of an American paddle steamer, shown in a painting of unknown origin. The US flag flies on the stern. The painting of the steamship is c. 1860. The steamship was said to be the CENTRAL AMERICA, however, it is not; but it may be out of N.Y.C.
Richard B. MacDonough, 21 September 2000
The appearance of this flag to me suggests that it is not a house flag, but rather either fanciful or else seen briefly and not recorded accurately.
Michael Faul, 5 October 2001
That flag looks almost like the H flag. My best guess is that is may be either that (painted wrongly) or it could be the burgee of a Yacht Club, although those flags are usually triangular.
Zach Johnson, 18 November 2002
---
Brunei Parade
Lots of unidentified flags in this Brunei National Day 23rd February 2000 webpage.
Gvido Petersons, 14 December 2000