This page is part of © FOTW Flags Of The World website
13 Star Flags - (1777-1795) (U.S.)
Last modified: 2002-11-16 by rick wyatt
Keywords: thirteen | united states |
Links: FOTW homepage | search | disclaimer and copyright | write us | mirrors

---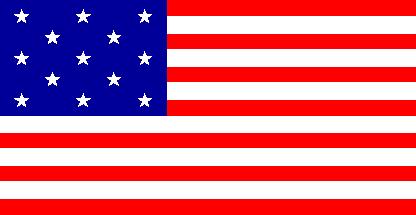 by Mark Sensen, 4 December 1997
---
---
See also:
---
The thirteen stars and thirteen stripes represented the thirteen original colonies:
Connecticut - Delaware - Georgia - Maryland - Massachusetts - New Hampshire - New Jersey
New York - North Carolina - Pennsylvania - Rhode Island - South Carolina - Virginia
---

Continental Congress's June 14, 1777 Flag Resolution
by Joe McMillan, 14 June 2000
---
Description of the flag
During the Revolutionary War, numerous flags were used. After the Declaration of Independence was signed on 4 July 1776, the people realized they needed one flag to replace all the assortment of flags used previously. On 14 June 1777, the Continental Congress adopted the following resolution:
"RESOLVED, that the flag of the 13 United States be thirteen stripes, alternate red and white: That the union be thirteen stars, white in a blue field, representing a new constellation."
Because the resolution was not specific there were a number of variations of the 13 star flag.

Although legend has it that Betsy Ross sewed the first flag from a design by George Washington, this has not been substantiated. The first documented U.S. flag was the staggered star pattern shown above. A strong case for the designer of the first flag is Francis Hopkinson. A delegate from New Jersey to the Continental Congress and a signer of the Declaration of Independence. He submitted a bill to Congress for "currency designs, design for the great seal of the U.S., a treasury seal, a design for the flag ..."
---
Some 13 Star Designs
Some of the 13 star flags used are shown below. A link indicates a page about that particular flag in more detail.

Bennington
by Rick Wyatt
14 November 1997



Betsy Ross
by Mark Sensen
4 December 1997



Cowpens
by Rick Wyatt
9 July 2001


Six Pointed Star Design
by Steven M. Schroeder
18 November 2000

John Shaw(white first stripe)
by Rick Wyatt
3 April 2002



John Shaw(red first stripe)
by Rick Wyatt
3 April 2002

---
by Dave Martucci, 6 December 1997
This flag is a "typical" 13 star flag of the early period. Although there were countless variations, this one shows some of the common traits. Specifically, note that the stars point every which way. This was common prior to the last quarter of the 19th century.
Dave Martucci, 6 December 1997
---
17 Stripe Flag On Bank Note
by Devereaux Cannon, 22 February 2000
I have an interest in early forms of the U.S. flag. Yesterday I came across one that is not an actual cloth flag, but is depicted in a vignette on an 1854 banknote of a Tennessee bank. The flag in question has 13 stars, arranged in three rows of 5/3/5. It has a total of 17 stripes, 9 white and 8 red. Also of interest is the extreme length of the flag, which is proportioned approximately 3:1.
Devereaux Cannon, 22 February 2000
---
9 Stripe Flag
by Devereaux Cannon, 19 February 2001
The closest thing I could find is a flag with 13 stars and 9 stripes in "The Stars and The Stripes" by Boleslaw and Marie-Louise D'Otrange Mastai. The flag is in the Mastai Collection, and the book identifies it as a sea captain's flag from the time of the revolution.
Devereaux D. Cannon, Jr., 19 February 2001