This page is part of © FOTW Flags Of The World website
Hawaii (U.S.)
Last modified: 2002-09-28 by rick wyatt
Keywords: hawaii | united states | union jack |
Links: FOTW homepage | search | disclaimer and copyright | write us | mirrors

---
by Mario Fabretto, 24 February 1998
---
---
See also:
---
In 1960, a star was added, representing Hawaii, bringing the total number of stars on the U.S. flag to 50. There are thirteen stripes representing the thirteen original colonies.
---
Legal Description
Hawaii Revised Statutes
Section 5-19. Description of the Hawaiian flag. The official description of the Hawaiian flag as authorized to represent the State of Hawaii on land and sea, and authorized for executive state agencies, second to the stars and stripes of the United States shall be:
The Hawaiian flag shall consist of eight horizontal stripes, alternately white, red, blue, etc., beginning at the top, having a jack cantoned in the dexter chief angle next to the point of suspension;
The jack shall consist of a blue field charged with a compound saltire (crossing) of alternate tincture white and red, the white having precedence; a narrow edge of white borders each red side of the saltire;
A red cross bordered with white is charged (placed) over all;
The proportion shall be as follows:
(A) The fly (length) is twice the hoist (width);
(B) The jack is half the hoist (width) in breadth and 7-16 the fly in length;
(C) The arms of the red cross with border shall be equal in width to one of the horizontal stripes;
the white border shall be one-third the width of the red cross;
(D) The arms of the compound saltire (crossing) are equal in width to the red cross, the tinctures
white, red, and the border being in the proportion of 3, 2, 1, respectively.
Joe McMillan, 11 February 2000
---
History
Summarizing the book "The History of the United States Flag", by Quaife, Weig, and Appleman:
Only US state flag to have flown over a kingdom, a territory, a republic, and a state.
Captain Vancouver established a UK-Hawaii friendship in 1793-4 and obtained a "cession" of the Islands to the UK, but the British government apparently never took notice of it. He gave a red ensign to the king then, which on later visits he found flying in places of honor.
During the War of 1812, an American asked why the King (this was Kamehameha) was flying the "enemy" flag. He lowered it and raised the US Flag, only to have the same thing happen when a British ship put into port. To avoid trouble, they decided to combine the two flags into one.
A captain Adams (British) apparently helped design this flag for the king. Some scholars credit a Captain Beckley, however.
The number of stripes varied, but was standardized at eight after 1843, for the eight principal islands in the group. In 1843 the UK declared that Hawaii was definitely independent and the Hawaiian flag was raised in a ceremony. However, this flag had stripes in the order white-red-blue through some mistake, which is why it is that way today, not red-white-blue as was originally done.
Dipesh Navsaria, 21 November 1995
---
Chronology:
1794-1816 Hawaii flew Union Jack as its National Flag
1816-1843 Hawaii flew early version of present flag
25 Feb - 31 July 1843 British occupation; all Hawaiian Flags were destroyed
31 July 1843 King Kamehameha III spoke his famous prayer of thanksgiving, a part of which serves today as the State Motto while a Hawaiian Flag that included a dove and olive branch was hoisted.
20 May 1845 present Hawaiian Flag adopted
1 Feb - 1 April 1893 US Flag flown in Hawaii
1894 Republic of Hawaii readopts Hawaiian Flag
1898-1959 Territory of Hawaii uses Hawaiian Flag (confirmed 1903)
1959-present State of Hawaii uses Hawaiian Flag (confirmed 1959)
I don't know if this is (or was) Standard Operating Procedure, but the British did confiscate all Hawaiian flags and burned them in 1843. This was the reason for the Hawaiian "revolt" which led to a British withdrawal in July (or so says a book I have on Hawaiian history). The "revolt" consisted of the total ignoring of the presence of the British by the Hawaiians. No talking, no notice, no nothing. Actually, the occupation was not sanctioned by London and Feb to July is how long it took word to go to London and back again. But the Hawaiians say they defeated the British by ignoring them!

Dave Martucci, 19 April 1997
---
Governor of Hawaii
by Jaume Oll&eacute, 7 April 1997
According to NAVA news (January 1984) the flag of the governor of Hawaii is blue over red with the word "Hawaii" in white in the center and, around the word, 8 white stars (8 islands perhaps?).
Jaume Oll&eacute, 7 April 1997
---
State Military Crest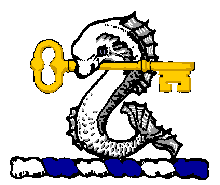 by Joe McMillan, 21 April 2000
The state military crest, which is the crest used in the coats of arms of units of the National Guard, as granted by the precursor organizations of what is now the Army Institute of Heraldry. The official Institute of Heraldry blazon is "A dolphin embowed hauriant argent, in his mouth a key fesswise or."
Joe McMillan, 21 April 2000