This page is part of © FOTW Flags Of The World website
South African President
Last modified: 2002-07-05 by jarig bakker
Keywords: south africa | president |
Links: FOTW homepage | search | disclaimer and copyright | write us | mirrors

---
---
President's flag till 1985
by Mark Sensen, 20 May 2002

Until 1985 the presidential flag was blue with the arms. I don't know the size of the arms on this flag, I made it half the height of the flag (just a guess). I also don't know when this flag was adopted, maybe around the early 1960s?
BTW: does anyone know if there's a presidential flag at the moment, and how it looks like?
Mark Sensen, 20 May 2002

I don't recall that the ANC has adopted any kind of presidential flag. The former presidential flags fell away in 1994. You note that the two flags both have the letters SP (State President): since the 1994 Constitution the title of the Head of State has been simply "President".
Your drawings seem fairly accurate – in fact, perhaps an improvement over the official illustrations, except that the blue in both illustrations is rather lighter than the blue actually used. The orange should be brighter. The size of the coat of arms is roughly correct in both images, but the initials were more pronouncedly outlined in white (on the earlier flag) and in black on the later flag. I use the word "outlined", as this was not a fimbriation as much as a function of the lettering used (the lettering on the two flags differs in its colouring, but it is the same typeface).

The first SP flag was an adaptation from the Governor-General's flag (as used from 1931 to '61), which followed the British pattern of a dark blue flag with the British royal crest of the crown with the lion standing on it in the centre. Unlike other GG flags, this one had the country's name in two languages, on separate scrolls, one above the crest, and one below: "Union of South Africa" above and "Unie van Suid-Afrika" below. The proportions of the 1931-61 GG flag were two to one, but those of the
1961-84 SP flag were 3:2. Brownell does not specifically mention the proportions of the 1984-94 SP flag, but his image appears to have the same proportions as its predecessor, namely 3:2.

The caption to the GG flag notes that the St Edward's crown came into use under Queen Elizabeth; previously it had been the Tudor crown. So technically there were three different GG flags for South Africa:
The Union Jack with the Union arms in the centre roundel, used in the first two decades of Union.
The royal crest with the Tudor crown and two scrolls (1931-52).
The royal crest with St Edward's crown and two scrolls (1952-61).
You ask about the first use of the 1961-84 SP flag. Brownell states: "The new flag was first hoisted for the first time at Government House (which became known as the Presidensie) in Pretoria, on the day of the State President's inauguration, namely 31 May 1961."
He also records: "The shade of blue was specified as being that of the blue panel of the national flag, namely 'BCC150, Lapis Lazuli' in the British Colour Council's Dictionary of Colour Standards."
Brownell also notes that blue presidential flags were also adopted in Ireland, Ghana, Pakistan and Sri Lanka, while that of the Republic of Rhodesia was pale blue. Clearly these countries (with the likely exception of Ireland, which uses a banner of the country's arms) were following the tradition of the Governor-General's flag.
Mike Oettle, 22 May 2002

---
President's 1985-94 flag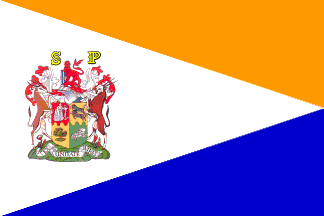 by Mark Sensen, 1 Jul 2002

From: Data of the Bureau of Heraldry on registered heraldic representations.
"State President of the Republic of South Africa: granted 16 Aug 1985
Description: A rectangular tricolour, proportion three by two, from the hoist, per pile throughout; top to bottom orange, white and blue, the white charged in the hoist with the embellished armorial bearings of the Republic of South Africa proper, ensigned with the letters S P in gold, fimbriated black, the height of the charges being one half the width of the flag."

It seems we don't have the presidential flags of South Africa at our website, at least I can't find them.
So I made GIFs using the arms from Mike Oettle's image of the (former) state arms.
Mark Sensen, 20 May 2002

I corrected the letters in za_pr2.gif (1984-'94). I did not change the colours because I don't have the correct values for the blue and orange. I also didn't correct za_pr1.gif (1961-'84) yet, because the image in Brownell's book shows white letters with no outline, while the text says the letters were gold. What is correct?
Mark Sensen, 1 Jul 2002

---