This page is part of © FOTW Flags Of The World website
Liberia
Republic of Liberia
Last modified: 2003-02-01 by antonio martins
Keywords: liberia | star: 5 points (white) | stripes: 11 | stripes: 13 | cross: swiss (white) | doubt |
Links: FOTW homepage | search | disclaimer and copyright | write us | mirrors

---

by Zeljko Heimer, 16 May 2002
---
See also:
---
Explanation of the flag
Flag of 11 red and white stripes with blue canton containing a white five-pointed star. Most modern sources agree on 10:19 ratio of the flag, but older sources seem to ignore it. Seems that the exact construction of the flag was never established in other way then by tradition.
Zeljko Heimer, 09 May 2002
The eleven stripes stand for the eleven signatories of the Liberian declaration of independence.
Roy Stilling, 04 Dec 1996
Following the declaration of independence in on July 26, 1847, the founders of that first African Republic scheduled August 24, 1847 as the date of unfurling a new flag for the new Republic.
The new flag was similar to an earlier flag attributed to the Colony except that in place of a "Christian cross" in the upper left corner, was a single star. One local poet — in describing the describing the flag in a publication on August 26, 1847 — said of the star «after ages of wandering, has at length found its orbit». While also similar to the American "Stars and Stripes", the Liberian flag had eleven stripes representing the eleven individuals elected to the Constitution Convention of 1847.
At the special program Susanna Waring-Lewis, chairperson of the committee appointed to sew the new flag, gave a "patriotic" speech which, according to an attending correspondent as a «testimony of female patriotism and ardor in the cause of Liberia's independence».
Another correspondent described the ceremony this way: «During the ceremony of presenting the flag, many eyes were suffused with tears. And indeed, who that remembered the past could forbear to weep? Who that looked back to America and remembered what he saw and felt there, Could be otherwise than agitated».
(Complied from: Press Freedom in Liberia, 1830-1970, by Dr. Carl Burrowes Earl Burrowes, for the Liberian Human Rights Network)
The Liberia's national flag is called "LONE STAR". The eleven horizontal stripes represent the eleven signers of the declaration of independence and the constitution of the Republic of Liberia; the blue field symbolizes the continent of Africa; the five pointed white star depicts Liberia as the first "independent republic" on the continent of Africa; the red color designates "valor"; the white, "purity"; and the blue, "fidelity". Although these representations are uniquely Liberian, the flag itself is a replica of "Old Glory", the national flag of the United States.
Pascal Gross, 07 Sep 1998
---
Variant representations of the flag
Most modern sources agree on 10:19 ratio of the flag, but older sources seem to ignore it, as well as the relative size of the canton and the star within. So [neu92] has 2:3 image, and [gmc17] has an image that measures 20×33 mm. Today it seems it is taken for granted that the canton is square, but the two other sources has the canton about 2:3 and 4:5 respectivly. They all agree that the height of the canton is five stripes. The star seems to be inscribed in a cricle with diameter about 3 stripes width (though with minor differences in all three soruces).
Zeljko Heimer, 09 May 2002
From Flaggenbuch (1939-1941) [neu92]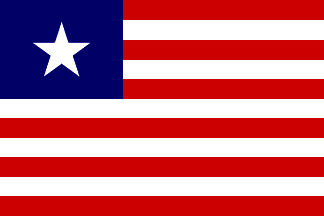 by Zeljko Heimer, 09 May 2002

Flaggenbuch (1939-1941) [neu92] shows the National flag, but with proportion 2:3 instead of 10:19.
Ivan Sache, 01 Jun 1999
From National Geographic Magazine (1917.10) [gmc17]

by Zeljko Heimer, 09 May 2002

This flag has the number 764 in the flag number of National Geographic Magazine (1917.10) [gmc17].
Zeljko Heimer, 10 May 2002
---
Liberian flag in 1827-1847

by Dave Martucci, 21 April 1997

One of Smith's books describes the flag from 1827, based on US flag, but with a white cross instead of the stars. The proclamation of independence arose out of an incident in 1845 when the British captured a Liberian ship flying that flag, considered illegal by the British.
Zeljko Heimer, 01 May 1996

I read a book at my library written by an American missionary who visited Liberia shortly after its declaration of independence. He describes this flag, which bears a Christian cross (bottom arm of double length), but describes a British vessel as the first to salute it. In fact, the first salute was refused by the Liberians because it occurred on the Sabbath, so the whole scene was replayed by the British captain on Monday. Flag salutes were a big deal in those days; it was tantamount to recognition by a foreign nation.
Steve Kramer, 02 May 1996

The original (1827) flag of Liberia had a white cross on a blue canton. I presume this was changed to the current single star when Liberia became independent in 1845. Liberia may be the only country in the world to have gained independence because of its national flag. British warships operating against the slave trade in West Africa didn't recognize the Liberian flag and so in order to legitimize it (the flag) the territory was declared independent.
Stuart A. Notholt, 20 Sep 1996

Smith [smi80] says «Liberia had had a flag since 1827. Understandably, the American flag constituted the basic design except that a white cross substituteed for the stars. In 1845 a Liberian ship flying that flag was seized by British authorities for lack of a recognized ensign; to give this flag international standing the decision was made to proclaim Liberian independence.» The flag was altered by reducing the number of stripes to 11 and replacing the cross with a single white star 26 July 1847.
Dave Martucci, 21 Apr 1997