This page is part of © FOTW Flags Of The World website
Dongeradiel (The Netherlands)
Dongeradeel Fryslân
Last modified: 2003-04-26 by jarig bakker
Keywords: dongeradeel | dokkum |
Links: FOTW homepage | search | disclaimer and copyright | write us | mirrors

---
Shipmate Flagchart : http://www.shipmate.nl/flags.htm


Due to size, the page has been split up (Eastdongeradiel has a new page)

See also:
---
Municipal flag
Dongeradeel/Dongeradiel is a merger of the old municipalities (grietenijen) Oost- and West-Dongeradeel and the city of Dokkum in northeast Friesland in the Netherlands.

The three stars on the flags symbolize the three former municipalities (and I assume they remind of the three stars on the Dokkum CoA, which was taken to refer to the Trinity of God) The white middle-bar symbolizes the 'river' Donger, which separated Eastdongeradiel from Westdongeradiel. It is possible, that the vertical blue bar and the horizontal red bars remind of the crescent on the Dokkum CoA, which according to legend was awarded to the city after the Crusaders won Damiette in Egypt (1217).

Jarig Bakker, 21 August 1999

These flags are based on a booklet by the municipality: 'Wapens en Vlaggen van stad en dorpen in de gemeente Dongeradeel', edited in Dokkum, March 1994. It was sent to me free of charge, and I scanned the images, sent it to Gerard van der Vaart, who included all (but two images so far) on his Shipmate site. The village flags were ratified by the municipal council on 28 January 1988. The flag of the city of Dokkum is much older.

Jarig Bakker 26 October 2000

The combined municipal councils of Dokkum, Oostdongeradeel and Westdongeradeel adopted unanimously on 27 Oct 1983 a new municipal flag for Dongeradeel. The wavy middle stripe represents the river Peasens, between the colors of Oostergo: red-white-red; and to the hoist blue, in which per pale the three stars of the municipal CoA, referring to the three former judges' chairs of the municipalities, which were joined together on 1 Jan. 1984. At the instigation of the 'Fryske Rie foar Heraldyk' the council adopted on its own (as the first municipality) a municipal wimpel, together with the municipalities of Boornsterhem and Gaasterland. The wimpel of Dongeradeel consists of: 'a square hoist in blue on which a yellow star, and a long swallowtailed fly in the colors red and white.

Jarig Bakker 19 October 2000

---
Dongeradeel CoA
International Civic Arms :
http://www.ngw.nl/
The arms are a combination of elements from the arms of the former municipalities, Dokkum, Oostdongeradeel and Westdongeradeel. The two wavy bends symbolise the Ee and Paezens streams which merge in the city of Dokkum, the municipal seat.

---
Wimpel
Ivan Sache 22 October 2000

In a booklet of the municipality Dongeradiel I found the wimpels of Dongeradiel and Dokkum - scans attached.

Jarig Bakker 19 October 2000

---
Dokkum city, seat of Dongeradeel
Shipmate Flagchart : http://www.shipmate.nl/flags.htm

Dokkum is an old city (some say dating from c. 300 AD) in northeast Friesland, one of the 11 Frisian cities. In 1984 the city merged with Oost- and West-dongeradeel to form the municipality of Dongeradeel, and became the municipality seat.
This flag was adopted 29 January 1948, but was already documented in the flagbook of Hesman of 1708. Sierksma (Nederlands Vlaggenboek, 1962) states that the color red doesn't appear on the CoA of Dokkum; On the Waterlooplein in Amsterdam I saw some weeks ago a map of Dokkum with the Blue on the CoA replaced by the Red color.
Jarig Bakker, 1 October 1999

Dokkum : The city flag, established 29-1-1948, consists of: "Four stripes blue-white-red-yellow."
The Coat of Arms is: Blue, three six-pointed stars gold, placed 1 : 2, from above accompanied by a turned Wassenaar silver. On top of the shield a golden crown.
Under Dokkum the crescent is described as a turned lying crescent.
Under Municipal arms a picture shows the horns of the crescent to reach all the way around the top stat to just outside the tops of the other stars. However, nothing indicates where the colour red stems from. All I can think of is that the crown may customary be depicted lined red, like the crown on the shield on the eagle on the Bolsward flag.
Franc van Diest, 10 October 2000)
---
Wimpel Dokkum
Ivan Sache 22 October 2000

---
Westdongeradeel [former municipality]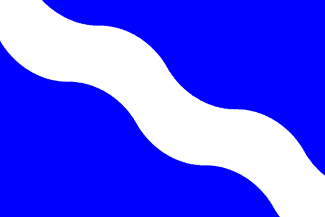 Shipmate Flagchart : http://www.shipmate.nl/flags.htm

Westdongeradeel is in northeast Friesland, northwest of Dokkum, mainly grassland (greidhoeke), in which prospective brides were judged by 'koue-ru'tsjes' (cow-windows, windows in the stables).
The flag was adopted 22 May 1963, derived from the municipal CoA. It was discontinued in 1984 when it merged with Dokkum and Oostdongeradeel in the municipality of Dongeradeel. The white wavy diagonal symbolizes the river Dongera, which for some strange reason had another direction here than in Oostdongeradeel. The very doubtful existence of this 'river' (also called 'Paesens' after one of the Oostdongeradeel villages) may have caused this. Another point of confusion was the wavy v. the straight white diagonal. On all CoA's of Westdongeradeel I have seen the diagonal is wavy; in the last issues of the CoA of Oostdongeradeel the diagonal was straight, even embellished by a thin black line in the middle. On the base of that I would tend to think that the flag with the straight diagonal never existed. But I can add that both municipalities nearly never showed their flags.
At least: I never saw one as citizen of Oostdongeradeel.
Jarig Bakker, 26 October 1999
---
Westdongeradeel CoA
International Civic Arms :
http://www.ngw.nl/
---
Historical Westdongeradeel flag
Shipmate Flagchart : http://www.shipmate.nl/flags.htm

The flag with the straight diagonal

---
Bornwird village (Boarnwert)
Shipmate Flagchart : http://www.shipmate.nl/flags.htm

Bornwird (Frisian: Boarnwert) is a very small village in formerly West Dongeradeel - as indicated by the flag: diagonal from top hoist to bottom fly as in the former municipality flag. The lily has been derived from the CoA of the Aylva family (say: Alüa). <It is not totally insignificant as my mother was born there and the 'Hervormde' church is very old (and well worth a visit.)> White and red are the colors of the old bishop-colors of Utrecht.
Jarig Bakker, 26 October 2000
---
Bornwird CoA
See International Civic Arms : http://www.ngw.nl/

---
Brantgum village
Shipmate Flagchart : http://www.shipmate.nl/flags.htm

Brantgum is in Dongeradeel, just northwest of the city of Dokkum. The diagonal stripe refers to the old municipality flag of Westdongeradeel and to the road from Dokkum to Holwerd. The brush is the symbol of Brantgum's most famous inhabitant, the painter Ids Wiersma
Jarig Bakker, 1 September 1999
---
Brantgum CoA
See International Civic Arms : http://www.ngw.nl/

---
Foudgum village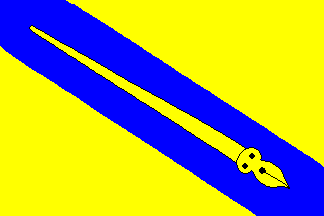 Shipmate Flagchart : http://www.shipmate.nl/flags.htm

The homepage of the tiny village of Foudgum in the municipality of Dongeradeel is at: http://www.nofriesland.nl/foudgum/
It contains the flag and CoA, which have been inspired by the 19th century writer Franc,ois Haverschmidt (AKA Piet Paaltjens), who was the village parson (dominee), hence the pen. The blue diagonal bar is for the road from Dokkum to Holwerd (and Ameland), which cuts the village in two.
Jarig Bakker, 22 August 1999
---
Foudgum CoA
See International Civic Arms : http://www.ngw.nl/

---
Hantum village
Shipmate Flagchart : http://www.shipmate.nl/flags.htm

Hantum (Frisian: Hantum, say: Hontum) is a rural village in former Westdongeradeel, 7 km NW of Dokkum. The flag is based on the old municipal flag; the colors are the Utrecht Old Bishop colors. The acorn is from the old Hettinga family CoA.
Jarig Bakker, 27 October 2000
---
Hantum CoA
See International Civic Arms : http://www.ngw.nl/

---
Hantumhuizen village (Hantumhuzen)
Shipmate Flagchart : http://www.shipmate.nl/flags.htm

Hantumhuizen (Frisian: Hantumhuzen), formerly a neighbourhood of Hantum village, now a separate village. This flag is also based on the old Westdongeradeel flag. Dominating the village is the very old (13th century) church. The color green represents the meadows around the village.
Jarig Bakker, 27 October 2000
---
Hantumhuizen CoA
See International Civic Arms : http://www.ngw.nl/

---
Hiaure village (De Lytse Jouwer)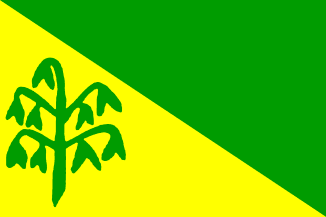 Shipmate Flagchart : http://www.shipmate.nl/flags.htm

Hiaure (Frisian: De Lytse Jouwer). The plant on the flag is part of an oat-plant (Frisian: hjouwer), which makes it canting. The village of Joure in southeast Friesland equally has oats on its CoA and (old) flag. As indicated before Hiaure is a tiny village in luscious meadows (Frisian: greiden), hence the green color on the flag. The diagonal partition refers to its formerly being in Westdongeradeel.
Jarig Bakker, 29 October 2000
---
Hiaure CoA
See International Civic Arms : http://www.ngw.nl/

---
Holwerd village (Holwert)
Shipmate Flagchart : http://www.shipmate.nl/flags.htm

Holwerd (Frisian: Holwert) is one of the only villages which is steadily growing; at present over 2000 inhabitants. From Holwerd one can sail toward the island of Ameland, a popular holiday-resort. The pier of Holwerd is a very vexy sight with a lot of Rijkswaterstaat-flags and houseflags of Wagenborgen and flags of Fryslân and the Netherlands. The emblem on the flag is of Mercury, the god of the trade, for which this village was renowned. In the 19th century it even had a bookshop, run by the famous Frisian writer Waling Dykstra. The coast on which Holwerd lies is rather straight from east to west, which is symbolized
on the flag by the horizontal stripes (which it has - more or less - in common with the three other coastal villages Engwierum,
Paesens-Moddergat and Wierum). Blue is for the Waddenzee, yellow for land (a lot of wheat used to be grown here).
Jarig Bakker, 29 October 2000
---
Holwerd CoA
See International Civic Arms : http://www.ngw.nl/

---
Nes village
Shipmate Flagchart : http://www.shipmate.nl/flags.htm

Nes (Frisian: Nes) had 1-1-1999 422 inhabitants. It is a cosy village and an important gardening center in northeast Friesland. 'Nes' means 'corner' or small peninsula, the northeastern point of Westdongeradeel.
The flag of Nes has the diagonal division of the CoA of former Westdongeradeel; the countercharged tulip is a reference to the
gardening in the village. White is the color of the 'űleboerd' - 'owl-board', a triangular wooden ornament in the top of the back of a farmhouse, with small openings to permit entry for mouse-chasers. Red and white were the colors of the region of Oostergo.
Jarig Bakker, 1 November 2000
---
Nes CoA
See International Civic Arms : http://www.ngw.nl/

---
Raard village
Shipmate Flagchart : http://www.shipmate.nl/flags.htm

Raard (Frisian: Raerd) had on 1-1-1999 226 inhabitants. The village is on the border of Dongeradiel and Ferwerderadiel.
Flagdescription: Per bend dexter, white-blue from the hoist top; in a black W at one third of flag height with on top of the first half of the W a green clover leaf.
Explanation: The field colors are those of Dongeradiel; the diagonal division refers to its former position in Westdongeradeel. The W and the clover leaf are from the CoA of the Van Kleffens family.
Jarig Bakker, 3 November 2000
---
Raard CoA
See International Civic Arms : http://www.ngw.nl/

---
Ternaard village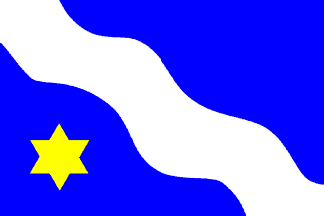 Shipmate Flagchart : http://www.shipmate.nl/flags.htm

Ternaard (Frisian: Ternaard) was the administrative center of Westdongeradeel. On 1-1-1999 there were 1371 inhabitants.
Flagdescription: Blue, a white wavy hoistbend of one third flag height; in the hoist-bottom a yellow six-pointed star.'
Explanation: The flag is identical to the flag of the former municipality of Westdongeradeel, apart from the star, which has been added for Ternaard's function as capital village. (see also: Metslawier).
Jarig Bakker, 04 November 2000
---
Ternaard CoA
See International Civic Arms : http://www.ngw.nl/

---
Waaxens village (Waaksens)
Shipmate Flagchart : http://www.shipmate.nl/flags.htm

The blue diagonal bar stands for the road from Dokkum to Holwerd, but refers also to the flag of the former municipality of Westdongeradeel (white diagonal bar on a blue field). Fleur de lis derived from the CoA of the Sjűksma family.
Jarig Bakker, 22 August 1999
---
Waaxens CoA
See International Civic Arms : http://www.ngw.nl/

---
Wetsens village
Shipmate Flagchart : http://www.shipmate.nl/flags.htm

Wetsens (Frisian: Wetsens) had 1-1-1999 62 inhabitants - most notable because its church doesn't have a tower.
Flagdescription: Per flybend yellow and red. In yellow a black wing.
Explanation: The diagonal division refers to Oostdongeradeel. Red is the color of the pot of food for the patron saint of the village: St. Vitus. The wing is from the Jarla family CoA. Yellow is probably for the wheat on Wetsens' fields.
Jarig Bakker, 4 November 2000
---
Wetsens CoA
See International Civic Arms : http://www.ngw.nl/

---
Wierum village
Shipmate Flagchart : http://www.shipmate.nl/flags.htm

---
Wierum CoA
See International Civic Arms : http://www.ngw.nl/
---