This page is part of © FOTW Flags Of The World website
Kollumerl'n en Nijkrķsl'n [Municipality] (The Netherlands)
Kollumerland en Nieuwkruisland [Gemeente] (Nederland)
Last modified: 2001-06-15 by franc van diest
Keywords: frisia | friesland | netherlands |
Links: FOTW homepage | search | disclaimer and copyright | write us | mirrors

---
Shipmate Flagchart : http://www.shipmate.nl/flags.htm
Augsbuurt-Lytsew'ld
Burum
Feankleaster (Veenklooster)
Kollum (municipal capital)
Kollumerpomp (De Pomp)
Munnekezijl
Sweagerbosk (Zwagerbosch)
---
See also:
---
Official name: Kollumerland en Nieuwkruisland / Kollumerl'n en Nijkrzsl'n, in northeast Friesland, the Netherlands. Nijkrzsl'n has been won by 'inpoldering' of the Lauwerszee, in the eastern part.

The flag was adopted 22 February 1960. RYV is the old flag of the 'vlek' of Kollum, the municipal capital with its own 'Stadsfries' dialect. The red star and the white bar have been borrowed from the municipal CoA to point at the unity of both parts of the municipality. <In my youth in the eastern part people spoke the Groninger language or a mixture of Frisian and 'Grunnigers'>
Jarig Bakker, 27 August 1999
Kollumerland: (Actually: Kollumerland en Nieuwkruisland)
Flag: "Seven stripes red-yellow-green-white-green-yellow-red, 1 : 1 : 1 : 3 : 1 : 1 : 1; with on the white stripe at the hoist side a red six-pointed star, one point pointing to the upper side." Established 19-4-1960.
The shield is: Per fess in three parts silver, gold, and green; the gold charged with a red six-pointed star.
Under Kollum it says: Capital of municipality Kollumerland en Nieuwkruisland.

---
Oudewoude [dorp]
Ivan Sache 11 October 2000
---
De Trieme [dorp]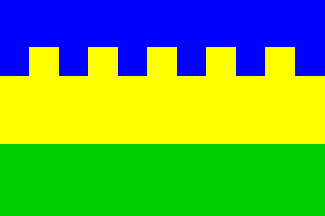 Ivan Sache 11 October 2000
De Triemen (/Triemen) with on the page :
http://www.triemen.myweb.nl/Historie.htm
Flag: "Stripes blue - yellow - green; the upper two crenel-wise united" And: The Coat of Arms: "Or, charged with a green tree on a grass field of the same, with a blue crenellated chief, charged with two silver lilies".
Triemen lies on the sand. This type of soil has always been rich in oaks, which is why such a tree has gotten a place on these arms. Near this village there used to stand a keep: The Buma-stins (Buma Keep). The crenellated edge of the chief gives a hint of this. The blue colour and the silver lilies come from the Buma arms.
I take it that these are lengthwise stripes. The blue and its edge are apparently from the Buma's, the green appears to stand for the oaks. That leaves the yellow, that will have to be sand again, I guess.
I know these are not really proper blazons. But they are proper translation. (Well, they are good tries. (-:)

10 October 2000
---
Wafstermolen [dorp]
Ivan Sache 11 October 2000
---
Westergeest [dorp]
Mark Sensen, 02 May 2001
---