This page is part of © FOTW Flags Of The World website
New Zealand - Flag of the United Tribes (1835-1840)
(1835-1840)
Last modified: 2002-10-26 by sam lockton
Keywords: maori | crosses: 2 | cross (red) | stars: 4 | waitangi | proposal | variant | museum | stars: 4 | star: 5 points (white) | star: 6 points (white) | star: 8 points (white) |
Links: FOTW homepage | search | disclaimer and copyright | write us | mirrors

---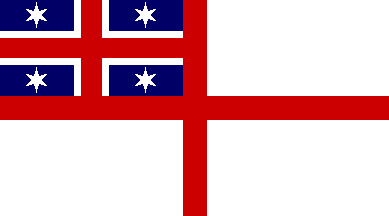 by António Martins, September 1998
---
See also:
---
Flag of the United Tribes: gazetted version (1835-1840)
The new flag was gazetted the next year by the British Admiralty, with the eight-pointed stars replaced with five-pointed ones, and the black fimbriation returned to the more heraldically correct white.
Stuart Park, 29 January 1996

by António Martins, September 1998

Following its adoption, the flag was gazetted in Sydney. Busby's original 1834 drawing had eight pointed stars and black fimbriation of the blue quarters in the upper hoist. However, the New South Wales Gazette description and the subsequent British Admiralty publication of the flag in 1835 omitted the fimbriation and showed 6 pointed stars. That version has been the most common variant seen since, though several varieties are known.
Stuart Park, 8 Nov 1996

From flag chart Flags of Australia [foa]:
«In March 1834 twenty-five Maori chiefs gathered together at Waitangi, New Zealand to choose one of three flags supplied by the Governor of New South Wales, who at the time, had jurisdication over New Zealand...»
This is known as the Flag of the United Tribes of New Zealand (1835-1840). The flag is a "white duster" (white field with red St. George's throughout) in the canton, which is blue, is a red St. George's cross fimbriated white. In each of the four blue quadrants appears a white eight-pointed star.
Paul B Lindsay, 7 November 1996

The flag, which became known as the Flag of the United Tribes of New Zealand, served as the national flag until 6th February 1840, when on the signing of the Treaty of Waitangi, it was replaced by the Union Jack.
David Prothero, 16 December 1998, quoting [cay66]

The Flags of Paradise chart [brt96] shows a white fimbriation on the cross in the canton, and six-pointed stars.
John Ayer, 25 January 1999

This flag, without the fimbriation, was then adopted around 1859 by the Shaw Savill and Albion shipping company as their house flag [car61]. Also known as the Waitangi Flag, it has appeared in various contexts since.
Stuart Park, 29 January 1996

There have been several other variants used by various groups over the last 150 years.
Stuart Park, 9 November 1996
---
Flag of the United Tribes: surviving example?
In the San Francisco City Museum, there was memorabilia commemorating the Great White Fleet's 1908 round-the-world trip. Included was a display of flags of countries visited. Most looked familiar, but the one given for New Zealand looked strange.
Josh Fruhlinger
That is the so-called Flag of the Confederation of United Tribes. Was the one on display an original (1908) flag — its use as a gift to the Great White Fleet would be fascinating — or was it a modern flag, the Museum having just got the wrong flag for New Zealand?
Stuart Park, 29 March 1997
---