This page is part of © FOTW Flags Of The World website
pre-Soviet Omsk Region flags, 1716-1917 (Russia)
Last modified: 2002-12-20 by antonio martins
Keywords: omsk | tobolsk | coat of arms | siberia | kazakh | kirghiz | tomsk | steppe | oak leaves | acorns | akmola | alexander band |
Links: FOTW homepage | search | disclaimer and copyright | write us | mirrors

---
See also:
---
Coat-of-arms of 1785-1825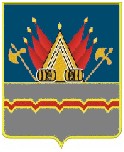 by Igor Pavlovsky, 08 May 1999

Arms of Omsk, adopted in 1785. Tobolísk and Omsk are towns in Siberia. The arms consists of two parts: upper part - with element of Tobolískís amrs (because Omsk was a town in Tobolísk Namyestnichestvo ó Tobolsk Governorat); lower part - silver field with stylized brick wall.
Victor Lomantsov, 08 Oct 2001

Founded in 1716, Omsk fortress was reorganized into town in 1782. On March 17th 1785, Empress Catherine II the Great signed a decree defining the Arms of Omsk district (uezd) of Tobol'sk province (namestnichestvo):
In the upper part of the shield, the Arms of Tobol'sk are displayed. In the lower, on a silver field, part of a fortified brick line is displayed, because on the Siberian line, this is the main fortress of all.
These arms are in use now also. (Note: The two axes-spears perhaps both should be aiming towards the center.)
Igor Pavlovsky, 08 May 1999
---
Coat-of-arms of 1825-1858

by Igor Pavlovsky, 08 May 1999

In 1822, Omsk region (oblast') was organized, and in 1825 the Arms of the region were defined by the Senate: Red background, silver horse, golden horseman in traditional Kazakh clothes, with a bow and arrow. During this time, Omsk becomes the capital of the Western Siberian governorship (guberniya), taking over Tobol'sk and Tomsk, and remains so until its dissolution in 1882.
Igor Pavlovsky, 08 May 1999
---
Coat-of-arms of 1858-1878

by Igor Pavlovsky, 08 May 1999

In 1854, the Kazakh Steppe under the jurisdiction of Western Siberian Governorship is divided into two administrations: the Region of Siberian Kyrgyzs and Semipalatinsk Region. Omsk also becomes the capital of the Region of Siberian Kyrgyzs, for which the coat of arms is defined in 1858 (moslem): Green background, silver tomb stone.
Igor Pavlovsky, 08 May 1999
---
Coat-of-arms of 1878-1918

by Igor Pavlovsky, 08 May 1999

In 1868, the aforementioned two regions are transformed into three, Akmolinsk, Semipalatinsk and Semirechinsk, still included in the Western Siberian Governorship. Omsk becomes the capital of Akmolinsk Region (sidenote: Akmola, renamed into Astana, is the current capital of Kazakhstan). In 1878, the Coat of Arms of Akmolinsk region was defined: the old Arms of Siberian Kyrgyzs, surrounded by golden oak branches with red acorns enveloped in red Alexander Band. Russian Imperial crown rests at the top. In 1882, the Western Siberian Governorship is dissolved. The Steppe Kraj (Area) Governorship is established, with Omsk as its capital, presiding over the three regions.
Igor Pavlovsky, 08 May 1999