This page is part of © FOTW Flags Of The World website
Yakutia (Russia)
Âkutiâ | Якутия / Sakha (Saqa | Сах&
Last modified: 2002-12-20 by antonio martins
Keywords: caxa | saqa | sakha | yakutia | sun: disc | sun (white) | disc (white) | variation | novosibirskie ostrova | new siberian islands | purity | snow | hope | wisdom | kindness | strength | courage | honour |
Links: FOTW homepage | search | disclaimer and copyright | write us | mirrors

---

by António Martins, 31 Aug 1999

---
See also:
Other sites:
---
Presentation of Yakutia
(Note: You need an Unicode-aware software and font to correctely view the cyrillic text on this page. See here transliteration details).
Name (english): Yakutia • (russian, short form): Якутия | Âkutiâ • (russian, long form): Республика Саха | Respublika Saqa
Local official language: Yakut

Capital (russian): Якутск | Âkutsk • (english): Yakutsk
Area: 3 103 200 km2 (≅1 197 800 sq.mi.) • Population: 973 800 inhabitants in 2000
Status: Republic (Республика | Respublika) within the Russian Federation
License plate code: 14 • Ham radio code: YA • ISO 3166-2 code: SA
Flag adopted on 1992.10.14 • Coat of arms adopted on 1992.12.16
An ASSR for the Sakha people was created in 1922. In 1991, this republic unilaterally upgraded its status to a full Union Republic.
Stuart Notholt, 13 Oct 1995
Novosibirskie ostrova (New Siberian islands) are part of Yakutia. According to my newer Russian atlases, these islands are (very sparsely) inhabited exclusively by russians. Any local flags would be town flags (that may exist, but I doubt that it is a priority for local leaders).
António Martins, 07 Aug 1999
---
Description of the flag
The flag of the Republic of Sakha is light blue, with a white disc and, at the bottom of the flag, three narrow stripes of white, red and green.
Stuart Notholt, 13 Oct 1995
At http://www.yakutia.ru/~pages/koi7/win/koi7/koi7/minvs/Russian-Guide/Text/1GeneralSurvey/11-2.htm, there's an unusually clear and concise construction prescription (in russian but spelt in latin letters); I'll summarize it:
The flag has a ratio 1:2, and is made up of four rectangles, placed horizontally: from top to bottom: light blue, white, red and green. The light blue stripe has a height of 3/4ths of the flag height, white 1/16th, red 1/16th, and green 1/8th. In the middle of the light blue rectangle, a white disc whose diameter is 2/5 of the flag height.
(The placing of the disc is further and redoundantly defined as being the disc's center in the same point as the intersection of the diagonals of the light blue rectangle.)
António Martins, 31 Aug 1999

It was adopted by Law #1158/XII (14.10.1992).
Victor Lomantsov, 30 Apr 2000

The flag of the Republic of Sakha has certain semantic meaning:
sun - sky - snow - flowers - ground
Oliver Apper, 02 Apr 1998

The flag of Sakha Republic (Yakutia) was created in 1992. Its symbolics is explained by Uliana Vinokurova, Yakut ideologist and politician, in her book Skaz o narode sakha (The story of the Sakha people), released in 1994. The flag of Yakutia-Sakha reflects the national traditions of the Sakhas: a white sun (urun"kun), symbol of eternal life, on a blue field, caracterizing the polar climate, cold and hard, of the Sakha country.In the bottom of the flag, three coloured stripes, white for purity, snow, hope, wisdom and kindness ; red for strength, courage, honour and aspiration to sovereignty ; green for health, joy, and hope put into the active forces of the nation.
Ivan Sache, 23 Apr 2000,
translating from http://cons-dev.univ-lyon1.fr/Yakoutie/drapeau.html
---
Variation of the flag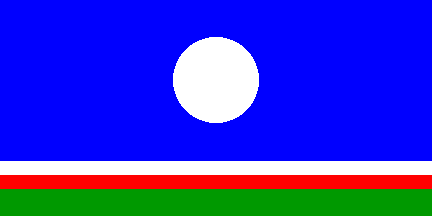 by António Martins, 23 Sep 1999

Law of flag of Sakha say light blue, but in fact in the manufactured flags is used the blue of the russian flag (a bit dark).
Jaume Ollé, 11 Sep 1999
---
Previous flag design

by Ivan Sache, 23 Apr 2000

Note that the illustrations of the referred page, http://cons-dev.univ-lyon1.fr/Yakoutie/drapeau.html, show a flag with the three lower stripes of equel height and the white disc shifted to the top of the flag.
Ivan Sache, 23 Apr 2000

This flag was adopted in 23-9-92. In 14 october 1992 (Law 1158/XII) the flag was slighty modified. The green stripe was a bit more wide (1/8) the red and white 1/16 and the blue c. 3/4. White disk 2/5 (Source Vexilologie [vex] 87).
Jaume Ollé, 19 Apr 2000

What were the specifications in that first law? And (probably more difficult to find out) were any flags produced according to the old specs during those three weeks?
António Martins, 01 May 2000
---
Incorrect variations reported

by Rick Wyatt, 28 Apr 2000

This flag (in light blue and with incorrect stripes) is listed under number 128 at the chart Flags of Aspirant Peoples [eba94] as: «Sakha Omuk [Sakha Respubli Kalar] (Sakhas [Yakuts]) - North Siberia».
Ivan Sache, 15 Sep 1999