This page is part of © FOTW Flags Of The World website
Saratov Region (Russia)
Saratovskaa^ oblasth
Last modified: 2003-08-16 by antonio martins
Keywords: saratov | sturgeon | fish: sturgeon | fish: 3;crown |
Links: FOTW homepage | search | disclaimer and copyright | write us | mirrors

---

by Michail Revnivtsev and António Martins, 27 Feb 2002
---
See also:
Other sites:
---
Presentation of Saratov Region
(Note: You need an Unicode-aware software and font to correctely view the cyrillic text on this page. See here transliteration details).
Name (english): Saratov Region • (russian): Саратовская область | Saratovskaâ oblasth

Capital: Саратов | Saratov
Area: 100 200 km2 (≅38 700 sq.mi.) • Population: 2 698 300 inhabitants in 2000
Status: Region (область | oblasth) within the Russian Federation
Federal District: Northern Caucasus • Economic region: Volga
License plate code: 64 • Ham radio code: SA • ISO 3166-2 code: SAR
Flag adopted on 2001.05.23 • Coat of arms adopted on 2001.05.23
---
About the flag
It was newly approved in 2000, superceeding the previous one; differences concern mainly the wreath and the crown.
Michail Revnivtsev, 27 Feb 2002
On May 23rd 2001, Saratov regional parliament (Duma) changed the Law "On the coat of arms and flag of Saratov Region". The new version of the Law was published on 8, June, 2001. According the Law:
Article 4 The arms of the Saratov region is a blue shield with three silver fishes (sturgeons) in reversed pall. The shield is surmounted with gold crown with blue lining.
According to Article 9 the flag is analogous to the former but now «the coat of arms is encircled with gold decorative wreath of oak and laurel branches tied with gild tape».
Victor Lomantsov, 18 Feb 2002

The image of a crown in the arms of 2000 is recommended Heraldry Council of President of Russian Federation (G. V. Vilinbachoff). It is simple a heraldic crown, as children of princesses having any special meaning importance (it not Cossack and not the Mongolian crown!) draw. The crown is represented instead of three gold oak leaves, which were in the arms of 1996.
Michail Revnivtsev, 27 Feb 2002

According to the law, there is a crown (золотая земельная корона, подбитая лазурью) above the shield, which is surrounded by a wreath formed by golden oak and laurel branches and by golden ears, bound together by a golden ribbon. The width of arms = 1/4 of the flag length, flag ratio is 2:3.
Jan Zrzavy, 07 Feb 2002
---
Flag of 1996-2000

by Pascal Gross

The flag and coat of arms of the Saratov Region of 1996.09.05 differs from the new one, of 2000, by the following:
The arms of 1996 had wreath from gold oak leaves with a blue scroll, in the image actually arms of 2000 wreath in general is not present, wreath is added only at the image of this arms on the flag;
On the arms of 1996 were only gold oak leaves, and on the arms of 2000 to them have added also gold whet-ears.
In the coat of arms of 1996 there was a blue scroll, in the image of the coat of arms on a flag of 2000 - gold scroll.
The shield of the Saratov coat of arms has remained without changes such, with what he was created in 1724-1726 years by first Russian heraldist count Francisco de Santi (Piemont) and with what he was authorized for Saratov Gouverment (Gubernija) in 1781.
Michail Revnivtsev, 27 Feb 2002
---
Coat of arms detail
Current version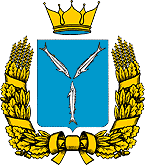 by Michail Revnivtsev, 27 Feb 2002
1996-2001 version

by Pascal Gross