This page is part of © FOTW Flags Of The World website
Mayotte (France)
Collectivité territoriale de Mayotte; Mahoré; M'Ayota
Last modified: 2003-04-05 by antonio martins
Keywords: mayotte | comores | france | mahoré | star: 5 points (white) | stars: 4 | stars: line | crescent: points to fly (white) | crescent: points up (white) | flowers: 2 | front démocratique | ra hachiri |
Links: FOTW homepage | search | disclaimer and copyright | write us | mirrors

---
See also:
---
Presentation of Mayotte
The flag of Comores have four stars, for four islands, but Mayotte, the fourth, remained French after independence of the rest.
Zeljko Heimer, 02 Nov 1995
The inhabitants of Mayotte are presently voting for or against a new status for the island. If accepted, the new status would transform the "territorial collectivity" in a "departemental collectivity". The voters have to chose between a blue (for yes) and a marroon bulletin (for no). The colour system has been adopoted because most inhabitants of Mayotte do not speak French. The three main political parties have called for yes, but the two representative politicians (one deputee and one senator) have called for no, because they would prefer a full departmental status: I don't know all the subtle details, I suppose that a full departmental status has not been proposed to avoid diplomatic problems with the Comoros (which still revendicate mildly Mayotte, but could no longer revendicate a French department).
Ivan Sache, 02 Jul 2000
According to BBC, about 70% of Mayotte people voted for the new status.
Jan Zrzavy, 03 Jul 2000
The island was sold by Sultan Adriansouli on 25 April 1841 to Commandant Passot, who was looking for a port for the French Navy. In spite of the opposition of United Kingdom and the other Comorian Sultans, the purchase was ratified by King Louis-Philippe on 10 February 1843 and the island formally annexed on 13 June 1843. Anjouan recognized the annexation in September 1843. On 29 August 1843, Mayotte was incorporated into the Settlements of Nossi-Be and Dependencies, administrated by Bourbon Island. On 1 January 1846, Mayotte became a distinct Settlement. [In 1896-1968, Mayotte was administered within the Comoros.]
Ivan Sache, 20 Apr 2002, from [clv02]
---
Official state flag

by Zeljko Heimer, 2002

Mayotte does not have a specific flag: The only official flag for Mayotte is the French Tricolore.
Ivan Sache, 02 Jul 2000 and 03 Jul 2000
---
National motto
The national motto of Mayotte, from the coat of arms, is Ra Hachiri.
Nozomi Kariyasu, 20 Aug 2002
"Ra Hachiri", in French "Nous sommes vigilants", means "We are vigilant" in the language spoken in Comoros: sensu lato it is Comorian (Swahili group; with two groups of two variants each: Anjouani-Mahori and Grand-Comorian-Moheli). I believe this vigilance refers to the claim on the island by the Republic of Comoros and the will of Mayotte to remain French. The motto is used as title of a monthly newsletter by the Rassemblement départementaliste mahorais.
Ivan Sache, 27 Aug 2002
---
Unofficial local flag (several variants)

by annonymous

by Hans Eisenreich, 19 Sep 1997

by annonymous

What are these flags?! Three different variations (here with harmonized color shades), coming from three different people — there must be some kind of reality behind them!
António Martins, 04 Jul 2000
---
Comoro Islands Democratic Front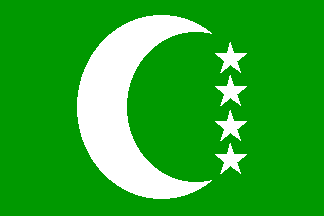 by Ivan Sache, 12 Sep 1999

From the chart Flags of Aspirant Peoples [eba94]:
3. "Mayotte" (Comoro Islands Democratic Front) — East Africa; based on written description.
Green field with a white crescent and four white stars placed vertically. Nearly identical to the 1996-2001 national flag of the Comoros (just remove inscriptions).
Ivan Sache, 12 Sep 1999

The Front Démocratique (a left-wing political party based in Moroni, Comoros) have a branch in Mayotte and it's perfectly natural that they would be in favor of national unity. I've never heard of them having a flag, though, and I know the leader of the FD fairly well (he was my neighbour for two years). And yes, there are people on Mayotte who are pro-Comoros (admittedly not many...)
Iain Walker, 14 Feb 2000