This page is part of © FOTW Flags Of The World website
Vojvodina (Region, Yugoslavia [Serbia]): Political parties
Last modified: 2003-01-18 by ivan sache
Keywords: vojvodina | league of social-democrats of vojvodina | vojvodina coalition | koalicija vojvodina | alliance of vojvodina hungarians |
Links: FOTW homepage | search | disclaimer and copyright | write us | mirrors

---
See also:
---
League of Social-Democrats of Vojvodina (Liga socijaldemokrata Vojvodine)
by Zeljko Heimer
The vertical blue-yellow-green flag dates from the year 1848, more exactly from 11 May1848 when this flag was adopted as the flag of the revolutionaries from Sajkaska [region of Vojvodina around Novi Sad], i.e. by Sajkaska Batallion (with only difference in last colour which was brownish). The League of Social-Democrats of Vojvodina after its establishment on 14 July 1990, adopted this flag (somewhat modified, namely in place of brown there is green), as its party flag, with the proposal that this shall be the future flag of the Republic of Vojvodina.
At that time this flag becomes one of the symbols of Vojvodina resistance movement against current regime in Belgrade, and appears in several countries of European Union and in USA, as the official Flag of the Republic of Vojvodina.
At that time it was also accepted also by the citizens of Vojvodina as a recognizable symbol of our party.
Communication by Zoran Petakov, history student, toZeljko Heimer, 25 March 1999
The flag colours represents blue sky, and yellow and green are corn and wheat crops, respectively, since Vojvodina is a rich agricultural area. The design was adopted as a the official design of the party flag.
Nikola, 5 January 2001
Yesterday night BBC World News illustrated its headline on the anti-Milosevic demonstrations in Yugoslavia with an image of demonstrators waving large vertically-divided (dark)blue-yellow-(dark)green flags; there were at least about five of them, apparently identical, so they did not seem to be home-made.
I wonder whether the shot actually showed a demonstration in Vojvodina. The flags were identical to that shown in above, but with both the blue and the green a bit darker. The ratio appeared to be 2:3
Santiago Dotor, 22 September 1999
Actually, the League of Social-Democrats is called Authonomashy. They want more autonomy and to be a federated republic in Serbia/Yugosalvia, but they are in vast majority Serbs.
Kis Alekandar, 18 April 2002
The claims that the blue-yellow-green flag originates from 1848 is dubious. At that time, the Hungarians used their national flag that has just been designed, just as well as the Serbs used their tricolour, so there would hardly be space for a blue-yellow-green flag. The Serbs proclaimed Srpska Vojvodina (Serbian Vojvodina) on a session in Sremski Karlovci, 1-3 May 1848. The Serb ticolour was proclaimed the flag of that state/crownland. Srpska Vojvodina was disbanded on 1863, and the old counties were reintroduced. All other flags would have been of secondary importance at that time.
Tomislav Todorovic, 31 July 2002
---
Horizontally-divided variant
by Ivan Sarajcic
It has been reported that the flag of League of Social-Democrats of Vojvodina and "Republic-to-be of Vojvodina" is vertically divided blue-yellow-green flag. I have seen this flag on demonstrations, car-stickers (together with letter "V" as an abbreviation of so-called "Republic of Vojvodina"), but few weeks ago on united opposition anti-Milosevic demonstrations in Belgrade (LSV took part there), an horizontal blue-yellow-green tricolour could have been seen, with ratio about 1:2.
Obviously, it was the flag of LSV led by Mr. Nenad Canak. It seems that this flag is hoisted in front of party headquarters, like the one that I have spotted in Vrsac, town in Vojvodina, near the Romanian border.
Why horizontal division? Perhaps, because coalition of several political parties with autonomist ambitions has been split, but that's just a guess.
Ivan Sarajcic , 7 May 2000
---
Vojvodina Coalition (Koalicija Vojvodina)
by Ivan Sache
During demonstrations in 1999, the Vojvodina Coalition (farmers' movement led by Dragan Veselinov) used an horizontally divided blue-yellow-green flag with the party name in white in upper hoist.
Source: M. Corbic, Franciae Vexilla [frv] #19/65, September 2000
---
Alliance of Vojvodina Hungarians (Vajdasagi Magyarok Szevetsege)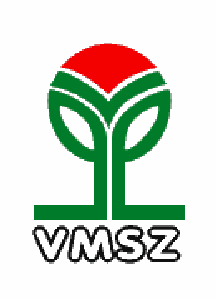 by Istvan Molnar
This party is the largest Hungarian party in Yugoslavia. The current mayor of Subotica is member of the party.
Istvan Molnar, 10 December 2000