This page is part of © FOTW Flags Of The World website
Former Yugoslavia: National minorities
Last modified: 2003-01-18 by ivan sache
Keywords: national minority | star (red) | baranya | istria | kosovo | macedonia |
Links: FOTW homepage | search | disclaimer and copyright | write us | mirrors

---
See also:
---
Status of the national minorities
National minorities (narodnost) were those ethnical groups without statehood within Former Yugoslavia, as opposed to the five (later six) nations (narod) of Yugoslavia.
The minority census in Yugoslavia in 1981 was as follows:
| | |
| --- | --- |
| | 7.72 % |
| | 0.16 % |
| Czechs | 0.07 % |
| | 1.90 % |
| | 0.25 % |
| | 0.10 % |
| | 0.36 % |
| | 0.07 % |
| Turks | 0.45 % |
| Others | 1.12 % |
Source: Veliki geografski atlas Jugoslavije, SNL (1987)
The book Svijet oko nas - enciklopedija za djecu i omladinu II, IX. issue, Skolska knjiga, Zagreb (1985)., page 403, paragraph Zastave nasih naroda (The flags of our nations) states that (my translation):
"... All nationalities in Yugoslavia have equal right to hoist their national flags, but with the red five-pointed star in the middle, as common symbol of belonging to SFR Yugoslavia."
This is a book for the youth and not a vexillological reference book, so the statement that the star was in the middle should not be taken too straightforward - it is well known that some national minorities used flags with the star in canton (e.g. Albanians). Anyway, these defaced flags existed and they were legal and allowed by law (which does not mean that law described them!).
Actually, I believe that the law used similar wording allowing such flags, but not specifying their name (and description), so that, in theory, any ethnical community could have used a defaced flag. It is another question if the defaced flag was used, and what its exact design was.
Those flags were based on the national flags used by partisan units in Tito's army during the Second World War.
Zeljko Heimer 14 June 1999
When Milosevic took power in Serbia, all minorities flags disappeared. Albanians then begun to use the new Albanian national flag (without star).
Ivan Sarajcic, 6 May 1999
---
Albanian minority in Kosovo
by Mark Sensen
The Albanian flag with the red star outlined in yellow is not the flag of Kosovo, and it has never been so. The flag was the flag of the Albanian ethnical community (similarly to other national flags defaced with the red star) in late-1940's to late 1980's period.
Zeljko Heimer, 6 May 1999
---
Bulgarian minority in eastern Serbia and Macedonia
by Jorge Candeias
Horizontally divided white-green-red flag with red star outlined in yellow,
---
Hungarian minority in Baranya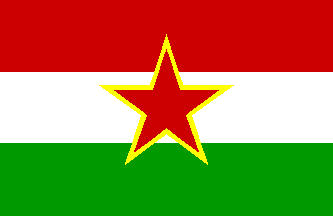 by Jorge Candeias
Horizontally divided red-white-green flag with red star outlined in yellow,
---
Romanian minority
by Jorge Candeias
Vertically divided blue-tellow-red flag with red star outlined in yellow.
A thin red border was added to separate the yellow outline from the yellow background of the stripe.
Velid Jerlagic, 30 March 1998
---
Ruthenian minority
Ruthenians (Rusini) used the defaced Ukrainian flag, as well as Ukrainians did. They are considering themselves as one nation, or faily close, and the name they use for themselves mainly depends on the time when they migrated to this part of the country. Today in Croatia, Ruthenians still use the same flag as Ukrainians do (and indeed they usually have common societies etc.).
Zeljko Heimer, 10 May 1999
---
Slovakian minority
by Jorge Candeias
The Slovak minority flag was similar to the flag of the People's Republic of Slovenia, but the middle stripe was light blue insted of dark blue on the Slovenian flag.
I saw some flags on a Serbian television, in an old 1976 report from the municipality of Kovachitza, Vojvodina, where the Slovaks represent about 50% of the population. Flags had the star slightly skewed a to the hoist
Velid Jerlagic, 30 March 1998
---
Italian minority in Istria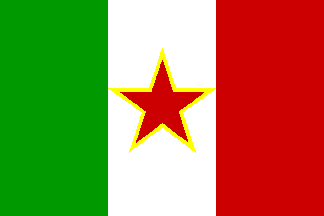 by Jorge Candeias
Vertically divided green-white-red flag with red star outlined in yellow.
This flag was very often seen flying together with national, republic (Croat or Slovenian), and Socialist Party flags.
Italian flag with the red star has been used in Fiume-Rijeka since about 1943 and officially since 1946 or 47 as the flag of the Italian ethnic group in Yugoslavia. The flag was still in use until 1990 and the break of Yugoslavia, when it was replaced by the Italian flag, now used by Italians living both in Slovenia and Croatia.
Zeljko Heimer, 24 September 1995 & 7 April 2000
---
Polish minority in Croatia
by Zeljko Heimer
Unconfirmed flag
There were about 1,000 Poles in Croatia according to censuses made in1961, 1971 and 1981, which is comparable with some other ethnic communities that were reportedly using flags, so there must have been appropriate flag for those, at least in theory.
Zeljko Heimer, 9 April 2002