This page is part of © FOTW Flags Of The World website
House Flags of Brazilian Shipping Companies, M-P
Last modified: 2003-04-12 by joe mcmillan
Keywords: brazil |
Links: FOTW homepage | search | disclaimer and copyright | write us | mirrors

---

See also:
---
Matarazzo (São Paulo)
Sociedade Paulista de Navegação Matarazzo
by Joseph McMillan
This company flew a flag divided from lower hoist to upper fly, green, white, and red. In the upper hoist was a coat of arms, the details of which I could not make out in the small picture in Brown's Flags and Funnels (1951), and in the center of the white stripe a black circle around a black M, the legs of which were curved, above a small black star and below something that looked like a dolphin or fish, but was too small to see. This company does not appear in later sources on house flags or in current references on shipping companies, so I assume it is out of business.
Joseph McMillan, 30 June 2001
---
Empresa de N. Nicolaus (Pará)
by Jorge Candeias
The flag is white with two horizontal red stripes near the edges and a red Greek cross, centered. A great design for a house flag!
Source: Chart of house flags circa 1950 at www.naufragiosdobrasil.com.br
Jorge Candeias, 4 June 2002
Listed in Lloyd's Register 1949-50 Nicolaus & Co. with four vessels totaling about 1100 tons.
Joseph McMillan, 28 October 2002
---
Norsul Internacional
by Joseph McMillan
Source: Josef Nuesse's website Reedereiflaggen: House Flags of Shipping Companies.
According to the company website, Companhia de Navegação Norsul is the largest privately owned shipping group in Brazil, carrying over 6 million tons of cargo a year. It was founded in 1963 as part of the Lorentzen Group, which was established ten years earlier. Norsul connects Brazil with Europe, the Far East, and the rest of South America, operating 12 bulk carriers of its own, ranging from 16,000 deadweight tons up to "Panamax" size (the largest ship that can go through the Panama Canal), plus 11 more on long-term charter and others on shorter term leases. Its overseas business is primarily carrying forest products such as paper, pulp, and timber, as well as concentrated fruit juices.
Joseph McMillan, 26 March 2002
---
Companhia Paraense de Navegação a Vapor
by Joseph McMillan
The name means Pará Steam Navigation Company. The flag was red with a white lozenge throughout, on the center of the lozenge a black anchor and in the corners of the flag the initials of the company in white.
Source: 1909 supplement to the German Navy's 1909 Flaggenbuch
Joseph McMillan, 11 February 2003
---
Pernambuco Powder Factory (Pernambuco)
by Jorge Candeias
Yes, the name of this company is in English, and it isn't what we'd expect a navigation company would be called. My guess is that this flag is (was?) used by vessels belonging to the PPF, much the same way oil companies have their own vessels. As for the PPF itself, it might be foreign investment in Brazil, possibly American… Anyway, the flag is a triangular flag with 5 vertical stripes of dark blue and yellow.
Source: Chart of house flags circa 1950 at www.naufragiosdobrasil.com.br
Jorge Candeias, 3 August 2002
Listed in the 1949-50 Lloyd's Register as operating a single vessel of only 118 gross tons.
Joseph McMillan, 28 October 2002
---
Companhia de Pesca Norte do Brasil (Paraíba)
by Jorge Candeias
The name translates to "Fishing Company of the North of Brazil". The flag is a dark blue rectangle with a big white disc centered, charged with a drawing of a fish and two sets of characters in black. Above the fish, in an arc, the company initials, C.P.N.B.; below the fish what looks like "Z. 2." Don't ask me what that is supposed to mean.
Source: Chart of house flags circa 1950 at www.naufragiosdobrasil.com.br
Jorge Candeias, 1 August 2002
---
Pessos e Cia. (Piauí)
by Jorge Candeias
Pessos is probably a name. The flag is dark blue with a wide yellow cross throughout.
Source: Chart of house flags circa 1950 at www.naufragiosdobrasil.com.br
Jorge Candeias, 2 June 2002
---
Poncion Rodrigues e Cia (Piauí)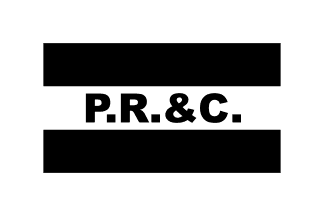 by Jorge Candeias
Poncion Rodrigues is a name. The flag is a black-white-black triband, charged with the initials P.R.&C. in black, on the white stripe, and bordered by a relatively wide white border.
Source: Chart of house flags circa 1950 at www.naufragiosdobrasil.com.br
Jorge Candeias, 2 June 2002