This page is part of © FOTW Flags Of The World website
Quebec (Canada)
Québec
Last modified: 2003-08-16 by phil nelson
Keywords: quebec | canada | france | fleur de lys | saguenay |
Links: FOTW homepage | search | disclaimer and copyright | write us | mirrors

---

by Martin Grieve
---
See also:
---
I think the shape of fleur-de-lys in the GIF I sent is the official one. However, on a Quebec flag I bought in Montreal, they are different - the elements are not joined and the two pieces on the side do not emerge from the 'bar' but continue through it (terrible description, I agree).
Jan Oskar Engene - 02 November 1995
---
The official proportions of the flag are:
horizontally : 9-6-9 (=24)
vertically : 6-4-6 (=16)
with height of the fleur-de-lys : 4
The flag was officially confirmed on 21 January 1948.
Zeljko Heimer - 16 July 1996
See also: Quebec flag construction sheet
---
In the "European French Empire", the colonised peoples would not recognise themselves in any flag with the fleur-de-lys in it. Nor would most of the Frenchmen, for whom that means royalist or far-right wing ideas.
François-Jean Blanc - 22 January 1998
---
It was not popular in North America before this century. Tricolors of horizontal green white red or vertical blue white red were a lot more common. Nowadays, it doesn't represent royalty to us (royalists are inexistant or at least marginal in Quebec), it just represent our French culture and the period during which we came to North America (which of course was a royal period, but I mean that no one associates a rightist or monarchist ideology with the fleur de lys here).
Luc-Vartan Baronian - 22 January 1998
---
---

by Luc-Vartan Baronian
Officially, the proportions of the Quebec flag are 2:3, but in the facts, civils, corporations and the federal government often fly a 1:2 version. The reason for this is that the federal government has this idea that all flags flying next to the Maple Leaf must be 1:2 too. As a result, the 1:2 version is manufactured widely and sold to the public and to corporations. Therefore, the 1:2 version is a de facto civil variant. Provincial buildings (including schools which are of provincial jurisdiction) will normally fly the official 2:3 version. I suppose that the situation is the same in other provinces with a non 1:2 flag, like Nova Scotia.
Luc-Vartan Baronian - 05 January 1998
---
This is another unofficial variant of the Quebec flag seen very often. It is a variant in three features: 1:2 instead of 2:3; lighter blue; different fleurs de lys.
Luc-Vartan Baronian - 01 January 1999
---
"Quebec Day" is officially called "Fete nationale du Quebec" and is celebrated on June 24th, the Saint-John-the-Baptist day, the saint patron of Qubecers and most French-Canadians (except Acadians who have as saint patron Notre-Dame-de-l'Assomption (Assumption in English?), but they still celebrate Saint-John's, it's just not as big a holliday for them. Acadians were never historically called French-Canadians, even though they are French and "Canadians" but in another sense... )***
In Ontario, the Franco-Ontarians still call it the "Saint-Jean-Baptiste" and they have a festival in Ottawa during that week called the "Festival Franco-Ontarien".
Even if the gov. of Quebec gave the day a more laic name, the day is still refered to as "Saint-Jean-Baptiste" by most people I know.
There is a Quebec Flag Day sometime in March or April... But it's no big deal here, they just show on TV a huge flag suspended somewhere.
***Here is the story : In the 1600', there were 2 French people in north America : Canadiens and Acadiens.
Canada and Acadie, Louisianna and some other territories like Detroit were refered to as New-France.
The British first conquered Acadie and deported its population to Louisianna, France and England (1755).
Then Canada (Quebec and Ontario) was conquered (1759-1760). The British were still called British and the French born in Canada were the Canadiens.
Around the time of the actual federation (1867), the British started refetring to themselves as Canadians, and the "Canadiens" to differenciate from them called themselves French-Canadians (Canadiens-Francais).
In the 1960s, French-Canadians of Quebec felt humiliated to have a name that gave the impression that they were a minority in their own country (province). So the name Quebecois became more and more popular...
To this day, Acadians are rarely refered to as French-Canadians. The official federation of francophone minorities in Canada is called : Federations des communautes francophones et acadiennes du Canada. So they're not even refered to as francophones!
"Acadie Day", is of course "Notre-Dame-de-l'Assomption Day", August 15th, and it is the day their flag was adopted in 1884. I don't think it is refered to as Flag Day, though.
Luc-Vartan Baronian - 27 February 1997
---
In 1984 a motion was presented to the "Assemblée Nationale", the Parliament of Québec by Minister Guy Chevrette on the initiative of the Mouvement National Quebecois, and the Societé Saint Jean Baptiste, that May 24th would be declared as Flag Day. The motion was accepted by all the members. The motion is not sanctioned yet, we are still waiting.
Here is a small story: Our Flag "Fleurdelisé" flew for the time at the Parliament mast on 21 January 1948 by Government decision and was sanctioned two years later on 9 March 1950.
Donald Gauthier - 1 March 1997
---
Tomorrow, May 24th, is QUEBEC FLAG DAY. It has been so since 1984, when a special motion was adopted by the Assemblee Nationale.
There seems to be no special reason for the choice of this date other than preceding Quebec's National Holiday (formerly and still known as St Jean Baptist Day) by one month to put Quebecers in a rejoycing atmosphere.
Though there are alwalys many Quebec flags displayed on this day, no special mention was ever made at the National Assembly since 1984, and no one seems to make a great deal out of it.
Fortunately for you FOTW members, your loyal Quebecois members (Donald Gauthier and me) have gathered this piece of info for your files.
Luc Baronian - 23 May 1997
---

by Martin Grieve
The Lieutenant-Gouverneur represents the Queen in Quebec. This flag was adopted in 1950.
Luc-Vartan Baronian, 4 February 1997
---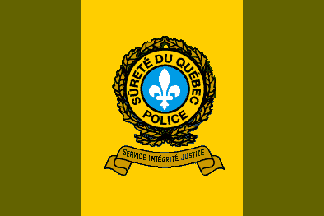 by Luc-Vartan Baronian
Here is the flag of Quebec's provincial police force. Some cities have their own police force, but small towns and villages use the Sûreté du Québec (SQ). The SQ is also responsable for provincial highways and has a bigger effective for criminal surveillance (drugs, gangsters...). They also have a S.W.A.T. team.
I'm sorry but it was impossible for me to use the standard FOTW palette for this flag. I still managed to reduce the number of colours to 16.
Luc-Vartan Baronian - 13 March 1997
---
Government Roundel
---
This is the "roundel" used by the government of Quebec on airplanes, on the tail (if there isn't another emblem there already, such as the ambulance symbol), on the cockpit, with "Québec" in black, right to it. It is also used as a header for official letters, with the name of the ministery or office, next to it in black. Used officially since 1975, replacing the precedent emblem.
Luc-Vartan Baronian - 13 March 1997
---
Vertical Display

by Ivan Sache

Looking at Eurosport at the volleyball match (January 14, 2001) between Paris and Tours, I noticed hanging on the hall wall two vertical flags, one French Tricolore and one Quebec flag (the coach and at least one player of Paris team are from Quebec).

But... the vertical Quebec flag was nothing but the usual horizontal flag hoisted vertically, the fleur-de-lys being therefore horizontal and pointing to the hoist. I found this display very unaesthetical and would have expected a more 'vexillological' vertical flag with the fleur-de-lys in usual, vertical position. What is the correct pattern of a vertically displayed Quebec flag?
Ivan Sache, 15 January 2001