This page is part of © FOTW Flags Of The World website
Daghestan (Russia)
Dagestan
Last modified: 2002-12-20 by antonio martins
Keywords: daghestan | error | doubt | coat of arms |
Links: FOTW homepage | search | disclaimer and copyright | write us | mirrors

---

by António Martins, 06 Oct 1999
---
See also:
Other sites:
---
Presentation of Daghestan
(Note: You need an Unicode-aware software and font to correctely view the cyrillic text on this page. See here transliteration details).
Name (english): Daghestan • (russian, short form): Дагестан | Dagestan • (russian, long form): Республика Дагестан | Respublika Dagestan
Local official language: 35 (see Daghestan' s ethnic flags page)

Capital (russian): Махачкала | Maqaĉkala • (english): Makhachkala • (former name): Petrovsk-Port | Петровск-Порт (1857-1922)
Area: 51 300 km2 (≅19 800 sq.mi.) • Population: 2 166 400 inhabitants in 2000
Status: Republic (Республика | Respublika) within the Russian Federation
Federal District: Northern Caucasus • Economic region: Northern Caucasus
License plate code: 05 (in the soviet era: ДА | DA) • Ham radio code: DA • ISO 3166-2 code: DA
Flag adopted on 1994.02.26 • Coat of arms adopted on 1994.10.20
This territory, which is roughly the same size as the independent states of Armenia and Georgia, was turbulant throughout Tsarist times due to the opposition of its mainly Islamic inhabitants to Christian rule. The Soviets created the Daghestan ASSR in 1920.
Stuart Notholt
---
Description of the flag
The official state flag of Daghestan has three horizontal stripes — green, light blue and red (1:2). It was adopted at 26th February 1994.
Michael Simakov, 30 Jun 1998
---
State flag?
At http://caspian.hypermart.net/dagestsm.gif is this wonderful flag.
Jarig Bakker, 15 Oct 1998
I don't know this flag but it is the coat of arms [see image by Pascal Gross] of the republic which appear in the middle.
Pascal Vagnat, 15 Oct 1998
Could it be a sort of Daghestan state flag? The background is the Daghestan flag as we know it...
Jorge Candeias, 15 Oct 1998
---
Independentist flag
Three days ago I received info about the flag of the islamic republic of Dagestan, led by emir Shamil Basaev. The flag is, of course, green. In center has an emblem (like a signature or stylized inscription), and below an islamic inscription. I'm trying to translate the inscription and the signature from caucasian sources. The drawing will are available in my next Bulletin.
Jaume Ollé, 15 Aug 1999
---
Flag of 1992-1993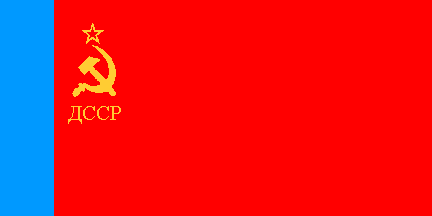 by António Martins, 16 Feb 2001

Dagestan used the RSFSR flag but with the letters DSSR, before it introduced the flag now in use.
Ralf Stelter, 27 Jun 1999
---
Doubtful flags of 1993-1994

by António Martins, 18 May 1999

This flag was in use between 10 June 1993 and 27 February 1994. The previous flag (green, blue, red) was restored 27 February 1994. The current flag was in use in 1992 when the soviet Nationalities made a meeting in Moscow.
Jaume Ollé, 01 Jul 1998

I doubt if the yellow-blue flag was ever in use officially.
Ralf Stelter, 27 Jun 1999

Daghestan flags other than the green-blue-red flag, namely that with yellow-blue-yellow-blue horizontal stripes, approx.: 3:2:1:2, pubblished by vexillological bulletins [Flagmaster, Emblčmes et Pavillons, Gaceta de Banderas] based on information by O. I. Tarnovsky, had never been used in Daghestan.
Mario Fabretto, 01 Jul 1998, after [brz]

by Ivan Sache, 15 Sep 1999

This flag is listed under number 102 at the chart Flags of Aspirant Peoples [eba94] as: «Daghestan - North Caucasus, Russia». With thinner medium blue stripes (ca. 1/12th of the hoist).
Ivan Sache, 15 Sep 1999

Is any particular reason or reasons why those flag design pattern are that similar to each other?

Nozomi Kariyasu, 27 Jan 2000