---
by Joe McMillan
G. C. Lord & Co., Boston
No information beyond the flag, a red-white-red vertical triband with the letter L in red on the center.
Source: Flaggenbuch 1905
Joe McMillan, 25 October 2001
by Joe McMillan
Lorillard Line, New York (?)
I'm not altogether sure this is an American company since Manning did not list home ports on his chart. I have assumed it to be a New York firm, however, as the Lorillards were a prominent and wealthy family from that city in the 19th century. The flag was blue with a white diamond bearing a blue L.
Source: Manning (1874)
Joe McMillan, 25 October 2001
by Joe McMillan
Los Angeles Steamship Co., Los Angeles (1920-1930)
This company was inspired by an initiative of the Los Angeles Chamber of Commerce to counter San Francisco's dominance over Pacific coast shipping. Initially successful in coastwise trade, LASSCo overextended itself in a failed attempt to expand into the Hawaii market. It was forced to merge with Matson Navigation, the dominant house in the Hawaii trade, in 1930. Because the image here is based on a photograph of the house porcelain, the colors may not be accurate, but the flag appears to have been white with a green border and a yellow stripe from lower hoist to upper fly bearing three blue stars, the stripe flanked on either side by the blue letters L and A.
Source: www.steamship.net
Joe McMillan, 25 October 2001
by Joe McMillan
A. A. Low & Brother, New York (1841-late 19th century)
With Howland & Aspinwall, A. A. Low was one of the dominant shipping houses in the China trade in the mid-19th century. The company's founder, Abdiel Abbot Low, had learned the business with the Canton-based, Boston-owned trading firm of Russell & Co, which was the leading U.S. trading firm in Canton from the 1820s to the 1870s. Along with Howland & Aspinwall, A. A. Low pioneered the use of the new clipper ships in the 1840s, and its clipper "Oriental" was the first non-British ship to deliver a cargo of tea from China to England after the 1848 repeal of the British Navigation Acts. The Low flag was yellow with a red horizontal stripe bearing the letter L in white, although the L was often replaced by the initials of the ship name, such as H for "Houqua" and NBP for "Nathaniel B. Palmer." The Nathaniel B. Palmer for whom this ship was named was a captain in the service of A.A. Low & Bro. and a distinguished explorer who was credited as the discoverer of Antarctica. (The U.S. National Science Foundation now has a ship of this name supporting its Antarctic program. Lloyd's Register of American Yachts for 1972 showed this flag, with the initials "MSL," still in use as the private signal (house flag) of Malcolm S. Low.
Source: chart of "Private Signals of the Merchants of New York"
Joe McMillan, 25 October 2001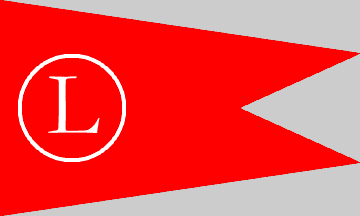 by Joe McMillan
Luckenbach Steamship Co. (1850-1974), New York
This was one of the longest-lived and most successful of US shipping companies. Lewis Luckenbach started with a single tugboat in New York and initially built his fortune by pioneering tug-and-barge transport of coal from Norfolk, Virginia (the outlet for the coal fields in what is now West Virginia), to New England. Luckenbach was later a major force in the intercoastal trade. The flag was a red burgee with the letter L inside a ring in white.
Sources: Lloyds 1912, Wedge (1926), Talbot-Booth (1937), Stewart (1953), US Navy's 1961 H.O., Stewart & Styring (1963), Styring (1971)
Joe McMillan, 25 October 2001
by Joe McMillan

Lykes Brothers SS Co (Lykes Lines)(1898-present) originally New Orleans, now Tampa
Since its founding, Lykes Brothers has been the most important U.S. firm operating in and from the Gulf of Mexico. Its first large profits came from transporting lumber and cattle from Lykes estates in the southern US to Cuba after the Spanish-American War. Shortly after World War II, Lykes Brothers was operating 50 ships totaling 364,000 gross tons. Now known as Lykes Lines, the company website lists 92 vessels under Lykes ownership or management, although only five are under the American flag. The Lykes flag is a white swallowtail with a blue diamond bearing a white L.
Sources: National Geographic (1934), US Navy's 1961 H.O.

Joe McMillan, 25 October 2001