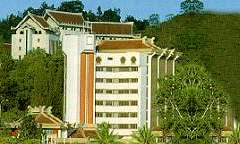 Situated along the Brunei River at Jalan Residency, traditional arts and crafts of Brunei Darussalam have been revived at this centre.
Here traditional sarongs woven with gold or silver threads called "Jong Sarat" are designed with intricated detail. Wornon ceremonial occasions for centuries, these sarongs are often valuable as heirlooms and collectors pieces.
Hand tooled silver jewellery and ornaments such as the ornamental cannons or the snake-like dagger known as the "Keris" can be purchased from the centre handicraft shop.
The centre is open everyday from 7.45am to 12.15pm and from 1.30pm to 4.30pm. On Friday and Sunday, it is open from 8.30am to 2.00pm.