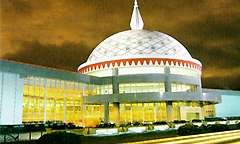 Situated in the heart of Bandar Seri Begawan, the former Churchill Memorial Building has been renovated to commemorate the Silver Jubilee of His Majesty's accession to the throne in 1992.
The reconstructed building is a home to a collection of Royal Regalia, including the Royal Chariot, and gold and silver ceremonial armoury, the jewel encrusted crowns used during the coronation and a replica of the throne which His Majesty uses for state occasions. Also included in this exhibition is a fully documented history of the Constitution of Negara Brunei Darussalam.
The Royal Regalia Building is open to the public everyday from 8.30am to 5pm and on Friday, from 9am to 11.30am and 2.30pm to 5pm. Visitors should remove their shoes before entering the building.