---
Standard Fruit and Steamship Company (Vaccaro Brothers and Co.), New Orleans (1899-present)
Vaccaro Brothers began as a family owned banana-importing firm in New Orleans in the late 19th century. The Vaccaros chartered their first ship in 1899 to run between Honduras and New Orleans and were enormously successful, especially after they were able to buy surplus ships at bargain prices following World War I. By 1935, the company was operating 35 ships and was the leading rival to the powerful United Fruit Company (now trading as Chiquita). They initiated passenger service to Mexico and the Caribbean aboard their ships in 1924 and continued to carry passengers until the 1950s. Although Standard Fruit and Steamship had been chartered as a public stock company in 1923, it remained overwhelmingly in family hands until the 1960s, when the second generation of Vaccaros decided to get out of the shipping business and sell the line to Castle and Cooke, a prominent Hawaiian sugar and pineapple company now known as Dole. SFS now operates under the name Dole Ocean Cargo Express, but I don't know if it still uses the same flag, of which I've found several variants, two of which I've illustrated:
Source: Lloyds 1912 - A horizontal blue-white-blue triband with a red V with serifs on the center.
Source: Talbot-Booth (1937), US Navy's 1961 H.O. - White with blue stripes along the upper and lower edges and a large red sans-serif V on the center. National Geographic (1934) shows the same design but with serifs.
Joe McMillan, 22 November 2001
by Joe McMillan
States Marine Corp., New York (1930-1982)
States Marine got its start as a tramp steamer operation and began developing scheduled services as a small liner company in the years immediately before World War II. After the war it expanded rapidly by purchasing surplus vessels from the government, buying out existing small firms, and investing carefully in foreign steamship companies. When States Marine shocked the shipping world by buying U.S. Steel's Isthmian Line in 1956 (the largest shipping transaction ever), it became the second largest line under the U.S. flag and the largest not receiving subsidies from the government. States Marine then started shifting its vessels to flags of convenience. The company was so prominent that the Maritime Administration selected it to operate the experimental nuclear-powered merchant ship N.S. Savannah from its launch in 1959 until 1963. States Marine started shifting its operations to foreign flag after other companies used political influence to block the company's entry into the subsidized arena in the early 1960s. When the founders of the line retired in the late 1970s, their heirs started liquidating the companies holdings, selling off its last ships by 1982. The States Marine flag was a burgee of three horizontal stripes, white, blue and red, with a blue vertical stripe at the hoist bearing a single white star.
Sources: Stewart (1953), US Navy's 1961 H.O.
Joe McMillan, 23 November 2001
States Steamship Co., San Francisco (originally Portland, Oregon) (1921-1979)
The lumber merchant Charles Dant of Portland founded this line to handle his lumber schooners as well as the vessels he had leased from the U.S. Shipping Board for his Columbia Pacific Steamship Company. Columbia Pacific, founded in 1919, operated from Portland to the Far East and Europe. In 1928, Dant dropped the Columbia Pacific name and operated everything under the name States Steamship Co, or States Line. The line never really grew very large. SSS ended its European service by the 1930s and eventually focused mainly on service to the Philippines. It suffered from strong foreign competition and the failure of its owners to make the shift to containerization in the 1970s. High fuel prices in the late 1970s finally drove the company into bankruptcy. During its history, SSS used two basic flag designs:
by Joe McMillan
Source: Wedge (1951), Stewart (1953) - A blue over white burgee with a red vertical stripe in the hoist. (This is also shown as the flag of the Pacific-Atlantic Steamship Co and the Quaker Line, presumably subsidiaries of SSS. I have no other information on these companies.)
by Joe McMillan
Sources: US Navy's 1961 H.O., Styring (1971) - Blue with a red seahorse on a wide, wavy white band from lower hoist to upper fly. According to www.westsea.com/tsg3/catlocker/cat17chart.htm, States Line used the seahorse logo from the "early 1900s", but apparently not on its flag until at least the late 1950s. The second image here from Stewart & Styring (1963) is similar to the first except that the wavy band runs horizontally across the flag and the words "States Line" are added in red flanking the seahorse.
Joe McMillan, 23 November 2001
by Joe McMillan
T. J. Stevenson & Co, (Stevenson Lines), New York (1946-at least 1960)
Not much on this company, except that it seems to have been sufficiently successful for its owner to buy the Ward Line, the predominant line in the New York- uba trade, from the Atlantic, Gulf, and West Indies holding company shortly before the Cuban Revolution and the US boycott put a stop to that trade. The flag was a red-white-red horizontal triband with the owner's initials in white on the upper (T and J) and lower (S) stripes.
Source: US Navy's 1961 H.O.
Joe McMillan, 23 November 2001
Stockard Steamship Company, New York (by 1919-at least 1961)
Apparently this was a small company serving New York, Philadelphia, and various ports in the Caribbean. I've found two flags under this company's name:
Sources: Wedge (1951), US Navy's 1961 H.O. - White with a red block-style S. Wedge (1951) lists this as "Caribbean Line (Stockard Steamship Corp)"
Source: Wedge (1951), listed as Ivaran Lines of Stockard SS Corp - a red flag red with a white C. (This entry is a little puzzling, since I was under the impression that Ivaran was a Norwegian company. In any case, it seems that it was within the last year sold to Lykes Brothers.
Joe McMillan, 25 November 2001

by Joe McMillan
Sturges & Co., New York (mid 19th century)
I'm not sure, but this may be the same company as Sturges, Clearman & Co, which served the New York-Liverpool route in the 1840s-50s. Otherwise I have no information, since a number of people named Sturges and Sturgis were involved in the shipping business in New York and Boston in the 19th century. Anyway, it's a nice flag: quarterly blue and red, with a white cross throughout, bordered blue on the red quarters.
Source: chart of "Private Signals of the Merchants of New York"
Joe McMillan, 25 November 2001
Sun Oil Company, Philadelphia (and Marcus Hook, NJ) (1901-present)
Sun Oil Company, called at various times the Sun Company and now officially Sunoco, Inc., was founded in 1886 to develop crude oil resources in the Lima, Ohio, area. It was incorporated under the Sun Oil name in 1890. Sun got into the shipping business in 1901 when the company bought land for a refinery at Marcus Hook, New Jersey, on Delaware Bay below Philadelphia. The tankers were originally employed bringing crude oil from Texas to the new plant. Sun also got into the shipbuilding business in 1916 and built some 40% of the tankers constructed or converted for wartime use in World War II. Shortly after the war, Sun was running some 21 ships, but in the period since then has largely abandoned the overseas exploration and production business and now concentrates primarily on refining and marketing. It sold its shipbuilding subsidiary in 1982. As far as I can tell, Sun Transport, the shipping arm of Sunoco, now operates only a few very large crude carriers to feed its refineries in the Philadelphia area. I've found three flags used over the years by Sunoco and its predecessors:
by Joe McMillan
Source: Wedge (1951) - White with the words "Sun Oils" in the shape of a diamond surrounded by a red diamond.
by Joe McMillan
Source: US Navy's 1961 H.O. - Blue with the word "Sunoco" in blue on a yellow diamond.
by Joe McMillan
Source: Stewart & Styring (1963) - Blue with the word "Sunoco" in blue, fimbriated yellow, superimposed across a yellow diamond, with a red arrow piercing the diamond from upper fly to lower hoist.
Joe McMillan, 25 November 2001
by Joe McMillan
G. Sutton Charleston Line, New York (mid 19th century)
No information on this line other than what can be deduced from the name and source--that it connected New York and Charleston, South Carolina, in the 1850s. The flag was blue with a large white disk in the hoist.
Source: chart of "Private Signals of the Merchants of New York"
Joe McMillan, 25 November 2001
by Joe McMillan
Sutton & Co, New York (1850s)
I don't know if this Sutton and Company was related to the G. Sutton that ran the Charleston Line. It was one of many companies that operated clipper ships to California via Cape Horn during the 1850s gold rush. The flag was red with a beehive beset by bees in yellow. (I apologize for the shaky drawing, but had trouble getting it quite right.)
Source: chart of "Private Signals of the Merchants of New York" and clipper cards illustrated in the Time-Life book, The Clipper Ships
Joe McMillan, 25 November 2001
by Joe McMillan
Sword Line, New York
The flag was a red swallowtail divided by four narrow horizontal white stripes and the word "Sword" on the center. The Sword Line seems to have been formed
after World War II using former enemy ships seized during the war and provided (whether by sale or lease I don't know) to the company. It apparently started up in 1947 and was still in business in 1961. The name of the company seems to have derived from the names of its ships, which, as far as I have found, all began with the name of a state and ended with "Sword," as Florida Sword, Alabama Sword, and Texas Sword.
Source: US Navy's 1961 H.O.
Joe McMillan, 25 November 2001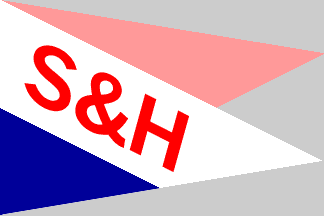 by Joe McMillan
Swayne & Hoyt Lines (circa 1920s-30s)
Swayne & Hoyt was apparently one of a number of tramp companies, some of which later developed into scheduled "lines," that operated with government-owned ships leased from the U.S. Shipping Board in the years following World War I. This company seems to have operated mainly along the U.S. Pacific coast. The flag was a burgee-shaped diagonal triband, blue in the hoist, white in the center, and pink in the fly (as shown in National Geographic (1934)) with the red initials S&H on the white stripe.
Source: National Geographic (1934)
Joe McMillan, 25 November 2001