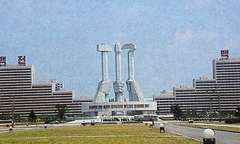 It was erected to convey down the glorious history of the Workers' Party of Korea composed of workers, farmers and intellectuals.
Built on the occasion of the 50th birthday on the WPK on October 9, Juche 84(1995), it is situated in the heart of Munsu Street opposite the Taedong River.
It occupies an area of 25 hectares. The tower body depicts a hammer, sickle and brush held by a worker, farmer and intellectual with the height of 50m.
Carved in relief on the round granite belt is a slogan "Long Live the Workers' Party of Korea, the Organizer and Guide of the Victory of the Korean People!". The belt shows the single-hearted untiy of the leader, party and people. The pedestal means the long history of the party grown up from the root of Down-With-Imperialism Union. The diametre of the belt is 50m and that of pedestal 70m.