---
by Joe McMillan

TAK Shipping Co, New York
I have no information at all on this company. Its flag was blue with a white cipher resembling a reversed P joined to a K.
Source: US Navy's 1961 H.O.

Joe McMillan, 25 November 2001
by Joe McMillan

Tampa Interocean Steamship Co., New Orleans and Tampa (1920s-30s)
Tampa Interocean was one of the many small companies founded in the years following World War I using surplus vessels provided by the U.S. Shipping Board. It evidently specialized in trade between the U.S. Gulf coast and the Caribbean and South America--Lykes Brothers traditional turf--and was apparently driven out of business along with other challengers by cutthroat competition from Lykes. The flag was a white burgee with a red stripe along the upper edge, a blue one along the bottom, and the letters GWML in blue on the white area. I have no idea what these letters stood for.
Source: Talbot-Booth (1937)

Joe McMillan, 26 November 2001
by Joe McMillan
W. and J. T. Tapscott, New York (1840s-1850s)
The following description of the Tapscott firm is from www.theshipslist.com/ships/lines/tapscott.html:
William Tapscott was an "American Packet ship" broker, who kept offices on Regent's road, Liverpool, and Eden Quay, Dublin. He worked in conjunction with his brother James, who was New York-based and specialized in selling prepaid passages to established immigrants who now wished to bring over loved ones. Together, they fleeced the unsuspecting in the grand fashion of the laissez-faire businessmen. From a member of TheShipsList, we have also received this excerpt about the Tapscott brother's Line. It is undated. "The Tapscott brothers were systematic villains, whose frauds began with their advertisements. This one [quoted on The Ships List site] flagrantly exaggerates the tonnage of every ship named. The Garrick, here is said to be 2,000 tons, was in fact 895." So there it is. The Tapscott brothers' flag resembled that of Grinnell & Minturn. It was a white and blue burgee divided by a line following the cut of the tail, with the letters TL in blue in the hoist. Since G&M's Blue Swallowtail Line was one of the leading companies running ships between New York and Liverpool, the resemblance may indicate an affiliation between the two companies.
Source: chart of "Private Signals of the Merchants of New York"
Joe McMillan, 26 November 2001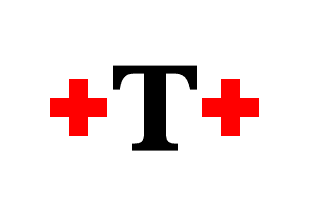 by Joe McMillan
Moses Taylor, New York (mid-19th century)
Moses Taylor (1806-1882) was one of the giants of the New York business world in the 19th century and, adjusting for inflation, one of the richest men ever. He began as a clerk in what would become the great trading firm of Howland & Aspinwall, then left to form his own company that would eventually grow into today's Citibank. He had interests in iron, coal, and railroads as well as shipping. His most important maritime venture was as a leading partner in Cyrus Field's New York, Newfoundland, and London Telegraph Company, formed in 1854-55, and in the successor firm, the Atlantic Cable Company, that finally succeeded in laying the first transatlantic telegraph cable in 1866. Taylor's house flag was white with a black T flanked by two red Greek crosses.
Source: chart of "Private Signals of the Merchants of New York"
Joe McMillan, 26 November 2001
by Joe McMillan
Taylor and Hitch, New York (mid-19th century)
I don't know if this firm had any connection to Moses Taylor, nor do I have anything else about it. The flag was a burgee divided white over blue, with the letters J.A. in blue in the upper half and W in white in the lower.
Source: chart of "Private Signals of the Merchants of New York"
Joe McMillan, 26 November 2001
by Joe McMillan
Taylor and Merrill's Black Star Line
I previously reported this company simply as the Black Star Line, believing it might be the same as the more well-known Black Star Line of Williams and Guion. I believe I mentioned that this connection was incorrect, but don't believe I provided the correct background on it. It belonged to Robert L. Taylor and Nathaniel W. Merrill and served the busy New York-Liverpool route in the late 19th century. The flag was a red swallowtail with a black star.
Sources: Manning (1874) and Palmer's List of Merchant Vessels at www.geocities.com/mppraetorius/
Joe McMillan, 26 November 2001
by Joe McMillan
Terminal Steamship Co., Bridgeport, CT (1920s-1960s)
Terminal Steamship was still another of the firms founded with surplus vessels after World War I. Unlike most of the others, it seems to have survived at least into the 1960s, but I know nothing of what became of it after that. The flag looked rather like that of Lebanon, or maybe a cross between Canada and New England: red with a green pine tree on a white Canadian pale.
Source: US Navy's 1961 H.O.
Joe McMillan, 26 November 2001
by Joe McMillan
Texas City Refining Co., Texas City, Tex. (1908-?)
Texas City is located near Galveston. The refinery company was chartered in 1908, shortly after the discovery of commercial quantities of oil at the Spindletop well. The refinery handled crude from central Texas and inland and used its small fleet of tankers to export its products. I don't know if it is still in operation or whether the company still exists as a separate entity. The flag was green with the company logo in yellow, a rectangular frame with engrailed corners surrounding a yellow diagonal bar with the initials TCR in green.
Sources: US Navy's 1961 H.O., Stewart & Styring (1963)
Joe McMillan, 28 November 2001
Texaco, Inc., New York (1897-2001)
Texaco, formerly the Texas Company, needs little explanation. Founded in 1897 as the Texas Fuel Company, it grew over the years into one of the world's great energy enterprises. Texaco's separate existence ended on 9 October 2001, when it merged with Chevron, Inc. (once Standard Oil of California) to become Chevron-Texaco. It had previously been closely associated with Chevron in several joint ventures outside the United States, most notably Caltex and the Arabian-American Oil Company. Texaco's tanker fleet was once one of the largest under the U.S. flag. While it is still large, Lloyd's Register for 2001 shows only two vessels left under U.S. registry.
(Note: As with many other companies, the New York location shown above was not the site of the company's headquarters but the port at which its ships were registered.
Sources: Lloyds 1912, Wedge (1926), Talbot-Booth (1937) - was presumably the company's first flag, divided horizontally green over white with a large red T on the center.
Sources: National Geographic (1934), US Navy's 1961 H.O. and www.texaco.com showed the familiar Texaco emblem of the red star with green T on a white disk, in the case of the flag on a green field. This emblem was first registered as a Texaco trademark in 1906. Texaco later used a white flag with a red hexagonal frame surrounding the star-and-T and the name of the company in black. More recently the trademark has been a red disk with a white star bearing a red T, all on a black background, but I don't know if this was used on a flag
Joe McMillan, 28 November 2001
Tidewater Associated Oil Company, New York
I don't have much on the early history of this company. Tidewater was an East Coast company and Associated a west coast company. The two merged in 1937. The combined company was bought by J. Paul Getty in 1953, but maintained a separate identity into the 1960s.
Source: www.steamship.net/b/Tidewater/ was the pre-merger flag of Tidewater Oil, blue with a red triangle, its base along the hoist and its apex at the center of the fly.
Sources: US Navy's 1961 H.O., Stewart & Styring (1963) was the flag of Tidewater Associated. It was white with a flying A in red and green upper and lower edges. The flying A logo came from Associated Oil. According to E. C. Talbot Booth, Merchant Ships 1949-1950, a version of this flag without the upper and lower stripes was adopted in 1946. I have also seen depictions of this flag with the stripes in black.
Joe McMillan, 28 November 2001
Tomlinson Fleet (Continental Steamship Co.), Duluth (later Cleveland) (1901-?)
The Tomlinson Fleet was a fairly substantial Great Lakes line founded by George Ashley Tomlinson of Duluth, Minnesota (1869-1942). It was one of a number of his shipping and railroad ventures. At its peak, Tomlinson operated 18 ships.
by Joe McMillan
An early flag used by G. A. Tomlinson was a pennant divided diagonally blue over yellow.
Source: 1909 update to Flaggenbuch 1905
by Joe McMillan
Later, the Tomlinson Fleet flew a red pennant bordered in blue with blue lines forming a horizontal Y dividing the pennant into three sections, and with a white T in the fly.
Source: Stewart (1953)
Joe McMillan, 29 November 2001
by Joe McMillan
Enoch Train & Co., Boston (1844-?)
Enoch Train lived from 1801-68. In 1844, he formed a Boston-Liverpool sail packet line, known from its house flag (a white lozenge throughout a red field) as the White Diamond Line. This was the most prominent of the Boston trans-Atlantic lines. Many Boston Irish can trace their ancestry to immigrants who came to America on White Diamond ships. Within two years of its founding, Train & Co had 24 ships in service. Besides Liverpool, it also ran vessels to the Baltic and South America.
Source: paintings in Peabody-Essex Museum reprinted in Greyhounds of the Sea
Joe McMillan, 29 November 2001
by Joe McMillan
Trinidad Corp., New York
This was an tanker company, a subsidiary of Barber Oil Corporation, that carried crude oil and petroleum products worldwide. As of 1949, it had 12 ships with a total of 130,000 gross tons. It was still in business as of 1984. The flag was a black-yellow-black horizontal triband.
Sources: Stewart (1953), US Navy's 1961 H.O.
Joe McMillan, 29 November 2001